7 Best Beaches Near NYC: Discover Your Beachfront Bliss in New York City
Posted by Matthew Bizzarro on Thursday, June 1, 2023 at 4:29 PM
By Matthew Bizzarro / June 1, 2023
Comment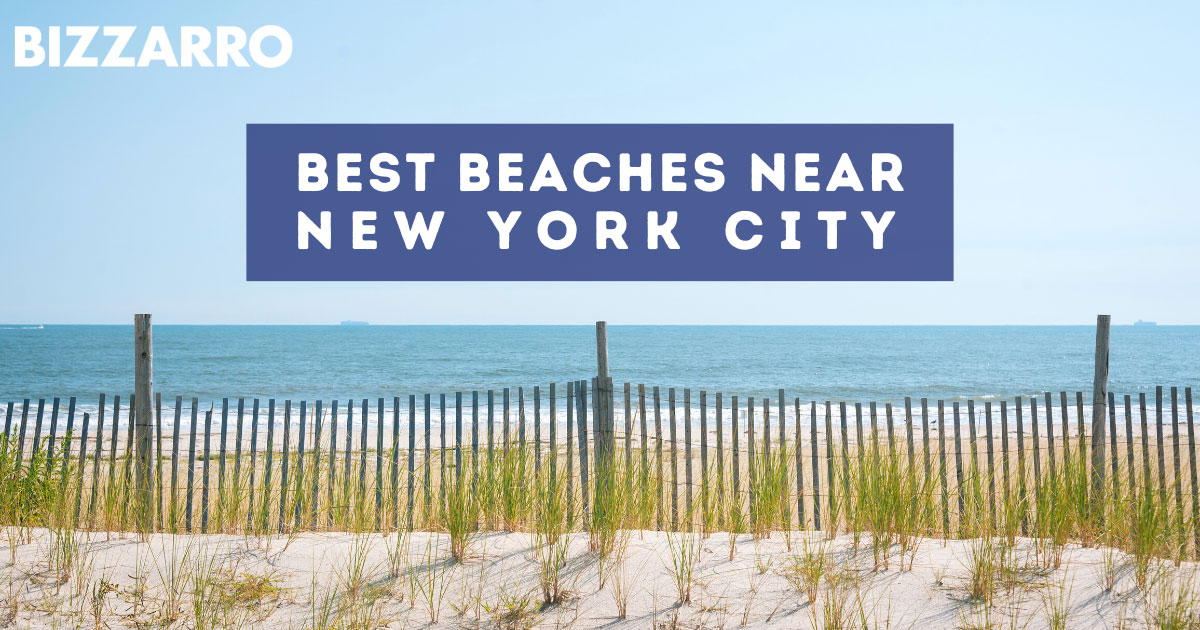 New York City may be known for its towering skyscrapers and bustling streets, but some of the most unique beaches on the East Coast are just a short distance away. From the famous Coney Island to the tranquil shores of Montauk, there are plenty of options for sun, sand, and surf. With warm weather and stunning views, these beaches offer a much-needed escape from the city's hustle and bustle. Whether a longtime resident or if you're thinking of moving to New York City, the beaches scattered around the five boroughs have something for everyone.
Rockaway Beach
Tucked away in the southeastern area of Queens, Rockaway Beach is a popular destination for people looking for a day at the beach or to enjoy other amenities, such as kayaking, paddle boarding, biking, skating, and the boardwalk.
Beachgoers spend the day enjoying free access to the water and sand, with convenient concessions nearby. However, one of the most popular draws is that this beach is New York City's only legal surfing beach.
People can drive to Rockaway Beach or take advantage of other methods for getting around New York City, like the subway, bus, or taxi. Different beach areas offer something for everyone, whether looking for a hopping party-vibe scene, a "hipster" vibe beach, or a quiet family beach. Plenty of restaurants and shops are nearby for visitors to enjoy when they're done soaking up the sun.
Residents appreciate the vacation lifestyle they can find in the backyards of their Rockaway homes. Collectively called "the Rockaways," popular neighborhoods include Rockaway Park, Rockaway Beach, Arverne, Bayswater, Belle Harbor, Breezy Point, Edgemere, Neponsit, and Far Rockaway. Residents living in these communities enjoy many accessible amenities from their condos and waterfront homes in Queens.
Orchard Beach
Holding the distinction as the only beach in the Bronx, Orchard Beach is a popular summer hot spot. Nestled alongside the Long Island Sound in the eastern section of this borough, visitors to Orchard Beach feel transported in space after they leave other areas of the Bronx and the rest of the city once they see the 1.1 mile-long, 115-acre of open space.
Orchard Beach is a part of Pelham Bay Park. People enjoy leisurely walks alongside the water on the promenade and playing recreational sports. Additional amenities include a bathhouse, concessions, a 50-foot-wide promenade, and a playground. While not directly on the beach, several shopping and dining options are nearby.
Great Bronx neighborhoods where home seekers often want to buy a home include Parkchester, Pelham Bay, Pelham Gardens, Throgs Neck, and Morris Park. A little further away on the western side of the borough, people often choose some of the Bronx's luxury homes or condos in Riverdale, Bedford Park, Highbridge, and Belmont.
Coney Island / Brighton Beach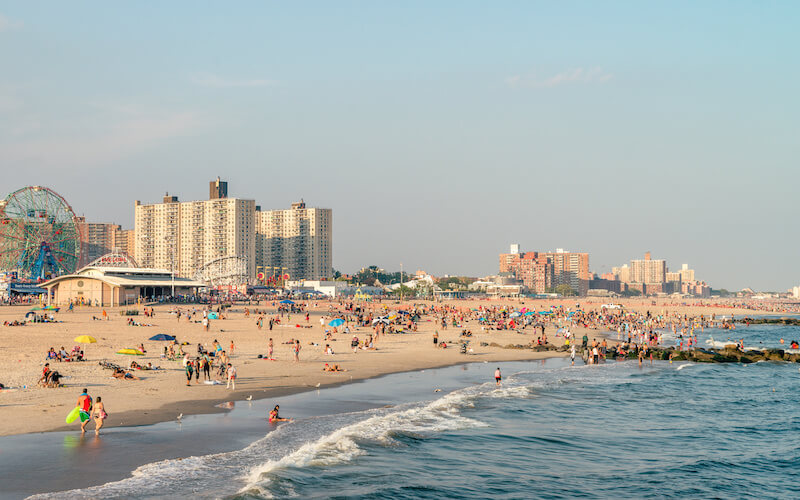 Coney Island and Brighton Beach have historically been viewed as idyllic escapes during summer, but many of the beach amenities and views are enjoyed year-round. Coney Island offers almost three miles of beautiful beachfront, a boardwalk, exciting amusement park rides, playgrounds, concerts, movie nights, the New York Aquarium, and much more.
Alongside the beach and homes in Coney Island is Brighton Beach, which offers a different experience. Less "touristy" than its famous neighbor, the Brighton Beach neighborhood is a residential area that offers plenty to see and experience. Aside from lounging on the beach, people often stroll the boardwalk, dine on fantastic food, go shopping, visit a Russian Bathhouse, see a concert at the Master Theater, or watch a floor show at The National Restaurant & Nightclub or Tatiana Restaurant and Nightclub.
Both beaches are located at the southern tip of Brooklyn and are accessible by subway. While you can access either beach from Manhattan or other points in the NYC area, it can take over an hour to get there. Imagine having these two popular destinations practically in your backyard.
Great nearby neighborhoods to consider are Seagate, Coney Island, and Brighton Beach. However, due to easy accessibility by rail and bus, other Brooklyn neighborhoods, such as Brooklyn Heights, Williamsburg, Park Slope, Prospect Heights, Bushwick, and others, are highly desirable places to live that offer waterfront homes, luxury homes, condos, and additional amenities and city vibes.
Plumb Beach
Aside from providing great breezes and beautiful views along the shoreline, Plumb Beach's ecosystem encompasses low salt marsh areas, a tidal mudflat, a tidal lagoon, woodland thickets, and a dune system. Considering how crowded the five boroughs of New York City can feel, this beach is an excellent reprieve from the crowds in downtown areas.
The calm waters and strong winds make this beach a must-do for kiteboarders and windsurfers. Amenities include parking, restrooms, and a kayak launch. To launch a kayak from the beach, a permit is required. Plumb Beach is only accessible by car or bus; if taking a bus to the Plumb Beach stop, visitors must plan for a short walk to the beach.
Popular nearby neighborhoods where people buy luxury condos or waterfront homes are Marine Park, Mill Basin, Old Mill Basin, and Sheepshead Bay. One great thing about this area, due to the proximity to both Brooklyn and Long Island, is that there are a lot of different home choices to consider when buying real estate.
Ocean Beach Park
Ocean Beach Park is located on Fire Island, a barrier island just south of Long Island proper. Long Island is famous for its beaches, which include nearby Jones Beach and Robert Moses State Park.
Since cars are not permitted to drive to the beach, visitors must park on the mainland and take a ferry or water taxi to Ocean Beach. Alternatively, they can take the Long Island Railroad Bay Shore Line from apartments and condos in Manhattan to get to the ferry. Upon arriving at Ocean Beach, people fall in love with its tranquil scenery. There is something for everyone at Ocean Beach—just remember to get a valid beach pass.
One of the most popular things to do is soak up the sun on Ocean Beach's beautiful sand. Visitors enjoy gorgeous views of The Great South Bay, docks, a boardwalk, and sand dunes. Some restrictions include no food or drink besides water on the beach, no pets, and no kite flying or ball playing. These rules keep the beach pristine and enjoyable for everyone. Other popular activities near the beach include jet-skiing, fishing, windsurfing, dining, shopping, pubs, street festivals, and nightlife.
Popular nearby neighborhoods with waterfront and luxury homes include Ocean Beach, Saltaire, Kismet, The Pines, and Cherry Grove.
Manhattan Beach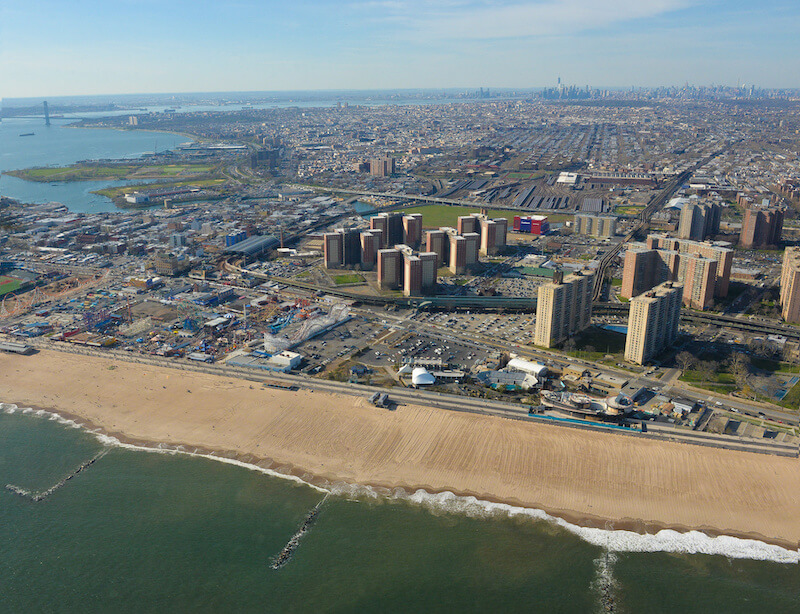 Manhattan Beach is a nearby alternative to Coney Island and Brighton Beach on the southeastern tip of Brooklyn. Another top summertime choice, the fee-free Manhattan Beach is located in a residential area that people often flock to once summer heatwaves arrive. Waves tend to be gentler than other NYC-area beaches, and the vibe is much quieter than its neighbor, Coney Island.
Aside from relaxing on the beach and enjoying the waters, beachgoers like to barbeque, picnic, and play volleyball, basketball, and handball. Other popular amenities people enjoy include playgrounds and two large baseball diamonds. Accessible by car or rail, Manhattan Beach parking tends to be a little expensive and fills up quickly. Visitors who drive will probably want to arrive early to begin their beach outings—driving in New York City is extra busy when beach weather arrives.
Due to the popularity of this area of Brooklyn, homebuyers may buy homes in Manhattan Beach; it's a great area to target Brooklyn luxury homes or condos. Aside from the Manhattan Beach neighborhood, other popular Brooklyn communities people tend to choose when buying in the area include Brooklyn Heights, Williamsburg, Park Slope, Prospect Heights, and Bushwick.
South Beach
Located on the eastern side of Staten Island, South Beach is a popular destination for NYC residents and visitors. Known for its free concerts, fireworks, and beautiful views, it's no surprise people flock to South Beach. Popular activities include swimming, sunbathing, fishing, or strolling the Franklin D. Roosevelt Boardwalk. Park benches are found throughout, along with areas for people to play checkers and bocce.
Great neighborhoods people choose to live near South Beach include New Dorp, Arrochar, Concord, Old Town, and Dongan Hills. If you are looking for a luxury home, check out Todt Hill, where homebuyers find some of the most lavish homes in the city.
Soak Up the Sun in the 5 Boroughs
The beaches near New York City are a hidden gem just waiting to be explored. From public parks and spaces to some of New York City's most expensive neighborhoods, their settings vary greatly and add to their character. With plenty of options for all types of beach-goers, from surfers to those who just want to relax, there's no excuse not to take a day trip or weekend getaway. So next time you're looking to escape the hustle and bustle of the city, head to one of these stunning beaches and soak up the sun, sand, and sea. You won't regret it!