7 Best Westchester County Golf Courses to Hit the Greens
Posted by Matthew Bizzarro on Monday, October 2, 2023 at 3:02:23 PM
By Matthew Bizzarro / October 2, 2023
Comment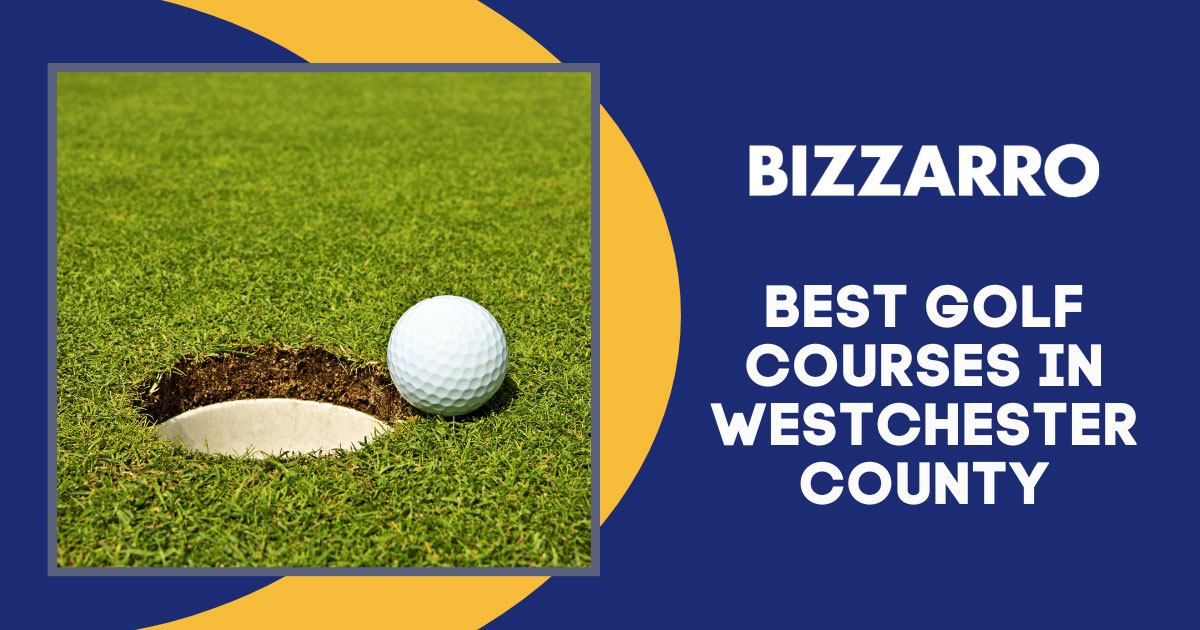 Are you looking for the best golf courses in Westchester County, NY? You're in luck: this county is home to some of the most stunning courses in the country. From the beautiful scenery at Westchester Country Club to the challenging terrain of The Golf Club of Purchase, there's something for every golfer here. Even if you've never picked up a club, you'll still appreciate all this area has to offer. Whether you're moving to Westchester County, a local looking to branch out to new courses, or a visitor passing through, the best golf courses in the area are dynamic and offer a wealth of outdoor recreation opportunities.
Westchester Country Club
With its lush greens and stunning views, Westchester Country Club will surely take your breath away! This club has a rich history of hosting remarkable events, including the Thunderbird Classic in 1963, Ben Hogan's final competitive round in 1970, and the Senior Players Championship in 2011. Its challenging conditions, such as firm and fast greens, narrow fairways, and dense rough, make it a favorite among professional golfers. And yet Westchester Country Club offers more than just an exceptional test of skill; you can admire its picturesque landscaping with the assurance that it will be maintained up to par.
Whether you're an avid golfer or simply looking for a place to enjoy nature's beauty, this course will surely impress. With its top-notch facilities and dedicated staff, Westchester Country Club is one of the best golf courses in Westchester County.
Living Near Westchester Country Club
Located in the northeastern portion of Rye, Westchester Country Club's heavily wooded surroundings provide a beautiful backdrop for golf and life. Some of the most beautiful luxury homes in Rye can be found near the course. Nearby, homebuyers can also find some of the highly-coveted homes with acreage in Rye.
The Golf Club of Purchase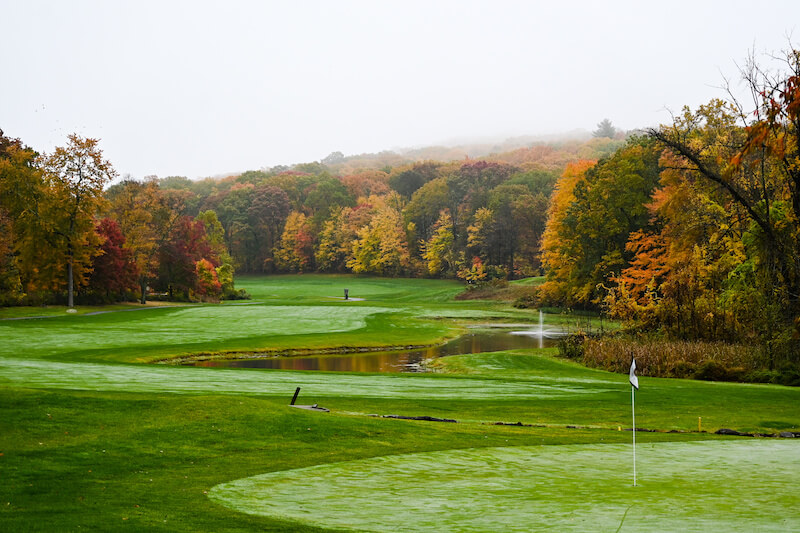 Boasting rolling wooded hills, glistening ponds and brooks, and magnificent stone outcroppings, The Golf Club of Purchase offers an 18-hole championship course for golfers of all levels. Jack Nicklaus designed this 6,876-yard course with a rating of 73.9 and a slope rating 138 on Bent grass.
To help you hone your skills, the club features an ideally situated practice range, a putting green, a state-of-the-art teaching studio, and lavish locker rooms offering member services. You can also take in the tranquil surroundings from one of the spacious stone patios or relax within the 34,000-square-foot clubhouse that showcases an elegant cedar roof and expansive windows to create a sense of openness. From delectable meals to top-rated equipment at the golf shop, The Golf Club of Purchase will surely provide an unforgettable experience!
Living Near The Golf Club of Purchase
Located northeast of the city of White Plains near the New York-Connecticut border, residents near The Golf Club of Purchase typically enjoy more space than many other areas of Southern Westchester County. Homes in Purchase range from newer-construction Craftsman homes to classic farmhouse-style estates.
Hampshire Country Club
Nestled along the picturesque Long Island Sound in the town of Mamaroneck, Hampshire Country Club is a luxurious oasis for all ages. From its awe-inspiring surroundings to its unrivaled elegance and sophistication, Hampshire promises a unique experience for adults and children alike. The country club's 18-hole golf course was masterfully designed by Devereux Emmet and later updated by renowned architects, including Ed Ault, Frank Duane, and Stephen Kay.
Hampshire Country Club's layout offers a challenge for players of all skill levels, with each hole providing its own distinct character. Water hazards come into play on seven holes, including the 367-yard par-4 final hole, which is protected by a two-tiered pond adorned with a mesmerizing waterfall.
Living Near Hampshire Country Club
This region of Westchester County revolves around the beautiful Long Island Sound. The Mamaroneck waterfront homes near Hampshire Country Club come in an accessible price range given the area, and the community is on virtually every list of the great towns in Westchester County.
Whippoorwill Club
Experience the pinnacle of golfing excellence at Whippoorwill Club, where a storied tradition and Donald Ross' creative genius combine to create an unforgettable course. Designed by Charles Banks in 1928, this masterpiece is renowned for its breathtaking beauty and meticulously crafted layout. It's no wonder why it stands as one of the premier golf courses in the Northeast, with Golf Club Atlas recognizing its exceptional qualities and enduring status among golfing enthusiasts. If you're looking for a one-of-a-kind experience, look no further than Whippoorwill Club—it's an experience you won't soon forget!
Living Near Whippoorwill Club
The northernmost course on this best courses list, Whippoorwill Club is located in the Armonk community in Northern Westchester County. Homebuyers shopping in the area can find some of Northern Westchester's homes with acreage thanks to the relatively wide-open spaces there.
Scarsdale Golf Club
The 18-hole course at Scarsdale Golf Club was designed by AW Tillinghast and provides an enjoyable challenge for players of all skill levels. Members will also enjoy a fully stocked golf shop, a practice range, two practice greens, and a dedicated short-game practice area to hone their skills. Scarsdale also allows its members to participate in wonderful tournaments throughout the year. These include Men's, Women's, and Junior's Club Championships, along with various two-person team events.
The club is also renowned for hosting prestigious exhibitions from some of the greatest names in golf history, including Harry Vardon, Ted Ray, Walter Hagen, and Bobby Jones. And no event better encapsulates this heritage than the Wilson Cup—named after long-standing member Charles "General Electric" Wilson—which is one of the top amateur team competitions in Westchester County.
Living Near Scarsdale Golf Club
A considerable share of the most spectacular luxury homes in Westchester County can be found in the immediate vicinity of Scarsdale Golf Club. As one of the most sought-after real estate markets in the region, homes for sale in Scarsdale list for a median price of more than $2 million.
St. Andrew's Golf Club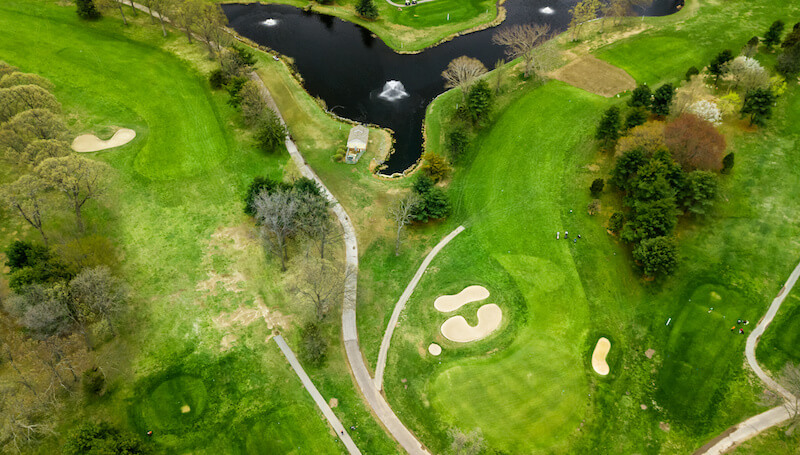 The 135-year-old course at St. Andrew's Golf Club has been shaped by three renowned designers and now spans 6,614 yards with a par of 71 for 18 holes. The club's name is a tribute to The Royal & Ancient Golf Club of St Andrews in Scotland, where the game of golf was invented; today, Westchester County's St. Andrew's is the oldest continuously operating golf club in the US. With a rating of 145, it is a formidable challenge for all player levels. Here are some reasons to make your next tee time at St. Andrew's:
Enjoy timeless elements from the original design that have been preserved over time
Experience Jack Nicklaus' masterful redesign between 1983 and 1985
Elevate your playing experience with ongoing refinement efforts
At St. Andrew's Golf Club, you'll find breathtaking landscape views providing an unparalleled golfing adventure every time you play. The course layout will challenge even the most experienced players while offering something new and exciting each round—making it one of Westchester County's best golf courses.
Living Near The St. Andrew's Golf Club
As the only course on the list that's located in a town on the Hudson River, The St. Andrew's Golf Club has unique residential offerings nearby. Homes in Hastings-On-Hudson are more accessible than in other areas surrounding the top golf courses, listing for a median price in the $800s. The area also has an offering of Westchester County condos and multi-family homes.
Metropolis Country Club
Enjoy an unforgettable golfing experience at Metropolis Country Club, with its century-long history of design and renovation, championship tees that test every aspect of shot-making ability, and premier practice areas for perfecting your game. The 6,827-yard, par-70 layout features doglegs, uneven lies, and undulating greens to challenge even the most skilled players.
The course has earned recognition from numerous golf publications. Its sixth hole is often ranked one of the 18 best holes in the region and one of the 500 best holes in the world thanks, in part, to a comprehensive restoration and renovation project in 2013 that architect Ron Forse led alongside course superintendent David McCaffrey. Members and guests can take advantage of a new 45,000-square-foot short game facility to further enhance their game, featuring two new greens, large practice bunkers, and ample practice space.
At Metropolis Golf Club, you'll be surrounded by a rich history while enjoying all the modern amenities needed to play your best round!
Living Near Metropolis Country Club
Located in White Plains, Metropolis Country Club is nestled in one of the more urbanized communities in the county. Virtually all of the golf course homes in White Plains surround Metropolis Country Club, so despite the surrounding population and density, this is one of the best areas in Westchester for golf course living.
Westchester County Golf Courses: Luxury & Variety
Although the cost of living in Westchester County is high, the area is home to some of the best golf courses in the US, making the cost well worth it for avid golfers. Whether you're looking for a challenging round or want to enjoy the scenery, there's something here for everyone. You can test your skills at Westchester Country Club and take in the spectacular real estate surrounding Scarsdale Golf Club; then, head to The St. Andrew's Golf Club to connect with the history of the game. No matter where you decide to play, you'll be sure to have an experience like no other, juxtaposing excitement with relaxation as you take on some of the nation's most superb golf courses.