4 Best Parks in New York City: Escape to Nature in the Heart of NYC
Posted by Matthew Bizzarro on Monday, May 15, 2023 at 1:01:57 PM
By Matthew Bizzarro / May 15, 2023
Comment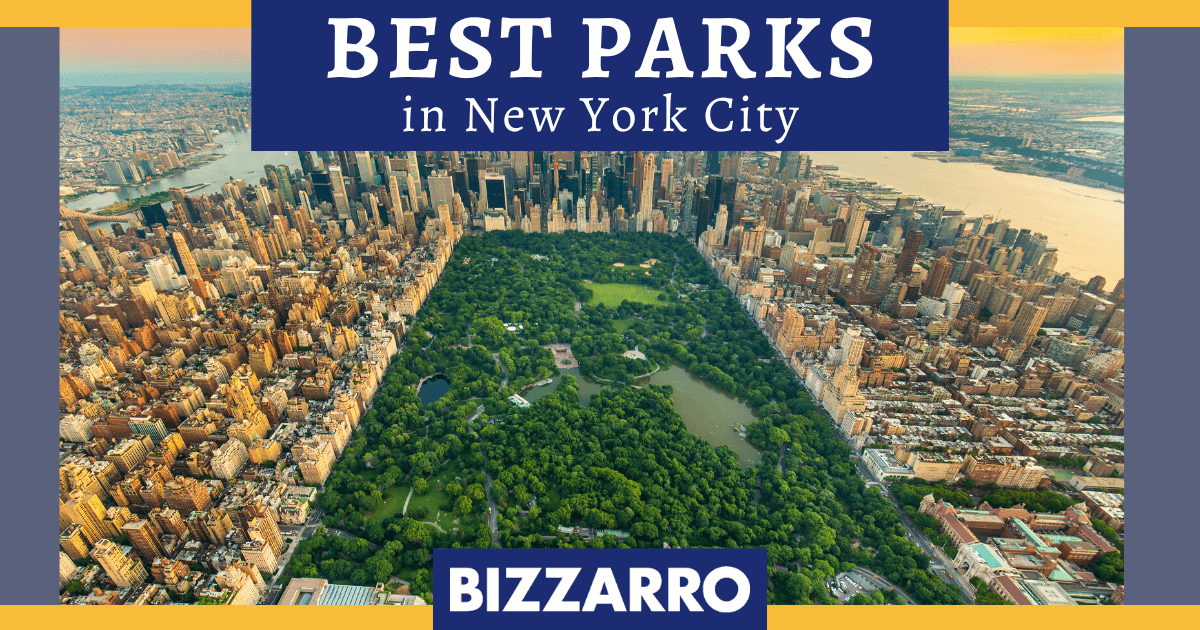 New York City contains an impressive array of parks and green spaces catering to various interests. From Staten Island's High Rock Park with its lush natural beauty to Queens' Flushing Meadows Corona Park, these city gems provide a much-needed escape from urban life. Of course, a list would only be complete with Central Park, an iconic landmark beloved by all who visit the city. Explore the particular attractions of the best parks in NYC and discover why they are among the top spots!
High Rock Park
High Rock Park is a beautiful natural oasis in Staten Island, New York. Visitors can discover the park's verdant woodlands, meadows, and marshes. From bird watching to fishing and biking to hiking, there's something for everyone to enjoy here. A peaceful atmosphere and breathtaking views of the harbor and Manhattan skyline make it the perfect place to relax after a long day in the city.
High Rock Park has plenty of options for those looking for an active adventure. The trails are great for hiking or mountain biking, and you can bring your dog along.
The park offers plenty of kayaking, canoeing, and paddleboarding opportunities from its numerous docks for those wanting to get out on the water. Bass and other fish species are perfect for fishing enthusiasts.
If you want to spot wildlife, head to one of High Rock Park's many wetlands areas, where you'll find birds like ducks and geese and small mammals like rabbits and squirrels running around among lush vegetation. For an extra special treat, visit during spring when wildflowers bloom.
Escape the hustle and bustle of city life or experience a thrilling outdoor journey with awe-inspiring vistas — High Rock Park has it all.
Flushing Meadows Corona Park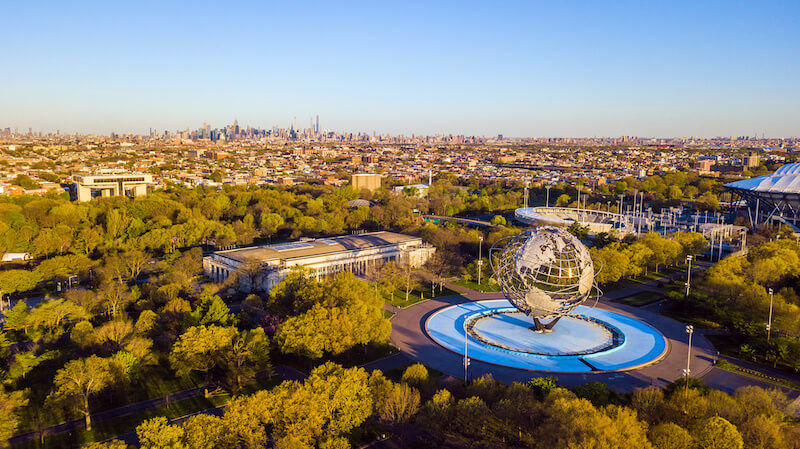 Flushing Meadows Corona Park is a paradise for outdoor enthusiasts and nature lovers. With over 800 acres of land, it's one of the largest parks in New York City. Visitors can enjoy its many amenities, like tennis courts, playgrounds, picnic areas, and an outdoor pool. The park also hosts events throughout the year, including concerts and festivals like Lunar New Year celebrations. Whether you want to relax or stay active, Flushing Meadows has something for everyone.
Plenty of options are available for those who love sports and physical activity at this sprawling park. You can hit up one of the many tennis courts or dip in the outdoor pool on hot summer days. There are also several playgrounds where kids can run around while adults supervise from nearby benches or tables with umbrellas for shade during sunny days. If you want to get some fresh air without getting too sweaty, try one of the walking trails that wind through wooded areas and along waterfront views, perfect for taking photos.
Check out some special events throughout the year, which feature live music performances and cultural activities. Flushing Meadows Corona Park also hosts movie nights under the stars, so bring your blankets (and snacks) if you plan on attending these fun gatherings. Don't forget about all the great food vendors in Flushing Meadows Corona Park, serving everything from tacos to ice cream! Be sure to grab something delicious before heading home after a day exploring this beautiful natural oasis in the Queens borough.
Central Park
Central Park is a renowned landmark in the Manhattan borough, offering an opportunity to experience its natural splendor. From its many activities to the stunning scenery, Central Park offers many ways for visitors to enjoy its beauty.
With more than 42 million visitors annually, the park spans 843 acres, encompassing expansive grassy spaces, meandering creeks, and pools that are havens for ducks, geese, and turtles. Visitors will see many sculptures throughout the park, including Cleopatra's Needle, dating back to 1881.
Rock climbing on Rat Rock or ice skating at Wollman Rink during winter are popular activities in Central Park. Horse-drawn carriages offer rides, while rowboats can be rented from Loeb Boathouse, where you can take a leisurely ride around the lake.
Those who prefer relaxing activities will also find plenty to do in Central Park. Several gardens are throughout, including Shakespeare Garden, with plants mentioned in his works, and Conservatory Garden, which features six acres. For art lovers, there is the Metropolitan Museum of Art, housing over two million pieces, plus regular exhibitions showcasing new global artists.
Overall, Central Park is the ideal destination for those looking to experience a combination of nature and culture.
Pelham Bay Park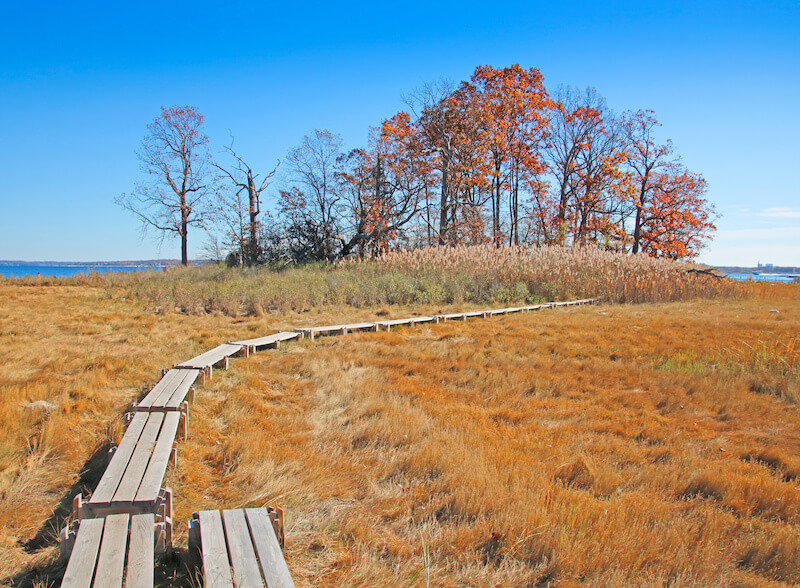 Pelham Bay Park is a sprawling nature preserve in The Bronx. Covering a vast 2,772 acres, Pelham Bay Park is one of NYC's largest parks. Visitors can explore miles of trails for hiking and biking, beaches for swimming and fishing, picnic areas, and playgrounds for kids to enjoy. The park offers stunning views of Long Island Sound and Westchester County.
One popular activity at Pelham Bay Park is birdwatching. Over 200 species have been spotted here, and birders will find plenty from both shorelines and Orchard Beach's boardwalk. Wildlife enthusiasts should take a trip to Hunter Island, containing verdant woodlands home to numerous animals. During summer, visitors can take advantage of free programs and events offered by NYC Parks & Recreation Department staff members stationed throughout the park grounds all season.
For those seeking a respite from the urban landscape, Pelham Bay Park provides an unparalleled opportunity to explore nature and its diverse offerings.
The Best Parks in NYC Offer Something for Everyone
Whether you're seeking a thrilling outdoor excursion or just taking in some natural scenery, the best parks in NYC have something for everyone. Whether you're moving to New York City soon or you've lived here for a while, take some time to explore these beautiful places — your experience will be unforgettable.