Driving in New York City: Everything to Know About Owning a Car in NYC
Posted by Matthew Bizzarro on Wednesday, November 16, 2022 at 11:41:58 AM
By Matthew Bizzarro / November 16, 2022
Comment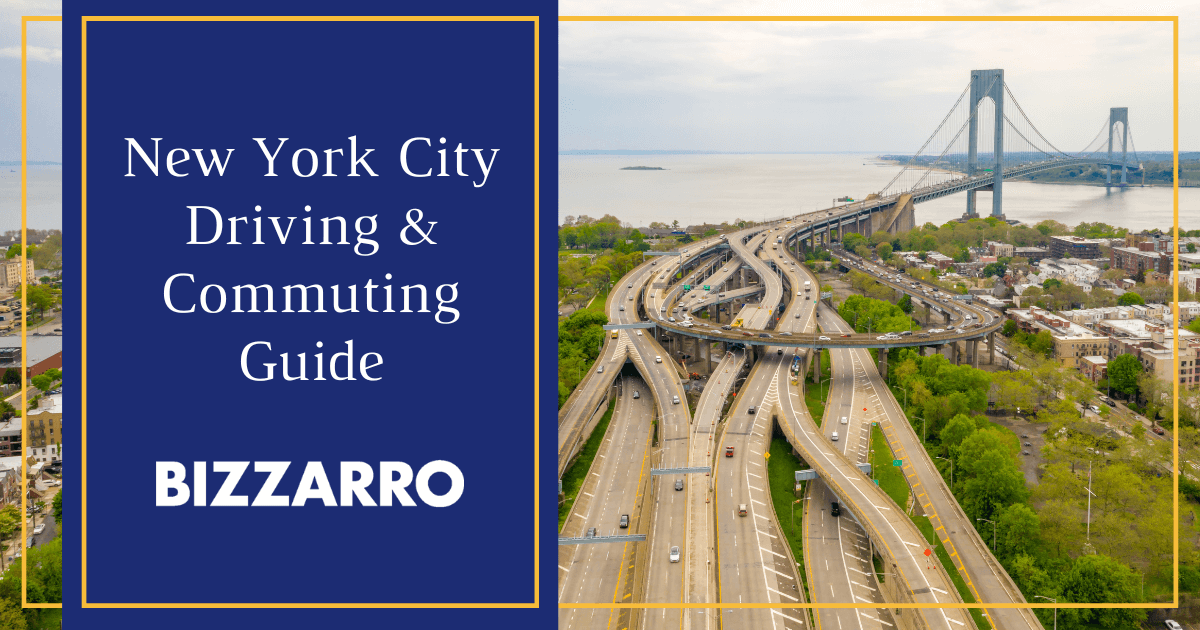 Thinking about owning a car in NYC? Getting around New York City is often easiest with public transit, but driving in the city has many perks that can't be ignored. Everyday tasks like shopping trips and commutes can occasionally be faster when driving in New York City. Additionally, exploring the metro area is also more accessible by car, with fun places like Westchester County, Beacon, and the Catskills just a scenic drive away.
Of course, anyone considering moving to New York with a car should be aware of the traffic rules that are unique to the city. For example, vehicles can't make right turns on red lights unless otherwise posted. Drivers should also be mindful of the city's many bike lanes and pedestrians who have the right of way on crosswalks. Fortunately, this guide will provide everything you need to know about traffic, parking, and other driving-related matters in NYC.
Get to Know New York City's Major Roads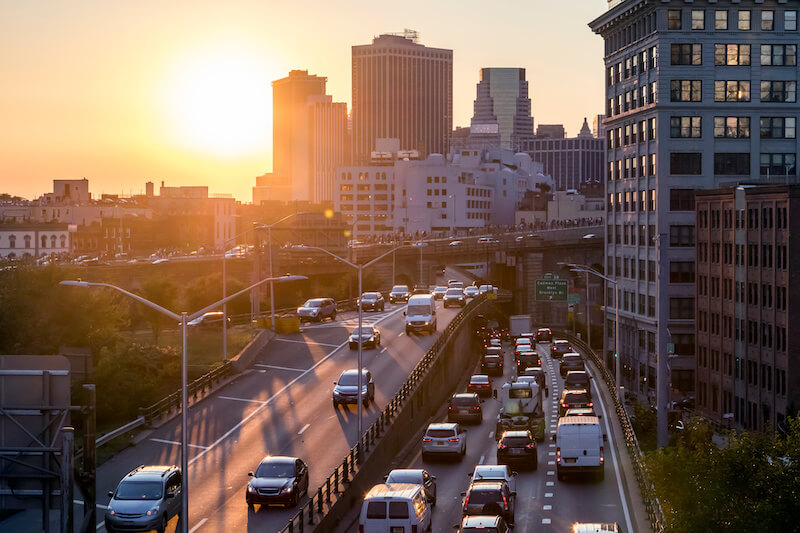 At 322 square miles, New York City has thousands of streets, including service roads, interstates, and city avenues.
Here's a brief overview of need-to-know roadways in New York City by borough.
Manhattan Roads
Manhattan is NYC's most densely populated borough with approximately 1.6 million residents. Some of the most important streets to know include:
Broadway: Known for its theaters and vibrant nightlife, Broadway is a world-famous street that runs the length of Manhattan and extends beyond the Bronx for a total of 33 miles.
Crosstown streets: Crosstown streets run east to west across Manhattan. Examples include 14th Street, 23rd Street, and 42nd Street. Unlike the many one-way streets in the borough, crosstowns typically carry two-way traffic.
1st Avenue & 2nd Avenue: These avenues are major traffic arteries on Manhattan's east side, flowing northbound and southbound.
Other notable Manhattan roads include 5th Avenue, Canal Street, Houston Street, and Park Avenue.
Brooklyn Roads
As the most populous borough in NYC, Brooklyn is home to nearly 2.6 million residents. From the Bensonhurst community to the Bushwick neighborhood and beyond, this borough has a lot to offer drivers regarding traffic, roadways, attractions, and more.
Commuters need to know these streets:
Flatbush Avenue: This busy 10-mile thoroughfare runs diagonally through Brooklyn, making it one of the borough's most distinctive roadways.
Atlantic Avenue: Stretching roughly 10 miles from the East River to the Jamaica neighborhood in Queens, this major east-west avenue serves as a border between many Brooklyn neighborhoods.
4th Avenue: At six miles in length, 4th Avenue is relatively short compared to other roadways in Brooklyn. However, it's one of the busiest streets in the borough, with approximately 76,000 vehicles passing through the Atlantic Avenue intersection.
Other popular Brooklyn roads include Bedford Avenue, Coney Island Avenue, Eastern Parkway, and McGuinness Boulevard.
Queens Roads
Queens is nicknamed the "The Melting Pot of New York," and it's the largest borough by land mass.
Well-known streets in Queens include:
Jamaica Avenue: A main thoroughfare, Jamaica Avenue runs east to west for 11 miles, from Brooklyn's Broadway Junction to the Bellerose neighborhood.
Woodhaven Boulevard: Connecting major highways like Jackie Robinson Parkway and the Long Island Expressway, Woodhaven Boulevard is a key road in Queens.
Queens Boulevard: One of the most significant streets in Queens, this major thoroughfare runs diagonally from east to west for 7.5 miles, connecting the Sunnyside neighborhood, the Elmhurst community, and Forest Hills.
Other major roads in Queens include Jackson Avenue, Ditmars Boulevard, Utopia Parkway, and Union Turnpike.
Bronx Roads
The Bronx is NYC's northernmost borough and the only one located on the mainland. It is home to nearly 1.5 million people, making it the fourth most populous borough in NYC.
Major streets in the Bronx include:
Grand Concourse: A key north-south thoroughfare, the Grand Concourse runs for five miles from 138th Street in the South Bronx to Mosholu Parkway in the north.
Fordham Road: An east-west flowing commercial strip in the northern Bronx, Fordham Road runs for approximately 2.5 miles, connecting New Yorkers to Fordham University and the Bronx Zoo.
Bruckner Expressway: Also called Bruckner Boulevard, this road follows a mostly northeast-southwest alignment near the eastern edge of the borough.
Other notable Bronx roads include Southern Boulevard, University Avenue, Pelham Parkway, and Bronx River Parkway.
Staten Island Roads
Staten Island is the southernmost borough of New York City. It's also the least populated, with approximately half a million residents.
Some of the most well-known streets on Staten Island include:
Richmond Avenue: One of the oldest and busiest roads on Staten Island, Richmond Avenue runs north to south for approximately seven miles.
Hylan Boulevard: Hylan Boulevard's north-south alignment takes up the entire length of Staten Island's East Shore. With over 44,000 vehicles per day, it's one of the busiest streets in the borough.
Staten Island Expressway: This famous expressway runs east to west across Staten Island, connecting Brooklyn, Queens, and the Bronx.
Additional Staten Island streets include Victory Boulevard, Bay Street, and Amboy Road.
New York City Bridges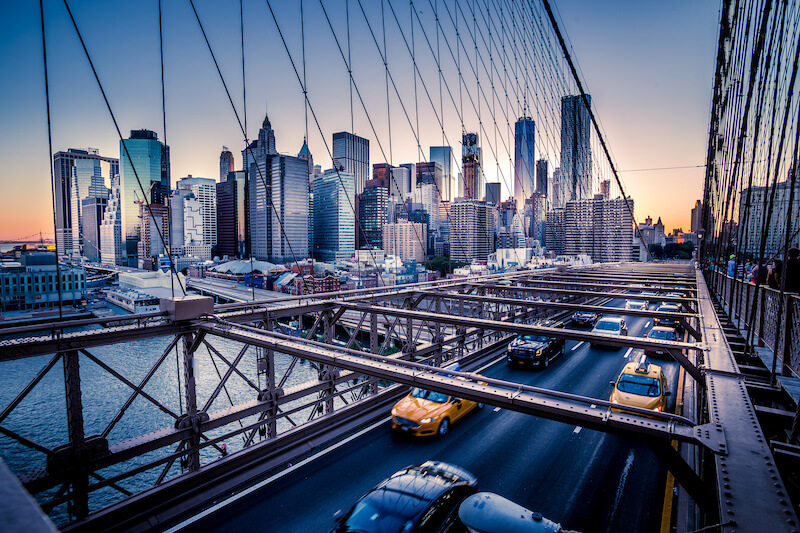 New York City is not only home to thousands of roadways but also a vast network of about 800 bridges. Some bridges are for non-commercial use only, meaning large trucks aren't allowed, while others have paved pathways for pedestrians and cyclists.
The following six bridges are among the most important to know when driving in New York City. Some include cashless Toll-by-Mail or EZ-Pass tolls, plus a few more restrictions.
Brooklyn Bridge
One of the oldest suspension bridges in the United States, the Brooklyn Bridge was completed in 1883 and spans 1,595 feet across the East River, connecting Manhattan to Brooklyn from east to west.
Only passenger vehicles, bicycle traffic, and pedestrians (on the upper promenade) are permitted on this toll-free bridge. The main ramp from Manhattan is located along Centre Street near City Hall Park. The main approach from Brooklyn is near the intersection of Tillary Street and Adams Street.
Manhattan Bridge
The Manhattan Bridge opened in 1909 and is another suspension bridge that connects Manhattan to Brooklyn. It spans 1,470 feet across the East River from east to west and has seven vehicle lanes, a pedestrian walkway, and a dedicated bicycle lane.
Commercial vehicles are allowed on the Manhattan Bridge's lower level, and there are no tolls, making it the go-to choice for many truck drivers. The main approach from Manhattan is marked by the Manhattan Bridge Arch and Colonnade, located near the intersection of Bowery and Canal streets in Lower Manhattan. The primary approach from Brooklyn is at the Tillary Street and Flatbush Avenue intersection in Downtown Brooklyn.
Verrazzano-Narrows Bridge
After driving in NYC for some time, drivers may notice locals referring to the Verrazzano-Narrows Bridge as simply "the Verrazzano." With a central span of 4,260 feet, this double-deck suspension bridge connecting Staten Island to Brooklyn is the longest of its kind in the United States.
The Verrazzano is off-limits to pedestrians and cyclists, and one-way tolls on the Verrazzano Bridge cost anywhere between $6.55 for a passenger vehicle with NY E-ZPass to the Toll-by-Mail rate of $10.17 for those without the pass. (Staten Island residents who join the Verrazzano Bridge Rebate Program with NY E-ZPass may enjoy a discounted rate of $2.75 each way.) The bridge has 13 traffic lanes, with seven on the upper level and six on the lower level.
Queensboro (59th Street) Bridge
Officially named the Ed Koch Queensboro Bridge, this cantilever structure crosses the East River over Roosevelt Island from Manhattan's Upper East Side area to Long Island City in Queens. It's commonly referred to as the 59th Street Bridge due to its main approach at Manhattan's 59th Street and 2nd Avenue junction.
The Queensboro Bridge is the northernmost of the four toll-free bridges connecting Manhattan to Queens and Brooklyn, the other three being the Brooklyn, Manhattan, and Williamsburg bridges. Only commercial vehicles shorter than 12 feet are allowed on the lower level inner roadway and right lane, while cyclists and pedestrians can use the north outer roadway.
George Washington Bridge
The George Washington Bridge is the world's busiest crossing, with approximately 100 million vehicles annually. Opened in 1931, this double-decked suspension bridge connects Upper Manhattan with Fort Lee, New Jersey, and spans 3,500 feet across the Hudson River.
Unlike the Verrazzano Bridge, where tolls are collected each way, the George Washington Bridge operates on a pay-once system. Tolls are collected upon entering the bridge on the New Jersey side bound for Upper Manhattan. George Washington Bridge went cashless in 2022, so two-axle vehicles like passenger cars and SUVs pay $11.75 during off-peak hours and $13.75 during peak hours with NY E-ZPass. Vehicles without the transponder pay a Toll-by-Mail rate of $16.
Williamsburg Bridge
The Williamsburg Bridge, which opened in 1903, is a suspension bridge that carries vehicular traffic over the East River from Delancey Street on the Lower East Side of Manhattan to 5th Street in the Williamsburg neighborhood in Brooklyn.
The Williamsburg Bridge is the last of the toll-free bridges on this list, which has a main span that stretches 1,600 feet. It provides access for cars, pedestrians, and cyclists, plus the J, M, and Z trains on the BMT Canarsie Line. No large commercial vehicles are allowed on the inner roadways due to the weight restrictions on the bridge.
New York City Tunnels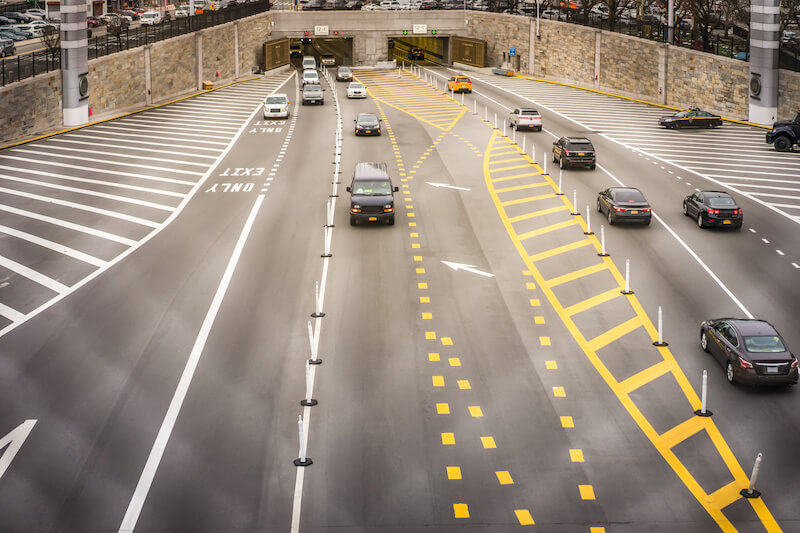 There are four New York City tunnels connecting Manhattan to the outer boroughs and New Jersey. The Lincoln and Holland tunnels fall under the Port Authority of New York and New Jersey, while the Hugh L. Carey and Queens Midtown tunnels are managed by the city's Metropolitan Transit Authority (MTA):
Lincoln Tunnel
Roughly 113,000 cars travel through the Lincoln Tunnel daily, making it the busiest of all the tunnels connecting Manhattan to New Jersey. It opened in 1937 and runs beneath the Hudson River from Midtown Manhattan to Weehawken, New Jersey.
The Lincoln Tunnel comprises three tubes: the north, center, and south. The north and south arteries carry westbound and eastbound traffic, respectively, while the center tube's lanes may be reversible depending on traffic conditions. Commercial vehicles are not permitted on the center tube, and there are no pedestrian or bicycle pathways. The toll chart for all vehicle types is the same as the George Washington Bridge due to both being managed by the Port Authority, with standard rates ranging from $11.75 to $16 for two-axle vehicles with NY E-ZPass or Toll-by-Mail. The Lincoln Tunnel was the last Port Authority crossing to go cashless in 2022.
Holland Tunnel
Opened in 1927, the Holland Tunnel is the second busiest vehicular tunnel managed by the Port Authority, with around 100,000 vehicles passing through each day. Its 1.6-mile stretch extends from Lower Manhattan to Jersey City, New Jersey, and comprises twin tubes that carry traffic in both directions.
The Holland Tunnel does not permit pedestrians, bicycles, and commercial vehicles with more than three axles. Cashless tolls were introduced in 2020, and the current rates for two-axle vehicles with NY E-ZPass are $11.75 during off-peak hours and $13.75 during peak hours.
Hugh L. Carey Tunnel
At 1.7 miles, the Hugh L. Carey Tunnel (formerly known as the Brooklyn-Battery Tunnel) is the longest continuous underwater crossing in North America. It opened in 1950 and is managed by the MTA. Its twin one-way tubes carry traffic in opposite directions across the East River, connecting Lower Manhattan to Red Hook, Brooklyn.
The tunnel has a height restriction of 12 feet and 1 inch and a weight restriction of 80,000 pounds, making it inaccessible to certain commercial vehicles. Tolls follow a fee schedule set by the MTA. Rates for two-axle passenger vehicles range from $6.55 for drivers with NY E-ZPass to $10.17 for Toll-by-Mail.
Queens Midtown Tunnel
The Queens Midtown Tunnel is another underwater crossing managed by the MTA. It runs beneath the East River for just over a mile, connecting Manhattan's Midtown East neighborhood to Long Island City in Queens. The tunnel opened in 1940 and comprises two tubes carrying traffic in opposite directions, similar to the Hugh L. Carey Tunnel.
Tolls for two-axle passenger vehicles with NY E-ZPass follow the MTA's fee schedule. Drivers who choose Pay-by-Mail will be charged $10.17. A lower rate of $6.55 is available for drivers with NY E-ZPass.
What to Expect Driving at Different Times of Day in New York City
During weekday morning rush hour, traffic in Manhattan is heaviest between 7 and 10 AM, with Midtown being the most congested area. Congestion then eases up somewhat between 10 AM and 4:30 PM before rush hour resumes from 4:30 to 7 PM.
On weekends, traffic is generally lighter than on weekdays. But core areas like Midtown Manhattan and Downtown Brooklyn can still get congested, especially during Saturday afternoons and evenings.
To breeze through traffic in NYC, it's best to avoid driving in Midtown Manhattan during weekday rush hours whenever possible. One alternative is to hop on the city's outermost roadways that run from north to south on either side of Manhattan. For example, York Avenue and the FDR Drive on the east side and 10th Avenue, 11th Avenue, and West Side Highway on the west side. From there, drivers can then access the city's grid of east-west, one-way cross streets to reach their destinations. They should avoid major two-way crosstowns like 23rd Street, 34th Street, 42nd Street, and 57th Street, where MTA buses may take up multiple lanes.
Parking in New York City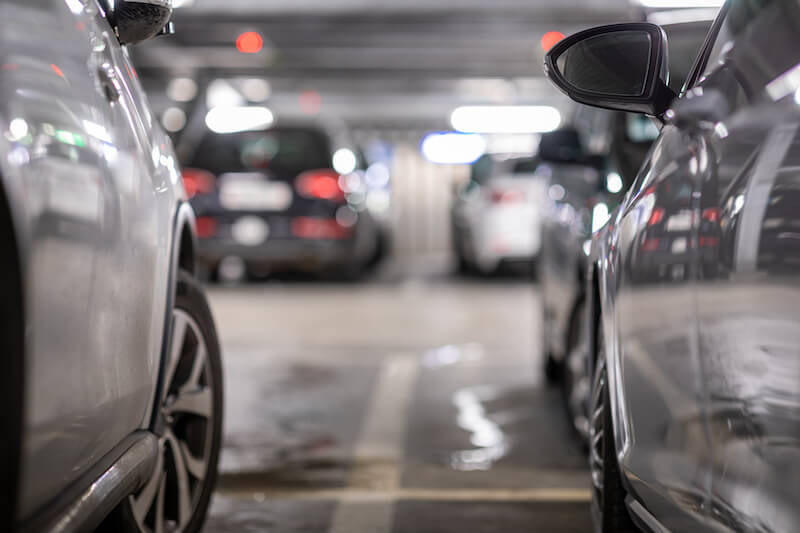 With millions of vehicles entering NYC daily, parking can be pretty limited, especially in Manhattan's most congested Midtown and Lower Manhattan areas.
That said, there are several ways to find free or paid parking in NYC with minimal headache. As a general rule, drivers should pay attention to signage that designates parking rules for specific days and hours and street cleaning.
Below are tips for parking on the street or in public parking lots and garages in NYC.
Street Parking
Drivers hoping to snag a free parking spot on the street will need to be patient and look for signage indicating whether parking is permitted on certain days and hours. For example, metered street parking is free on Sundays in many parts of the city. Other signs will post specific days and hours when parking is permitted, such as "No Parking Tuesdays from 8 AM to 10 AM for street cleaning."
Should the vehicle stand in a spot designated for street cleaning, parking, or commercial loading/unloading during non-permitted times, it's likely to get ticketed or towed. Less congested, residential neighborhoods typically have less stringent street parking rules than Midtown or Lower Manhattan, so they may be a better option for those hoping to avoid getting a ticket.
Another thing to remember is that metered street parking in NYC may be capped at two hours in some areas. Once the maximum time has elapsed, drivers must move their vehicles or add additional time if possible.
Additional parking rules and regulations in NYC include:
Double parking is illegal anywhere in the city at any time.
Vehicles may not park within 15 feet of a fire hydrant.
Alternate side parking, which allows for street cleaning, is enforced citywide except on Sundays and major holidays.
Parking is allowed in school zones when school is not in session.
Garages
Garages and paid parking lots are plentiful in New York City, though rates can vary greatly depending on the neighborhood and time of day. In general, parking in Manhattan will be more expensive than in the outer boroughs, with daily rates hovering around $45 and monthly rates ranging between $300 for outdoor (uncovered) parking to $800 for indoor (covered) parking.
Drivers should be aware that the cost of parking might include an additional "night" fee for vehicles parked between 6 PM and 12 AM and a "weekend" fee for vehicles parked between midnight Saturday and midnight Monday. Signage at the parking location should list these rates. If not, asking a parking attendant before handing over the keys is always best.
For those looking for a more budget-friendly option, municipal parking facilities operated by the DOT offer rates as low as $12 per day in the outer boroughs. These lots don't allow overnight stays, so they are best suited for commuters or drivers making day trips into the city.
Below are some of the most popular municipal garages in NYC:
Manhattan: Delancey and Essex Municipal Parking Garage; 105-113 Essex Street and 112-120 Ludlow Street, New York, NY 10002; 357 spaces (including six ADA-accessible spaces and five EV charging spaces); 12 bike racks; open 24/7; cashier/toll operator available.
Brooklyn: Bay Ridge Municipal Parking Garage; 8501 Fifth Avenue, Brooklyn, NY 11209; 205 spaces (including six ADA-accessible spaces and five EV charging spaces); open Monday to Sunday from 8 AM to 10 PM; cashier/toll operator available.
Queens: Court Square Municipal Parking Garage; 45-40 Court Square, Queens, NY 11101; 702 spaces (including 22 ADA-accessible spaces and eight EV charging spaces); two bike racks; open 24/7; cashier/toll operator available.
The Bronx: Jerome – 190th Street Municipal Parking Garage; 2478 Jerome Avenue, Bronx, NY 10468; 416 spaces (including 12 ADA-accessible spaces and five EV charging spaces); one bike rack; open 24/7; cashier/toll operator available.
Staten Island: Ferry Terminal South #1 Municipal Parking Field; 1 Bay Street, Staten Island, NY 10301; 222 spaces (including 9 ADA-accessible spaces); open 24 hours from Monday to Saturday, with limited times on Sunday); unattended metered facility.
Alternatively, in real-time, drivers can download apps like SpotHero and Best Parking to compare rates at non-municipal parking garages in NYC.
Commute Times Between Boroughs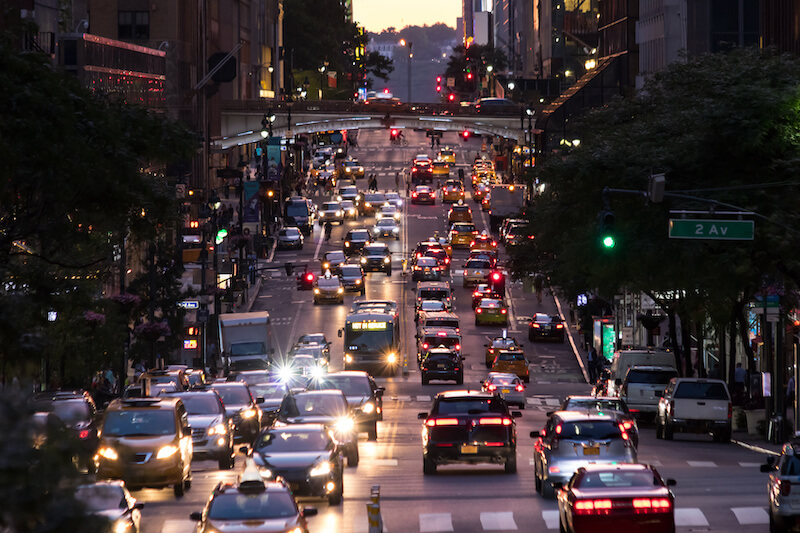 Parking and traffic are only part of the equation for driving in NYC. Another important consideration is how long it will take to get from one borough to another under moderate traffic conditions:
Manhattan
It's possible to travel from W 81st Street in Manhattan to the neighborhood of Parkchester in the East Bronx in about 40 minutes under light-to-moderate traffic conditions. One way to do this is to hop on the 86th Street Transverse, which bisects Central Park from east to west, then head north on 3rd Avenue. From there, drivers can take the Bruckner Expressway northbound.
To reach Brooklyn from W 81st Street, it's probably best to take the FDR Drive southbound and cross one of the East River bridges (i.e., Williamsburg, Manhattan, or Brooklyn bridges), depending on traffic conditions. The average commute from Manhattan to Brooklyn during moderate traffic is about 45 to 55 minutes.
Reaching Queens from the middle of Manhattan is typically a bit quicker than traveling to Brooklyn due to the proximity of the boroughs. Drivers can take one of the transverses (e.g., 86th Street or 97th Street) across Central Park, hop on the FDR Drive southbound, then take the BQE (I-278) eastbound. During moderate traffic, commutes from Manhattan to Queens are usually between 35 to 40 minutes.
To reach Staten Island, drivers can take either the West Side Highway or the FDR Drive southbound to the Verrazzano-Narrows Bridge. The trip is the longest in moderate-to-heavy traffic conditions from Manhattan at just over one hour.
Bronx
Like Manhattan, traffic conditions significantly affect how long it takes to get from The Bronx to a different borough. As mentioned, traveling from Parkchester in the East Bronx to W 81st Street in Manhattan takes about 40 minutes in moderate traffic via the Bruckner Expressway.
Because Brooklyn and the Bronx are further apart than Manhattan, traveling between the two boroughs generally takes longer. Drivers can take the Whitestone Bridge via the Van Wyck Expressway (I-678) southbound, connect to Jackie Robinson Parkway, and exit onto Atlantic Avenue for roughly 50 minutes.
To reach Queens from The Bronx, drivers can take I-295, also known as the Clearview Expressway, over Throgs Neck Bridge, or they may take the Whitestone Bridge via I-678. The trip takes roughly 30 minutes with light-to-moderate traffic.
Driving from The Bronx to Staten Island may take longer than any other borough-to-borough commute due to the distance between the two, with the Bronx being the northernmost borough and Staten Island the southernmost. One of the quickest routes is via the Bruckner Expressway, FDR Drive, and Verrazzano-Narrows Bridge, but this trip can still take up to an hour and 40 minutes in moderate traffic.
Brooklyn
We discussed the three East River bridges in Lower Manhattan that drivers can use to reach Brooklyn from Manhattan (i.e., Williamsburg, Manhattan, or Brooklyn bridges). Another option is to take McGuinness Boulevard to the Brooklyn-Queens Expressway (BQE), also known as I-278, and cross over Roosevelt Island via the Queensboro Bridge. This route passes through Brooklyn's Bedford-Stuyvesant neighborhood, Williamsburg, and the Greenpoint neighborhood and takes roughly 50 minutes to complete in moderate traffic.
To reach Queens from Brooklyn, drivers can follow the above route, which deposits them in the neighborhoods of Long Island City and Hunters Point near the foot of the Queensboro Bridge, or they can take the Jackie Robinson Parkway from Atlantic Avenue to the east side of Queens near Forest Hills. Both journeys take about 30 minutes to complete in light-to-moderate traffic.
The Jackie Robinson Parkway allows drivers to connect to the Van Wyck Expressway northbound and cross over the Whitestone Bridge into the Bronx. Drivers in NYC may complete this route in about 45 minutes if there is little traffic and a few slowdowns.
For Staten Island-bound traffic from Brooklyn, the best option is to take the Verrazzano-Narrows Bridge via the BQE for a travel time of 45 minutes, give or take.
Queens
One popular Manhattan-bound route from Queens is via Grand Central Parkway, heading west past Flushing Meadows and Corona Park. The parkway connects to the BQE, which leads to the Robert F. Kennedy Bridge (formerly the Triborough Bridge). This journey takes about 40 minutes in moderate traffic.
Drivers looking to reach the Bronx from Queens can do so via the Van Wyck Expressway to the Whitestone Bridge or the Clearview Expressway to the Throgs Neck Bridge. Both options take around 30 minutes in light-to-moderate traffic.
When traveling southwest from Queens, one of the preferred routes to reach Brooklyn is via Jackie Robinson Parkway. Another is via the BQE when traveling from neighborhoods in northern Queens, such as Ditmars Steinway and the Astoria neighborhood. Both routes take roughly 30 minutes in traffic that is not too heavy.
To reach Staten Island from Queens, drivers can take the Belt Parkway southbound to the Verrazzano-Narrows Bridge. The trip takes about an hour and 15 minutes with moderate traffic.
Staten Island
Staten Island is the southernmost of NYC's boroughs. The Verrazzano-Narrows Bridge is the only way to reach it by car from the other boroughs unless traveling through New Jersey is an option. However, this will add more time.
The Verrazzano-Narrows Bridge is best accessed via connections from the city's vast highway system. For example, when traveling to Manhattan, drivers can cross the Verrazzano, connect to the Hugh L. Carey tunnel via the BQE, then hop on the FDR Drive northbound to W 81st Street for a travel time of just over an hour in moderate traffic.
When traveling to the Bronx, drivers will want to follow the above route to the FDR Drive northbound, cross over the Robert F. Kennedy Bridge, then merge onto the Bruckner Expressway for one hour and 30 minutes.
Drivers bound for Brooklyn from Staten Island can take the Verrazzano/BQE route to Belt Parkway, which passes through Brooklyn's Sunset Park, Gowanus, and Park Slope neighborhoods. This route takes about 50 minutes to complete in moderate traffic.
To reach Queens from Staten Island, drivers can take the BQE over the Verrazzano and through Brooklyn to the Long Island Expressway (I-495) eastbound, connecting the neighborhoods of Elmhurst, Corona, and Rego Park in Queens. The travel time is around one hour and 15 minutes in moderate traffic.
Other Helpful Things to Know About Driving in NYC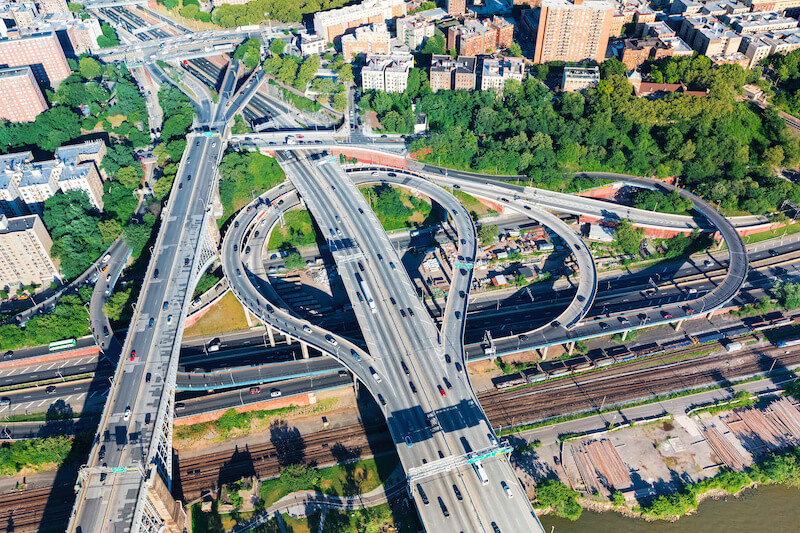 In New York City, drivers vie for space with pedestrians, bikers, taxi drivers, buses, trucks, and sometimes even NYPD officers on horseback. The city's traffic laws and regulations are in place to help keep everyone safe, and drivers must know and follow them.
Below are some helpful things to know when driving in New York City:
Wearing a seat belt is required for all drivers and passengers.
Drivers must stop for school buses flashing their red stop sign arm, even if they are in the opposite direction on a divided roadway.
Speed limits in the city are generally 25 to 45 miles per hour. Highways are usually 55 to 65 miles per hour.
Drivers must yield to pedestrians crossing the street in a marked or unmarked crosswalk or at an intersection with traffic lights.
New York City is bike-friendly, with over 1,456 bike lanes. Drivers should be aware of cyclists on the road and give them plenty of space.
Unnecessary honking is illegal, and horns should be used only to warn others of danger. Breaking this law comes with a hefty fine of $350.
Illegal turns like right-on-red, U-turns, and some left turns can result in traffic tickets up to $150 for a first offense and $450 for a third offense.
The use of handheld devices while driving is banned in New York City. This includes talking on the phone, texting, checking email, taking photos, and using social media. Exceptions can be made in an emergency, such as dialing 911. Drivers caught using their phones will be subject to a maximum fine of $450.
"Blocking the box" or "gridlocking" is when a driver enters an intersection even though they cannot clear it before the traffic signal changes. This maneuver is prohibited by law enforcement, as it often causes traffic to back up, so drivers should halt at the stop line (before any crosswalks) if the vehicles ahead of them are moving too slowly and the traffic light is about to turn red.
The city has a Zero Tolerance Law for drivers under 21 caught with a blood alcohol content (BAC) between .02% and .07% while operating a vehicle. Penalties for breaking this law include license revocation, fines, and possible jail time. The standard or "per se" limit for driving under the influence (DUI) is .08% BAC and applies to drivers of all ages.
Ready to Hit the Road in New York City?
With lots of patience and a bit of planning, driving in NYC can be a manageable and even enjoyable experience. Moreover, drivers will be better equipped to overcome traffic in NYC once they familiarize themselves with the various traffic laws, parking rules, and other helpful tips in this guide.