4 Amazing High-ROI Smart Tech Upgrades to Consider
Posted by Matthew Bizzarro on Wednesday, March 9, 2022 at 8:58 AM
By Matthew Bizzarro / March 9, 2022
Comment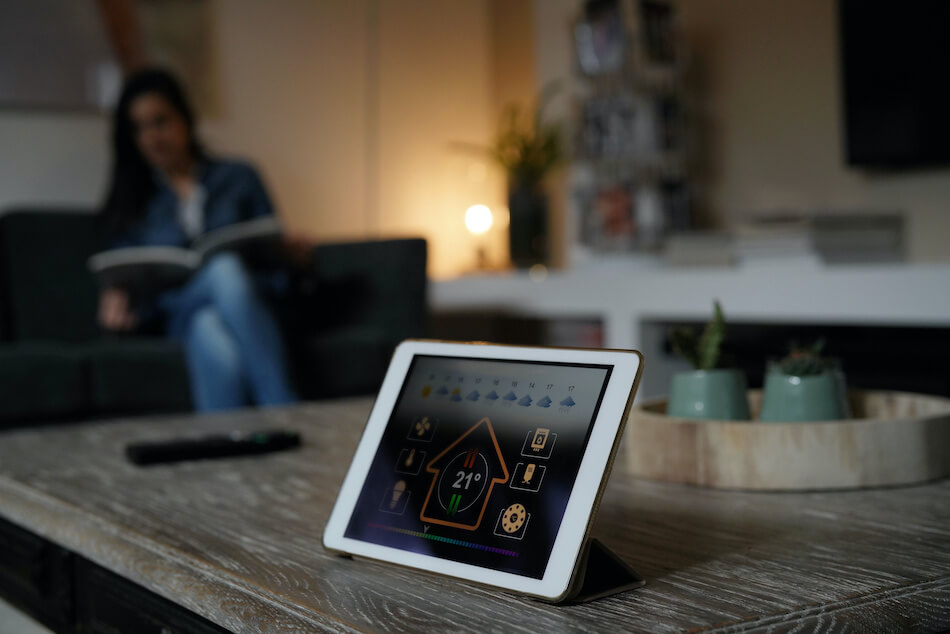 Smart technology seems to be taking the real estate world by storm. With new devices that make life easier for everyone, smart home technology is highly desirable. High-ROI Smart technology in the home can save money on bills, improve quality of life, and increase the overall property value. Are you ready to bring the latest technology to your home? Keep reading to learn about the best high-ROI smart home upgrades.
Smart Hubs Are Efficient, Convenient & Affordable
It's amazing how one tiny device called a smart hub can transform how a home operates while boosting efficiency. These central units allow occupants to control various home features and amenities with greater convenience.
Smart hubs operate as communicators and activators of compatible home features. All that is needed is an internet connection and a device such as a smartphone, tablet, or computer to manage actions and operations of systems such as:
Smart Appliances
Lighting Installations
Major Systems Like Heating and Cooling
Home Security Devices
Home Speakers
In essence, adding a smart hub is the most accessible and affordable way to get started with smart home additions and upgrades.
Smart Appliances With High ROI
According to EnergyStar estimates, over $2,000 of the average homeowners' income goes to energy costs including heating and cooling and electronics. However, smart appliances offer greater efficiency in general and can be controlled remotely even when far away from home.
Installations can even be preset to operate at specific times, saving owners a good bit on energy expenses. This is a handy feature for anyone on the go, and it can be instrumental when an appliance is accidentally left on. The top smart appliances with a solid ROI that consumers demand today include:
Refrigerators
Freezers
Laundry Devices
Ovens
Dishwashers
Built-In Microwaves
These appliances are often included in a home sale and can retain their value long-term with proper care.
Smart HVAC Appliances Maximize Comfort, Minimize Spending
Out of those estimated annual energy costs, almost 30% of it goes towards heating and cooling costs. This includes air conditioning and heat, but use can be curbed a good deal with a smart heating and cooling system or furnace-fired unit.
Owners can set their preferred comfort levels and set them up to operate only before occupants arrive for optimal efficiency. These energy-efficient home upgrades are also environmentally friendly and help curb emissions too. Some of the best smart tech upgrades for heating and cooling that increase home value and bring in a decent ROI include:
Smart Thermostats
Smart Dehumidifiers
Smart Air Flow Controls
Schedule Setting Abilities
Smart Fans
Smart Blinds
Many homeowners opt to install complete functional HVAC systems and window treatments that work in unison to create comfortable indoor temperatures.
Smart Home Security Systems
Home security has become almost mandatory in today's world, and the best protection for occupants and their possessions is to choose a modern smart intrusion system. Via their ability to connect to the internet of things, smart home security allows owners to monitor what is occurring in and around the home.
Alerts can be sent immediately about possible intrusions, smoke detection, and other common home safety hazards. Video cameras can be viewed from any internet-connected device. Recordings and backups can be made instantly on-demand, which is an excellent feature to help catch criminals and even keep an eye on children when caretakers are away.
Most systems have impressive features that include panning 360-degree cameras, the ability to manually activate alarms, and even ensure that windows and doors stay closed and locked. High-dollar smart security is often equipped with facial recognition features that allow guests to enter with the owner's permission—even when they aren't home.
Use Smart Home Upgrades to Enter the Future
When it comes to high-ROI home improvements, you need to think about the short term and the long term. In the short term, you want upgrades that will make daily tasks easier. You also want appliances that will reduce your overall spending. In the long term, you should look at trends and decide what will help you sell your home for the best price possible when that time comes. These smart technology home upgrades can satisfy any homeowner's short-term and long-term goals.