Is Westchester County Dog Friendly? Explore Fun Things to Do With Your Dog
Posted by Matthew Bizzarro on Monday, June 12, 2023 at 11:59:51 AM
By Matthew Bizzarro / June 12, 2023
Comment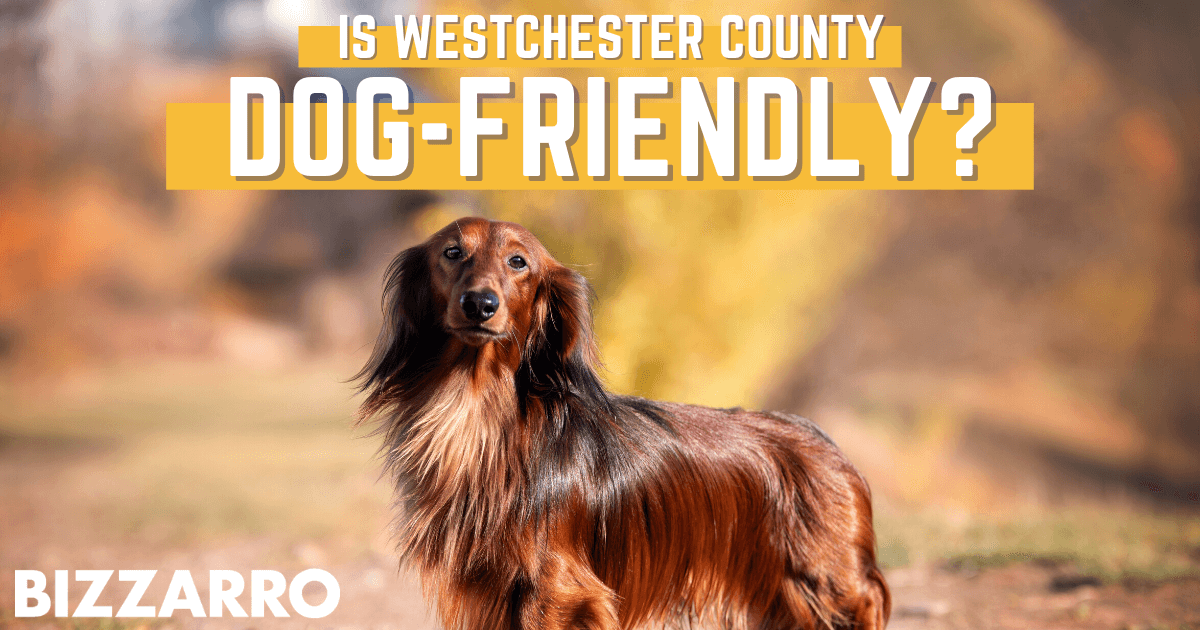 Westchester County, located in the picturesque Hudson Valley of New York, is renowned for its scenic beauty, rich history, and vibrant communities. As a region that values the well-being and happiness of its residents, a pertinent question arises: Is Westchester County truly dog-friendly? This article delves into the various aspects of dog ownership in Westchester County, examining its dog-friendly amenities, policies, and attitudes toward our furry companions.
By exploring the county's parks, recreational areas, pet-friendly businesses, and available services, this article aims to provide an insightful analysis of the overall dog-friendliness for homebuyers moving to Westchester County. With its proximity to New York City and abundant natural spaces, the county presents an appealing setting for dog owners. The following exploration will shed light on whether Westchester County truly lives up to its reputation as a haven for dog lovers.
Best Neighborhood Dog Parks in Westchester County
Westchester County has several easily accessible dog parks in it. Various communities understand the importance of allowing residents to take their dogs out and let them off the leash for exercise and active play. Here are five dog parks to explore across the county.
Port Chester Dog Park
The Port Chester Dog Park is located inside Abendroth Park in the village of Port Chester. It has three fenced-in areas for dogs. There is a large dog area with the capacity for up to 25 pets at a time. Large dogs are defined as those weighing 30 pounds or more. A small dog area has room for up to 15 pets with a 30-pound limit. There is also a fenced timeout area for no more than five dogs if they need to calm down for a few minutes. Any dog that exhibits aggressive behavior must be removed from the park immediately. All dogs must be licensed and vaccinated to be brought to the park, with a visible license attached to a collar.
Port Chester Dog Park Additional Information
Address: 139 Touraine Ave., Port Chester, NY 10573
Hours: Open daily from dawn until dusk
Closed Wednesdays from 7:00–9:00 a.m. for maintenance
Cedar Lane Dog Park (aka Ossining Dog Park)
The Ossining Dog Park is also known as the Cedar Lane Dog Park. Cedar Lane Town Park is a wooded park close to a neighborhood of low-rise condos and single-family homes in Ossining. The dog park is the perfect location to take pets for an outing and socialization. There is an annual $20 membership fee to use the dog park. Ossining Dog Park has separate fenced-in areas for large and small dogs to run around off-leash and get some exercise. The dog park is slightly sloped and has a mulch and woodchip surface. Amenities include water fountains, benches, and Porta Potty restrooms.
Cedar Lane Dog Park Additional Information
Address: 235 Cedar Lane, Ossining, NY 10562
Hours: Open daily from dawn until dusk
Kingsland Point Dog Park (Sleepy Hollow)
Kingsland Point Dog Park is the perfect spot for owners who live in the Westchester waterfront homes and condos in the Sleepy Hollow community on the Hudson River. Pet owners must purchase an annual parking and dog park pass for $25 to use the park. Otherwise, parking is $5 for a single visit for Sleepy Hollow residents or $10 for people from other parts of Westchester County. The dog park is a single fenced-in area for both large and small dogs to share. The fenced area is about 0.5 acres in size.
Amenities at the Kingsland Point Dog Park include picnic tables, drinking fountains, trash cans, and dog waste bags. The views from this park are spectacular since it is right on the water and not far from the Tarrytown Lighthouse and the Tappan Zee Bridge.
Kingsland Point Dog Park Additional Information
Address: Tarrytown Light-Kingsland Point Path, Sleepy Hollow, NY 10591
Hours: Open from 9:00 a.m.–7:30 p.m. daily
Rumbrook Park East Dog Park (White Plains)
The Rumbrook Park East Dog Park is located in the city of White Plains and the town of Greenburgh. A local non-profit organization maintains the dog park, and people must purchase an annual $20 membership. The non-profit continues to improve this dog park as funds become available. The fenced-in area is one acre, and dogs of all breeds and sizes are allowed. A smaller fenced area is reserved for small dogs only. A wooded trail next to the dog park runs through the larger Rumbrook Park, and leashed dogs are welcome to accompany their owners.
Amenities at Rumbrook Park East Dog Park include chairs and benches, trash cans, and waste disposal bags. There is a multi-tiered water fountain just outside the park. Violating dog park rules can result in a temporary or permanent suspension of membership privileges.
Rumbrook Park East Dog Park Additional Information
Address: 850 Dobbs Ferry Rd., White Plains, NY 10607
Hours: Open daily from sunrise until sunset.
Elmsford Dog Park
The Elmsford Dog Park is an excellent option for people who live in homes in Elmsford, many of which are within walking distance of the park. One of the main limitations of this small park is that there are only two parking spaces next to it. Not much street parking is available nearby, so many dog owners have to "hoof it" to enjoy this park. The total fenced-in area is about 10,000 square feet, with a separate small area for puppies and small dogs. It is also a dirt-surfaced park, so expect a pet to get dirty while playing here. The size limitation makes it difficult for a dog to get strenuous exercise, but it is better than nothing for residents in the neighborhood.
Elmsford Dog Park Additional Information
Address: Corner of Winthrop Ave. and N. Evarts Ave., Elmsford, NY 10523
Hours: Open daily from sunrise until sunset
Dog-Friendly Activities in Westchester County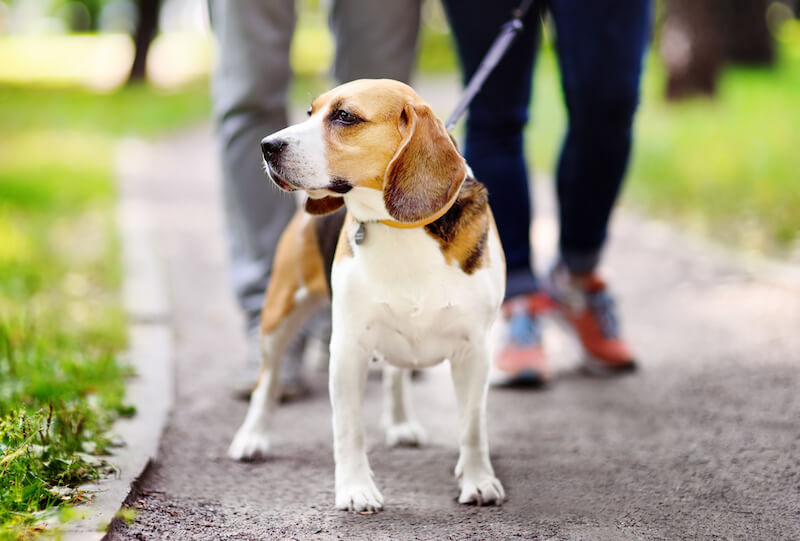 For pet owners whose dogs like to get wet, several dog-friendly beaches exist in Westchester County. Playland Park is next to the beach in the town of Rye, next to Long Island Sound. The Rye Playland Beach allows dogs between October and April. Fall and spring are the best times to visit. Dogs can even be taken off the leash to run around here if their owners are nearby. Larchmont Dog Beach is another option at 118 Park Avenue in the village of Larchmont. It has a small section of beach where dogs can run and play. The Montgomery Pleasure Ground Park in Montgomery has an area where dogs can play in the Wallkill River.
The Hudson Valley also has several important historic sites and parks where leashed dogs can accompany their owners. The Home of Franklin D. Roosevelt National Historic Site in Hyde Park is mostly dog-friendly. Leashed dogs are allowed in the developed areas, gardens, and trails around the home. The Vanderbilt Mansion in Hyde Park is another option with gardens and walking trails. Dogs can also explore the grounds at the Lyndhurst Mansion in Tarrytown with their owners.
Kensico Dam Plaza in Valhalla is a great place to spend the day hiking and exploring with a leashed dog or to enjoy a picnic. The Rockefeller State Park Preserve in Pleasantville is yet another place for some dog-friendly fun.
Dog-Friendly Restaurants in Westchester County
Many pet owners consider their dogs a part of the family, so they don't want to go anywhere without them. Fortunately, Westchester County has many dog-friendly restaurants where leashed pets can accompany their owners for a meal. All of the venues listed here have outdoor patio seating that is dog-friendly.
The Dog Den is a specialty hot dog restaurant in White Plains. It serves a variety of hot dogs on toasted buns and has a huge selection of condiments and sides. Dogs can also get their own bag of treats to enjoy some fine dining here.
Hudson Social is located on the waterfront in the village of Dobbs Ferry. They allow outdoor seating for 90 minutes with leashed dogs. The menu includes pulled pork, salads, sandwiches, and burgers.
Jackie B's in Scarsdale is a burger joint with 40 beers on tap and a wide selection of cocktails. People are welcome to dine and drink with their canine companions at any of the sidewalk tables, many within walking distance of homes in Scarsdale.
The Lazy Boy Saloon in White Plains is dog-friendly. They serve wings, grilled pizzas, specialty salads, and a massive selection of beers. Diners with their dogs can hear the saloon's live music on the weekends in the outdoor seating area.
The Ocean House Oyster Bar & Grill in the village of Croton-on-Hudson is a favorite place for fresh seafood in Westchester County. Outside dining is available from Tuesday through Saturday, although visitors should call for a same-day reservation after 4:30 p.m. to ensure a table.
Dog-Friendly Shopping in Westchester County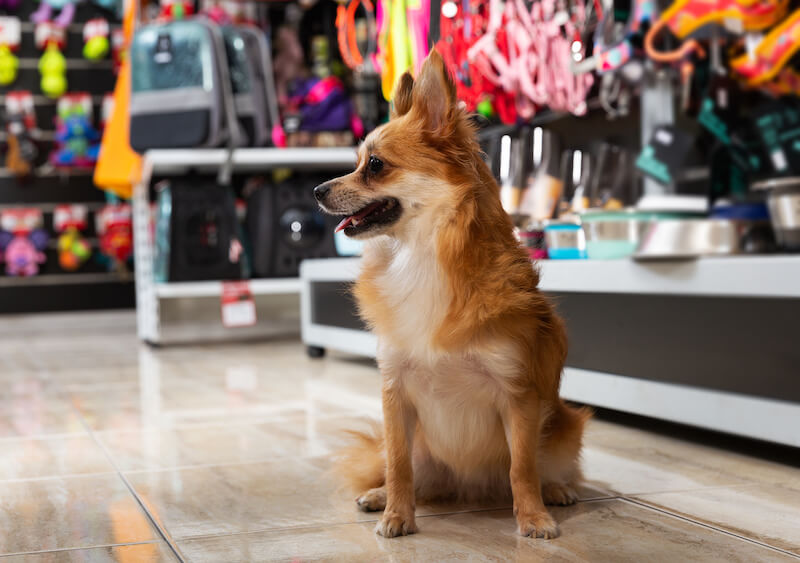 Indoor, dog-friendly shopping options are a bit limited in Westchester County. Fortunately, there are some shopping venues for owners who like to take their dogs along for daily errands—and even more in some of Westchester's bordering counties to the north. This even includes some of the most well-known farms and orchards in the Hudson Valley.
Stuart's Fruit Farm is in Granite Springs, and it's another option for shopping for fruits and fresh produce with a leashed dog. The farm offers in-season hay rides, apple picking, and pumpkin picking. It also has a year-round bakery and a corn maze in the fall. They have more than 20 kinds of apples in the orchard, along with peaches and tangerines.
If you're out with your dog for the day and find yourself in need of window treatments for your home, The Curtain Shop in the city of New Rochelle is worth a visit. They've been a dog-friendly store since 1976—notable as it wasn't fashionable for businesses to welcome canines at that time.
Westchester County Pet-Friendly Lodging
Planning a visit or a staycation in Westchester County? Pet owners don't have to leave their dogs at home for a trip to the Hudson Valley. Here are some pet-friendly lodging options in Westchester County, ranging from quaint B&Bs to large national chains.
Crabtree's Kittle House Restaurant & Inn, located in the hamlet of Chappaqua, welcomes pets for a nightly fee of $35. Additionally, Hyatt House White Plains, Hampton Inn & Suites Yonkers, and Hyatt Place New York/Yonkers all welcome pets for a nightly fee.
Welcoming Westchester Residents of all Species
Westchester County exhibits a strong inclination towards being a dog-friendly destination. The comprehensive analysis of the county's amenities, policies, and overall attitude toward dogs reveals a favorable environment for pet owners. The cost of living in Westchester County is offset by its offering of an impressive array of parks, trails, and recreational areas that cater to the needs of humans and their four-legged companions. Additionally, the presence of numerous pet-friendly businesses showcases a culture that embraces and accommodates dogs.
The county's commitment to providing quality pet services and resources further contributes to its dog-friendly reputation. While there may be areas for improvement, such as increased accessibility and enhanced awareness of dog-related regulations, Westchester County offers an inviting and enjoyable experience for dog owners. With its scenic landscapes, welcoming communities, and many dog-friendly amenities, Westchester County remains a top choice for those seeking a dog-friendly environment.