8 Most Affordable Neighborhoods in NYC: Discover the Best Value in Every Borough
Posted by Matthew Bizzarro on Wednesday, April 5, 2023 at 12:48:55 PM
By Matthew Bizzarro / April 5, 2023
Comment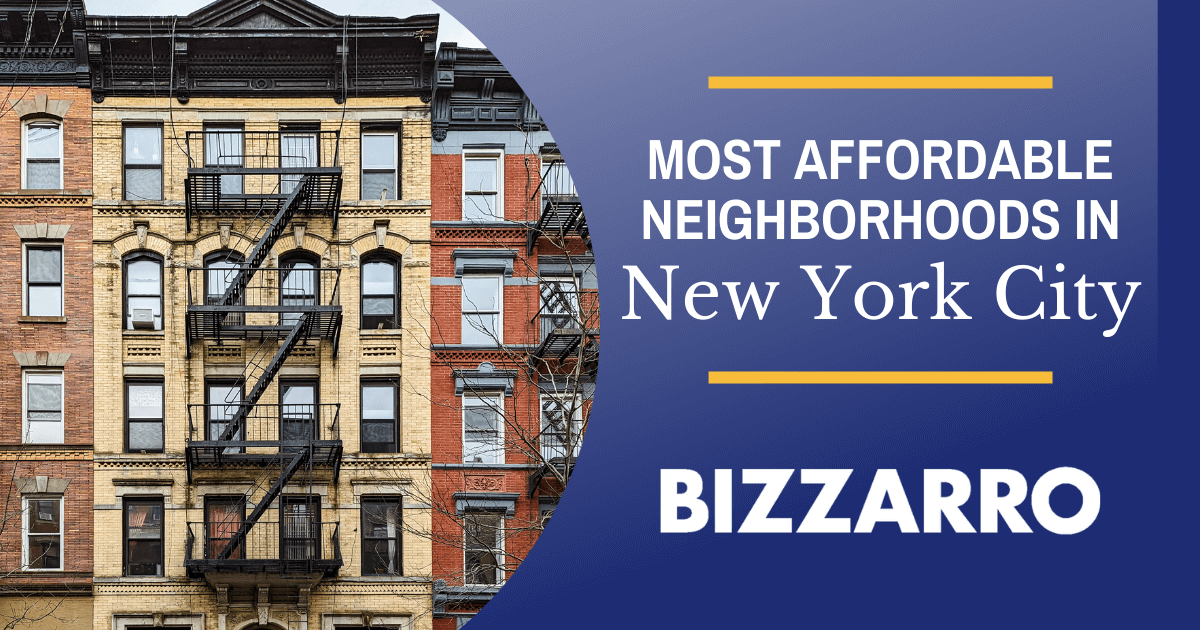 There's simply nowhere in the world like New York City. The thriving economy, the arts and theatre scene, and the many popular NYC neighborhoods make it one of the country's most desirable places to live. The cost of living in New York City may be steep, but don't let that discourage you. All five boroughs are home to cheaper neighborhoods that offer all your favorite parts of living in the city. Explore these eight affordable neighborhoods and see just how far your dollar can go in the world of New York City real estate.
Manhattan: Upper Manhattan
Upper Manhattan refers to the broad area above Central Park/110th Street, consisting of various neighborhoods on the northernmost part of Manhattan Island. The area contains the campus of Columbia University and the historic African-American heritage of Harlem. At the same time, it's convenient to Midtown and Downtown Manhattan, with their many employers and limitless dining and nightlife options.
Certain portions are more affordable than others, with Manhattanville, Inwood, Washington Heights, and Hamilton Heights being particularly notable for affordability. Manhattanville and Hamilton Heights provide the convenience of easy access to both Columbia and City College of New York, along with the 1 Subway line. Inwood, which occupies the island's northernmost tip, offers impressive Hudson River views and green space in Inwood Hill Park.
Due to the highly dense character of this part of the city, homes in Upper Manhattan are almost exclusively condos, co-ops, and other similar units. One- or two-bedroom units start from the $300,000-400,000 range. However, in neighborhoods like Inwood, Hamilton Heights, and Manhattanville, properties can be found as low as the mid-$100,000s, with many options available in the $200,000s.
Upper Manhattan Amenities
Served by 1, 3, A, and B Subway lines
Convenient to George Washington Bridge
New York Presbyterian Hospital
Inwood Hill Park
Columbia University
City College of New York
Manhattan: Murray Hill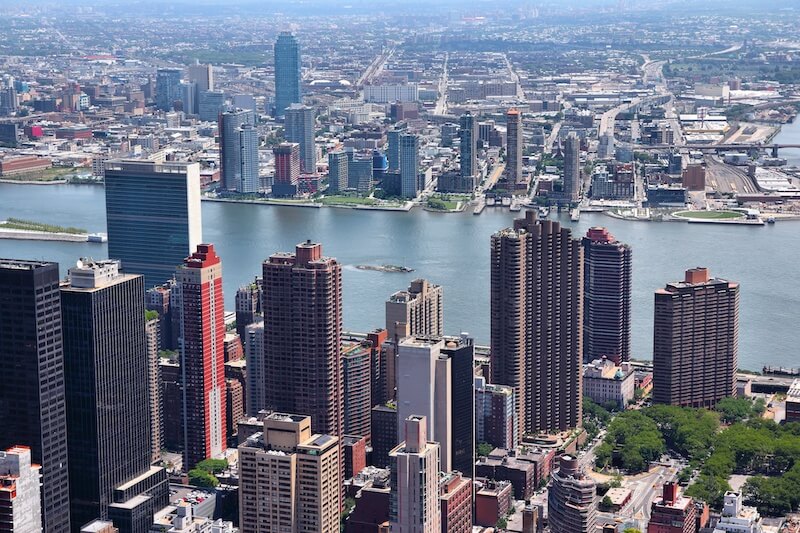 Those who thought affordable real estate in Midtown Manhattan was non-existent should think again. Murray Hill is set against the East River, from roughly 30th to 42nd Streets. As a result, it's a top choice for those who want a relatively lower-priced community close to New York City's most expensive neighborhoods, employment centers, and easy commuting options via Grand Central Terminal.
Murray Hill offers a bit of an escape from the hustle and bustle, thanks to its residential nature. A portion of the community has even been designated as a historic district. In addition, residents can take advantage of nearby attractions like The Morgan Museum and Library and Madison Square Park.
Like other dense parts of the city, Murray Hill real estate is mostly comprised of condos and co-op units. While some luxury properties can reach the low to mid-single-digit millions, much more affordable options are also available. Some are as low as the mid-$200,000s, with various homes upwards throughout the price spectrum.
Murray Hill Amenities
Close to NYC's most popular attractions, large employers, and popular neighborhoods
Served by 4, 6 Subway lines and East 34th Street Ferry Terminal
Convenient to Grand Central Terminal
The Morgan Library and Museum
NYU Langone Health
The Bronx: City Island
City Island offers stands out from real estate in The Bronx with a character that feels worlds away from the rest of the city. The neighborhood is located on a small island in Long Island Sound, connected to the mainland by roads that weave through Pelham Bay Park. This park (three times the size of Central Park) is one of the area's best attractions, containing a beach, miles of trails, two golf courses, sports facilities, and more. City Island's plentiful waterfront is the other main draw for residents and visitors, with numerous marinas, seafood restaurants, and other spots to get out and enjoy the water.
The numerous detached single-family houses throughout City Island are a relative rarity in New York City neighborhoods. Styles include bungalows, cottages, Victorians, and more contemporary options. A selection of small condos and co-ops also provide housing for neighborhood residents. These start as low as the $200,000s, with detached homes sometimes available for less than half a million. Even City Island's most expensive properties top out in the $1-1.5 million range, reasonably low for a city known for its high real estate prices.
City Island Amenities
Quieter, more suburban feel
Pelham Bay Park
Numerous seafood restaurants and nightlife spots
Ambrosini Field
Queens: Hamilton Beach
Just west of John F. Kennedy International Airport on the shores of Jamaica Bay, Hamilton Beach offers an affordable spot to set down roots in the Queens borough. This compact community south of 160th Avenue provides a quieter escape from the hustle and bustle with mostly dead-end streets, including homes with private water access along Hawtree Basin.
Several small outdoor spaces, including Hamilton Beach Park and Charles Memorial Park, also dot the area. While the area is almost entirely residential, homeowners will find it easy to get around New York City, whether hopping on the nearby Belt Parkway or Linden Boulevard, catching an A Train from the community station, or hopping on an international flight out of JFK.
Homes in Hamilton Beach consist of mostly modestly sized one- and two-story single-family detached houses. Many have been newly built or extensively renovated in the past decade. Most include two to three bedrooms and roughly 1,500-2,000 square feet of living space. Properties start as low as the mid-$500,000s, though some of the largest or newest homes can reach close to a million.
Hamilton Beach Amenities
Home with private docks/water views
Convenient to John F. Kennedy International Airport
Served by A Subway line, JFK Airtrain
Hamilton Beach Park
Charles Memorial Park
Brooklyn: Coney Island/Brighton Beach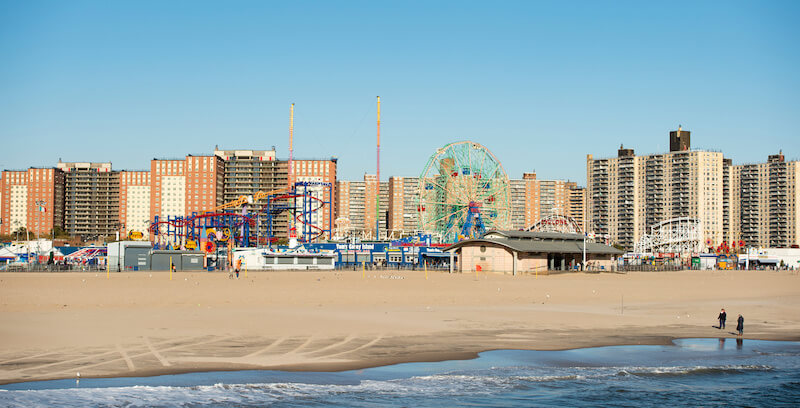 Set on a small peninsula in Lower New York Bay, Coney Island and Brighton Beach are two adjacent historical communities with plenty of style and affordable homes for sale in Brooklyn. Coney Island is perhaps most famous for the resorts and amusement parks that defined the area in the late 19th and early 20th centuries. Nearby Brighton Beach benefitted from this popularity and has recently become a highly-developed and culturally vibrant neighborhood.
Today, residents of both communities can enjoy a day on the area's beautiful beaches, a stroll on the nearby boardwalk, or even a few thrills on the rides at the famous Luna Park. These are just a few of the many attractions just steps from owners' front doors, from museums to local sporting venues. Meantime, Brighton Beach offers some of the city's most diverse international cuisine, like the Russian specialties of the Ocean View Cafe or the Turkish delicacies of Beyti Turkish Kebab.
Coney Island and the Brighton Beach neighborhood comprise condos, co-ops, and other multifamily buildings. Still, relatively roomy two- and three-bedroom units can accommodate those needing more space. Some units can be found for less than $300,000, though more commonly sell in the mid-$300,000s to just over half a million.
Coney Island/Brighton Beach Amenities
Served by B, D, F, N, and Q Subway lines
Luna Park
Numerous beaches
Coney Island Boardwalk
New York Aquarium
Maimonides Park
Brooklyn: Sunset Park
The neighborhood of Sunset Park takes its name from the actual park in the center of the area, bounded roughly by the Prospect Expressway, 9th Avenue, 65th Street, and the waterfront. Even in a region known for dining, Sunset Park is one of the city's top restaurant areas.
Sunset Park is also home to the Industry City complex, which combines restaurants, coffee shops, breweries, shopping, employers, and creative spaces. Those looking to get outdoors can enjoy Sunset Park, which offers fantastic views of the Statue of Liberty and Manhattan, or Bush Terminal Piers Park, a waterfront spot with green space and sports fields.
Like many other Brooklyn communities, Sunset Park comprises condos, co-ops, and small multifamily units, supplemented by attached and semi-attached houses. Condos can be found from the mid-$200,000s, though most one-bedroom or larger units start in the $400,000s. Homes start around $1 million but can reach three times that or more.
Sunset Park Amenities
Served by D, N, and R Subway lines
Sunset Park
Industry City dining/shopping/businesses
Bush Terminal Piers Park
Green-Wood Cemetery
NYU Langone Hospital Brooklyn
Brooklyn: Bay Ridge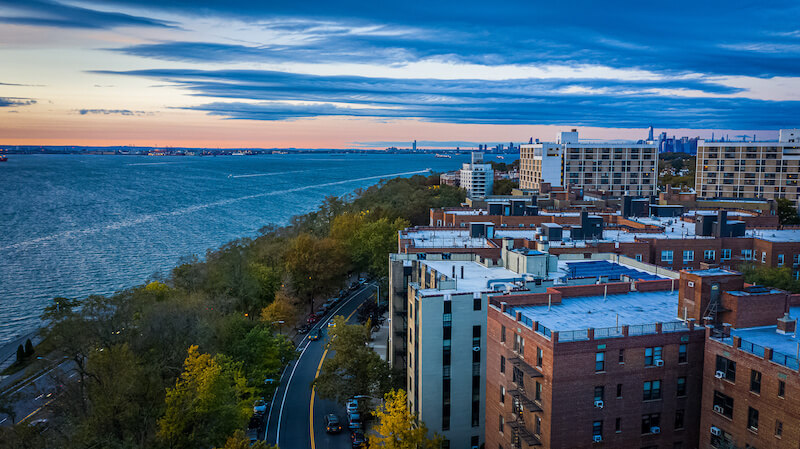 Bay Ridge was once a summertime destination for New Yorkers looking to escape the city until the arrival of the Subway sparked the development that created the neighborhood we know today. In addition to the Subway, residents can easily commute to both Manhattan and Staten Island by car using the Belt Parkway/Gowanus Expressway and the Verrazzano-Narrows Bridge, both of which are close by.
Despite this central location, Bay Ridge also enjoys several popular outdoor spaces, like Owl's Head Park, which offers waterfront trails, sports courts, a playground, and a kids' splash park. Like many New York neighborhoods, it also provides a variety of diverse food and international shopping thanks to the many different immigrant groups that have settled in the area over the decades.
Homes for sale in Bay Ridge are a combination of condos, co-ops, and single-family homes. The latter group can be found in attached and semi-attached styles and freestanding properties. Plentiful multifamily options can be found in the $200,000s, making it a perfect community for those on a budget. Single-family homes reach the mid-single-digit millions but can also be found in the high six figures.
Bay Ridge Amenities
Served by N, R Subway lines
Convenient to Gowanus Expressway and Belt Parkway
Owl's Head Park
Shore Road Park
Brooklyn Public Library - Bay Ridge Branch
Staten Island: Arlington
Those looking for a quiet neighborhood without leaving the confines of the five boroughs may find what they're looking for by moving to Arlington. Tucked into the north shore of Staten Island just across the water from Newark Liberty International Airport, Arlington was given its name by a Civil War veteran, referencing the famous Virginia cemetery. It's part of the larger Mariners Harbor community, which includes many businesses building and repairing boats and other maritime industries along the waterfront.
Residents easily access local shops and services, from supermarkets to hardware or department stores. Numerous green spaces exist, including the sprawling, reclaimed Mariners Marsh and Arlington Marsh Parks.
Arlington housing comprises a mix of attached, semi-attached, and detached single-family homes. They range from cozy two bedrooms of less than 1,000 square feet to large five-bedroom properties with more than twice that living space. Homes start in the mid-to-high $300,000s and rarely exceed $1 million.
Arlington Amenities
Close to Staten Island Expressway/Dr. Martin Luther King Jr. Expressway
Convenient to Newark Liberty International Airport
Arlington Marsh Park
The Big Park
Forest Promenade Shopping Plaza
The Dream of Affordable NYC Living is a Reality!
With the cost of living among the highest in the United States, New Yorkers and would-be owners in the city can naturally get discouraged about buying a home. But with quality, affordable neighborhoods like these, it's more possible than many think! Options exist across the spectrum, from the quiet waterfront streets of City Island or Brighton Beach to the convenience of Murray Hill and Upper Manhattan. If you're ready to move to New York City, start your home search in these affordable neighborhoods!