6 Affordable Towns in Westchester County: Budget-Friendly Homes
Posted by Matthew Bizzarro on Thursday, November 2, 2023 at 12:26:07 PM
By Matthew Bizzarro / November 2, 2023
Comment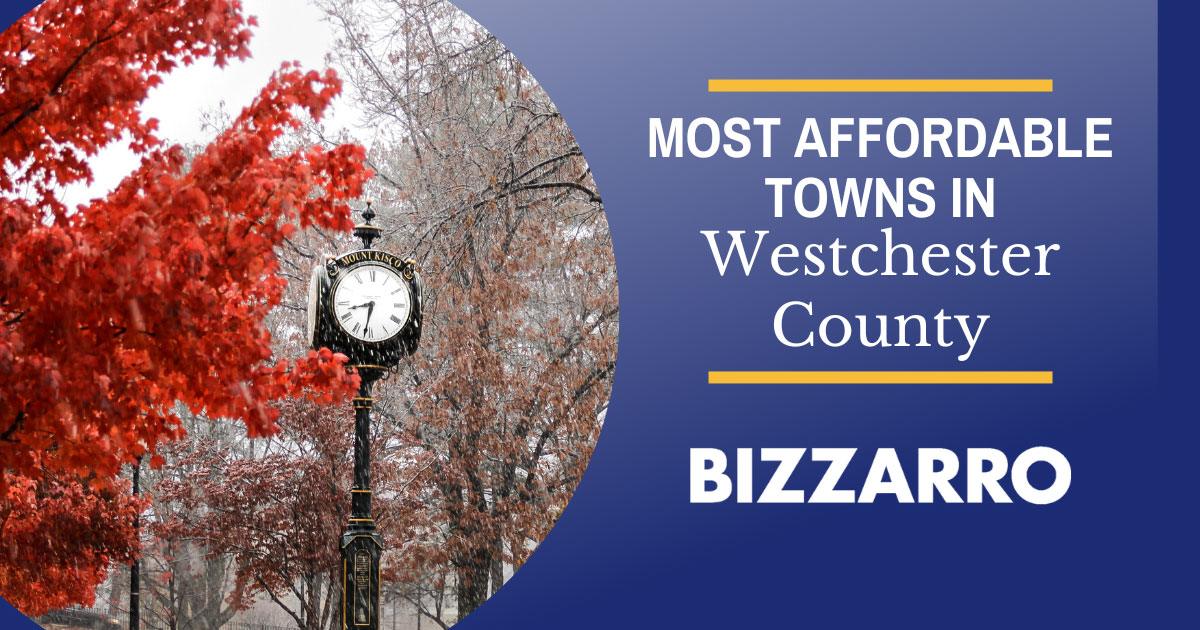 Are you considering moving to Westchester County, New York? If so, you may be interested to learn that this region boasts many affordable places to live. Westchester County has the reputation of being very expensive, but some towns and cities in the area actually have a lower cost of living than the national average! With such attractive options available, why not explore what Westchester County offers? Check out some of the most affordable places to live in and around this vibrant county, and you can determine whether it's the place for you.
Yorktown
Discover the beauty and convenience of Yorktown, where you can experience a piece of history with all the amenities of modern life. This community in Northern Westchester County is only 35 miles from New York City, with 40 square miles of rolling hills, farmland, residential areas, and light industry. It was named to commemorate America's decisive Revolutionary War victory at Yorktown, Virginia, and incorporates five business hamlets: Mohegan Lake, Shrub Oak, Jefferson Valley, Crompond, and Yorktown Heights. You will also find twelve distinct residential neighborhoods, each with its own unique character and identity.
Living in this area offers its residents a pleasant mix of commercial, residential, and recreational opportunities. The town has many parks and open spaces where you can enjoy swimming or playing sports, hiking nature trails, or picnicking with family or friends.
There are several schools available to go along with active community organizations. The town hall was built in 1935 and houses administrative offices, including the supervisor's office, town clerk's office, finance department, and more.
Single-family homes for sale in Yorktown list from the mid-$200s to more than $2 million, while Yorktown condos list from the high $100s to the low $600s.
Hartsdale
Hartsdale is a charming suburban paradise where you can find the perfect balance of modern amenities and old-world charm. With a population just shy of 5,000, Hartsdale is an ideal place to call home for anyone looking to escape the hustle and bustle of New York City. The prices for homes in Hartsdale typically go for between $300,000 and $1 million, though studio condos can be found for under $100,000.
With plenty of activities to suit all ages, there's something for everyone, from parks with playgrounds and sports fields to museums and restaurants. Hartsdale is a great Westchester County community, and its affordability elevates it significantly.
Peekskill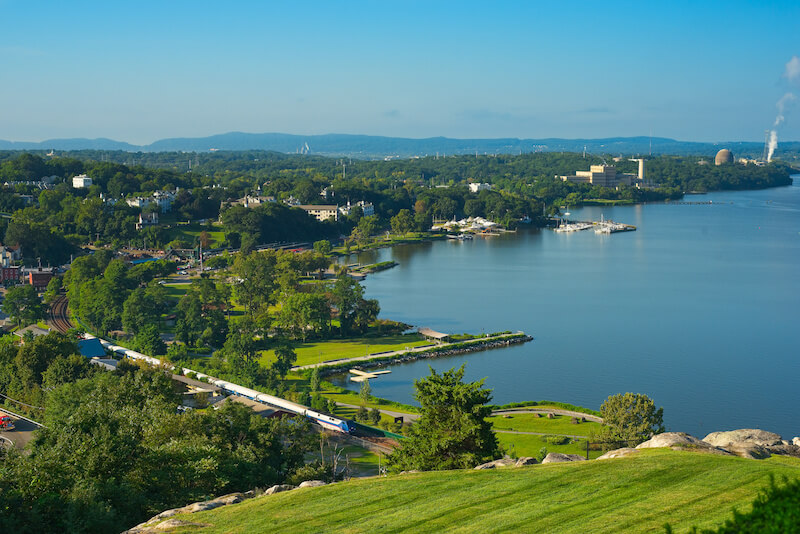 Live the city life with a small-town charm in Peekskill, where you can get more living space for your buck, access to nature, and bustling restaurants and pubs! There is something for everyone, whether it's one-bedroom apartments or old Victorian homes. Detached homes in Peekskill list from the $300s and typically top out around $900,000. Peekskill condos list from the $100s to $600,000.
Residents also take advantage of Peekskill's affordability when it comes to work. Peekskill is a great place for local businesses, with choices ranging from storefront commercial to mixed-use retail and manufacturing—and even professional office space in modern buildings. If you commute into the heart of New York City, the train ride is under an hour, a coveted feature for NYC-area communities.
If you're considering Peekskill, try exploring all the city offers, including Depew Park, which borders downtown, Blue Mountain Reservation, Harriman State Park, and Bear Mountain State Park; you can also take a walk along Riverfront Green Park with access to the Hudson River. Downtown Peekskill is vibrant, with art galleries, entertainment possibilities, and pubs offering microbrews on tap. Get ready to be part of this amazing city!
Port Chester
Located on the Long Island Sound in eastern Westchester, Port Chester is a small village with a big heart, boasting a vibrant history of shipbuilding, farming, trading, and modern attractions like The Capitol Theatre vaudeville playhouse. The village also boasts other historic buildings, such as the Port Chester Post Office, constructed in 1933 with murals designed by artist Domenico Mortellito. Additionally, the Clay Art Center provides educational opportunities for children and adults alike.
Port Chester offers much to those looking to relocate or visit for an extended stay. Its close proximity to New York City makes it an ideal place for commuters, while its many historical sites provide plenty of cultural attractions. From enjoying live music at The Capitol Theatre to taking classes at Clay Art Center, there's something for everyone here!
Relocating to Port Chester will give you access to all these activities plus more while providing an affordable cost of living. Homes in Port Chester list from under $100,000 to almost $1.5 million.
Mount Vernon
Discover the impressive history and attractions of Mount Vernon, a fascinating city just a short drive from New York City. This vibrant city is bursting with culture and plenty of exciting activities. Named for the plantation in Virginia where George Washington spent much of his life, Mount Vernon has a rich past filled with stories to tell. From its beginnings as the site of battles during the Revolutionary War to its current status as a regional center for commerce, Mount Vernon has seen its fair share of changes over the years.
Stroll down the streets and discover some fascinating landmarks along your way. Make sure you visit St. Paul's Church, built in 1763 and dedicated as a National Historic Site in 1943. Explore Anne Hutchinson's story by visiting her final resting place. You can also shop at Michael Anthony Jewelers or participate in one of many cultural events held throughout the year, like trips to local museums, art galleries, and outdoor festivals.
Single-family homes in Mount Vernon list from the high $200s to around $2 million, while Mount Vernon condos are priced from the $200s–$400s. With affordable housing options near historic attractions, Mount Vernon should be on everyone's list when looking for places to live in Westchester County!
Ossining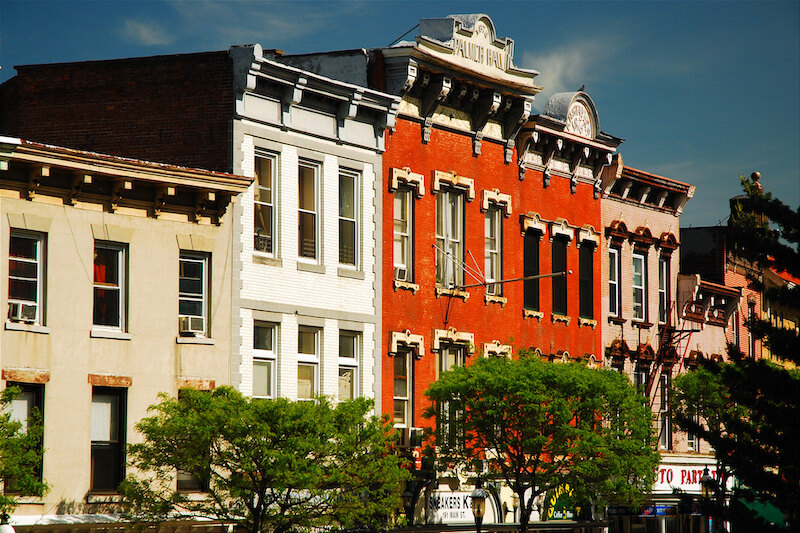 Experience a piece of history with all the modern amenities you could want in Ossining, just 35 miles from NYC! This small town is home to more than just its charming Victorian Revival homes and preserved 18th- and 19th-century farmhouses—it also offers a lower cost of living in Westchester County. Here, you'll find:
A historic district recognized for its peak of Victorian-era commercial architecture
Landmarked houses such as Jug Tavern and Moorehaven
Several churches showcasing Gothic Revival architecture from the 19th century
The distinction of being the first state-chartered village in Westchester County
Ossining has something for everyone, whether it be an appreciation for history or a desire to take advantage of everything this vibrant community offers. Homes in Ossining list from around $100,000 for small condos and fixer-uppers to nearly $3 million for expansive estates. With affordable housing options and plenty of recreational programs, educational enrichment opportunities, shopping, dining, and more, there's no better place to call home than Ossining!
Mount Kisco
If you're looking for a fun, lively area to call home, Mount Kisco is the perfect place for you! With only 3.25 square miles and a population of just under 11,000, it's easy to find your place in this thriving community. You'll be able to take advantage of all that Mount Kisco offers: Westmoreland Sanctuary, Grand Prix New York, Northern Westchester Hospital, and much more. And though ultra-luxury homes can exceed $8 million, most homes for sale in Mount Kisco list from the $100s to $1.5 million.
Westmoreland Sanctuary is a 640-acre wildlife preserve with a nature center and museum housed in a reconstructed 200-year-old church. Here you can explore nature trails and spot wildlife while getting an education on ecology. Grand Prix New York offers visitors the ultimate indoor racing and go-karting experience, perfect for those who like excitement! The Northern Westchester Hospital is one of the county's largest state-of-the-art medical facilities, with specialized care available 24/7.
Whether looking for outdoor activity or modern amenities, there are plenty of options. From its vibrant downtown area to its diverse population and abundance of recreational opportunities, there's something here for everyone.
Affordability in Westchester County
Are you ready to take the next step and make Westchester County your new home? There are plenty of affordable options to choose from, enabling many to live near the city without facing the cost of living in NYC. Whether it's proximity to New York City or small-town charm, there's sure to be something that fits your budget and lifestyle. With so many great places in Westchester County, all it takes is a little research and exploration to find your dream home!