10 Most Expensive Neighborhoods in New York City: Discover NYC's Most Luxurious Real Estate
Posted by Matthew Bizzarro on Monday, March 20, 2023 at 12:26:15 PM
By Matthew Bizzarro / March 20, 2023
Comment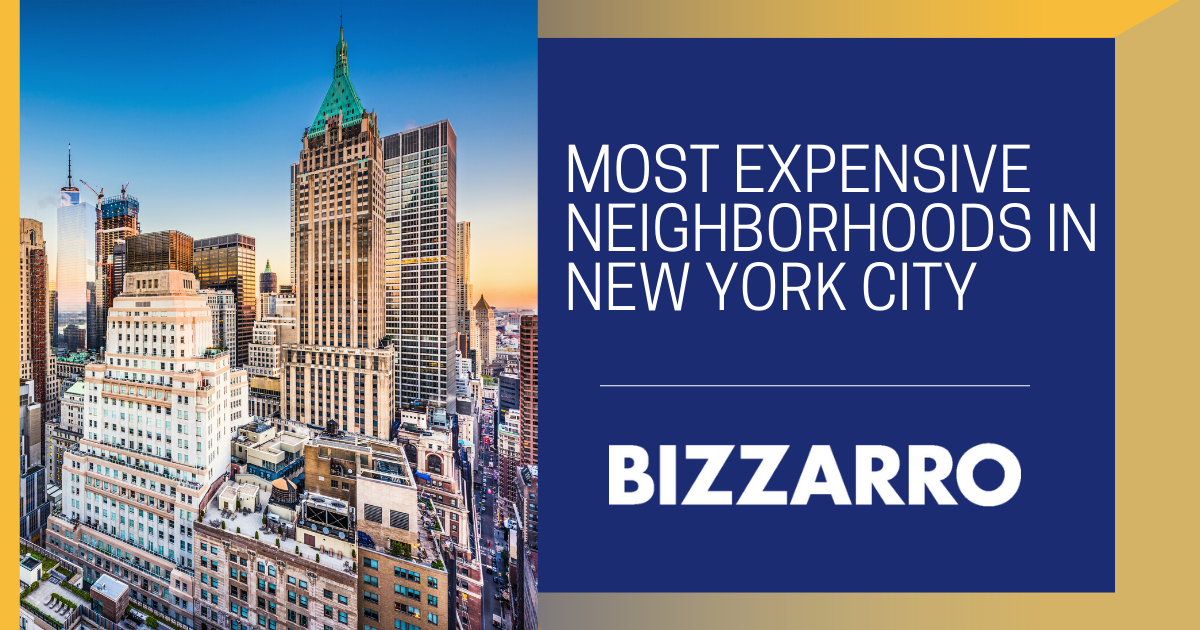 It comes as little surprise to most homebuyers (or renters) considering moving to New York City: real estate here can be pricey! The city offers some of the most expensive neighborhoods in the country and the world. And residents enjoy plenty of excellent benefits for that money, from luxurious homes to proximity to some of the city's top restaurants, nightlife, and other attractions. So where should those with a big budget look to put down roots in the Big Apple? Read on as we explore ten of the New York City's most expensive neighborhoods.
The Bronx: Spencer Estates-Country Club
Set on the shores of Eastchester Bay, would-be residents can sense the high-end nature of Spencer Estates (also known as Country Club) right in its name. This quiet community is almost entirely residential, with nearby Pelham Bay Park offering green space, walking trails, and sports facilities for residents to enjoy. While it fosters a near-suburban feel, it's still just a few miles from the city's heart and points upstate and in Connecticut, thanks to many nearby expressways and interstates. The neighborhood's Evers Marina also allows easy access to the water for boating, fishing, and more.
Spencer Estates-Country Club includes a variety of luxury homes in the Bronx, providing incredible views of the bay and City Island. Most are built with 2,500–5,000 square feet of living space, with high-end interior features and amenities like private pools and docks. While some homes in Spencer Estates-Country Club can be found from the high six figures, many cross the million dollar mark, and some reach well into the $2-3 million range.
Spencer Estates-Country Club Amenities
Waterfront homes and views
Convenient to Throgs Neck Expressway, Bruckner Expressway, Hutchinson River Parkway
Evers Marina
Pelham Bay Park
The Bronx: Morris Park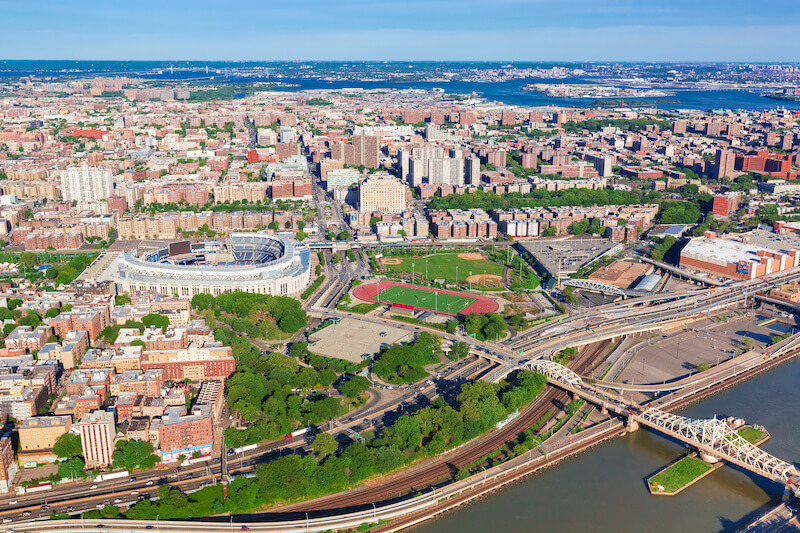 Another pricey Bronx community, Morris Park, is located south of the Pelham Parkway between the Bronx River Parkway and Hutchinson River Parkway. The area is notable for its cluster of medical facilities and colleges on its eastern edge, including the Albert Einstein College of Medicine, Jacobi Medical Center, and Yeshiva University and Mercy College campuses. Morris Park is also known across New York City for its well-attended Columbus Day Parade, which has drawn local leaders and celebrities.
Various restaurants are available within Morris Park, particularly along Morris Park Avenue and Williamsbridge Road. The community's Italian cuisine is among the city's best, with popular spots like Patricia's of Morris Park and Emilio's. Some of the borough's best green space and attractions are nearby in Bronx Park, including the famous Bronx Zoo.
Homes in Morris Park consist of attached, semi-attached, and detached single-family homes. Homes vary widely in style and size, along with the price. A significant number of small multifamily properties also provide owners with the potential for additional income from a separate unit. Listings are from the mid-$500,000s but top out north of $1.5 million.
Morris Park Amenities
Served by 5 Subway line
Convenient to numerous major roads
Numerous medical facilities
Albert Einstein College of Medicine
Loreto Park
Brooklyn: Cobble Hill
Bordered by Smith, DeGraw, and Hicks Streets, as well as Atlantic Avenue, Cobble Hill traces its roots back to New York's original 17th-century Dutch settlement. The neighborhood mainly comprises quiet residential streets, perfect for a peaceful stroll. It's also home to longtime local businesses and a thriving arts and cultural scene, with spots like the quirky, independent Cobble Hill Cinemas or The Invisible Dog art gallery. Meanwhile, Court and Smith Streets offer nearby dining and nightlife corridors.
Cobble Hill makes it simple to get into nearby Manhattan, with residents having their choice of the Carey Tunnel, Brooklyn Bridge, or Manhattan Bridge all close by. Cobble Hill also offers Subway and ferry access.
New York City's famous brownstones define much of the Cobble Hill housing stock, some of which have been converted into small multifamily buildings. These spacious properties often span three or four floors, covering 2,500-3,500 square feet of living space. Cobble Hill homes can sell well into the $3–5 million range. A more limited number of Brooklyn condos can be found from the high six figures to around $1.5 million.
Cobble Hill Amenities
Served by F, G Subway lines
Convenient to Brooklyn Queens Expressway, Carey Tunnel, Brooklyn Bridge
Brooklyn Bridge Park Pier 6 / Atlantic Avenue ferry stop
Cobble Hill Park
NYU Langone Health-Cobble Hill
Brooklyn: Fort Greene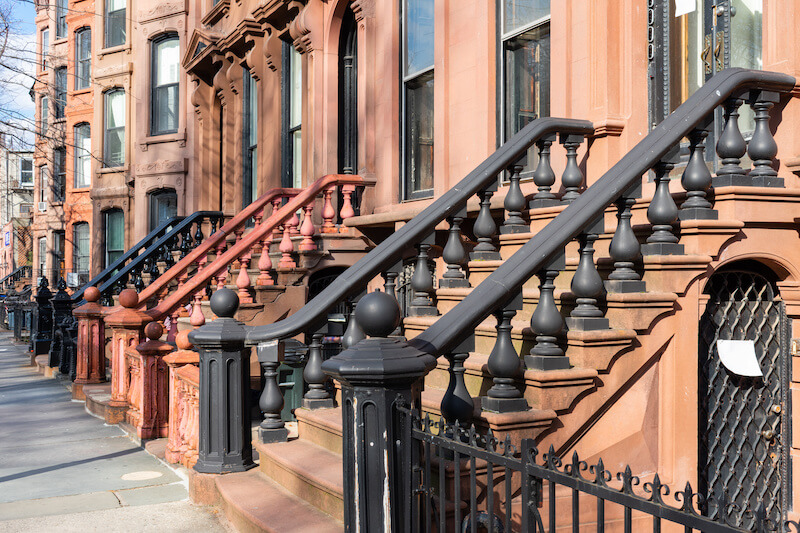 Fort Greene may not be the most prominent neighborhood, but it packs an incredible amount into its compact size. It's earned a reputation as a unique, close-knit, historic neighborhood with many modern conveniences. Frequent Subway riders will love Fort Greene, with more than a dozen lines serving a cluster of stations around the area. The Long Island Rail Road's Atlantic Terminal is located within the community, connecting several commuter rail lines.
This is also the site of the sprawling Atlantic Terminal Mall, which offers some of Brooklyn's best shopping. In addition, Fort Greene provides numerous cultural centers, from the Museum of Contemporary African Diasporan Arts to the Brooklyn Academy of Music. Of course, residents can't miss Fort Greene Park, a popular spot for enjoying a bit of green space, or the public sports courts and fields.
Like other upscale Brooklyn communities, homes in Fort Greene are mainly attached and semi-attached properties, often in the iconic brownstone style. A variety of co-ops and condos supplement these. Fort Greene's most modest properties start in the high six figures, while the neighborhood's share of Brooklyn luxury homes can list for $5 million or more.
Fort Greene Amenities
Served by A, B, C, D, G, N, Q, R, W, 2, 3, 4, 5 Subway lines
Long Island Rail Road Atlantic Terminal
Atlantic Terminal Mall
Fort Greene Park
The Brooklyn Hospital Center
Long Island University Brooklyn
Commodore Barry Park
Manhattan: Hudson Yards
Hudson Yards is a newly developed New York City neighborhood built on and around the massive MTA railyard along the Hudson River. Regarding location, it's hard to beat these convenient blocks between 30th and 41st Street. Residents are just minutes from midtown, lower Manhattan, Central Park, the Upper West Side, and even New Jersey, thanks to the nearby Lincoln Tunnel. Those looking to get out on foot can also take advantage of the gorgeous High Line, an elevated park and trail that stretches between Hudson Yards and the Meatpacking District. Close to home, the fast-developing community includes a wide variety of shopping and dining.
Would-be homebuyers looking in Hudson Yards should expect to find a variety of high-end condos, co-ops, and similar multifamily buildings, often in high-rise skyscrapers. A share of Manhattan new construction homes form the neighborhood's highest-end homes. Most Hudson Yards homes take advantage of the fantastic views of the river and the rest of Manhattan with oversized or floor-to-ceiling windows, among other top amenities. While some homes can be found in the high six figures, most sell from more than $1.5 million to the $30–40 million range for the most luxurious.
Hudson Yards Amenities
Served by 7 Subway line
Midtown / W. 39th St. ferry stop
Convenient to Lincoln Tunnel, Penn Station
Javits Center
High Line access
Manhattan: NoHo
Like its more famous cousin, NoHo takes its name from its location—north of Houston Street between Mercer Street and Bowery, in this case. Lafayette Street forms the area's most popular thorofare, highlighted by restaurants like Lafayette Grand Café & Bakery.
While it only comprises a few blocks, NoHo includes more than its fair share of history and intellectual and creative clout. This is partly due to its location along the eastern border of the New York University campus and close to some of the city's hippest neighborhoods like Greenwich Village and SoHo. Meantime, the lower Manhattan location puts all of the island's top neighborhoods close at hand.
This dense area of NYC means housing is solely composed of Manhattan condos, co-ops, and other multifamily buildings. But buyers shouldn't be fooled: these are no ordinary apartments. They offer comfort and style to would-be residents with multiple stories, massive windows, high-end interior finishes, and as much as 8,000 square feet of living space. One-bedroom units are as low as the $2.5 million range, while larger units more commonly sell from $8–10 million. Some ultraluxury NoHo homes can reach $30 million or more.
NoHo Amenities
Served by B, D, F, M, 4, 6 Subway lines
Close to Washington Square Park
New York University
Cooper Triangle
Queens: Ditmars Steinway
Ditmars Steinway is part of the broader Astoria community in Queens, taking part of its name from the Steinway Piano factory that once occupied the area. The community is between LaGuardia Airport, the East River, and the Grand Central Parkway. Residents can take advantage of a thriving strip of restaurants, cafes, and bars along Ditmars Boulevard, from the Greek and seafood of Taverna Kyclades to speakeasy-style cocktails at The Last Word.
Astoria Park provides Ditmars Steinway homeowners access to the city's largest public pool, trails, sports fields, and views of the East River. It's also convenient to the ample park space on nearby Randalls Island. With excellent access to major roads, the Subway, and even an international airport, it's a perfect community for those who need to get around the city and the world.
Homes in Ditmars Steinway are a mix of condos, co-ops, small multifamily buildings, and attached and semi-attached homes. The latter group, primarily Queens luxury homes, list from $1.5–2 million. Even mid-range homes in the Ditmars Steinway area typically list for $1 million or more, with some budget-friendly condos available from the $300s–$700s.
Ditmars Steinway Amenities
Served by N, W Subway lines
Convenient to Grand Central Parkway, LaGuardia Airport
Riverfront/River view homes
Astoria Park
Queens: Malba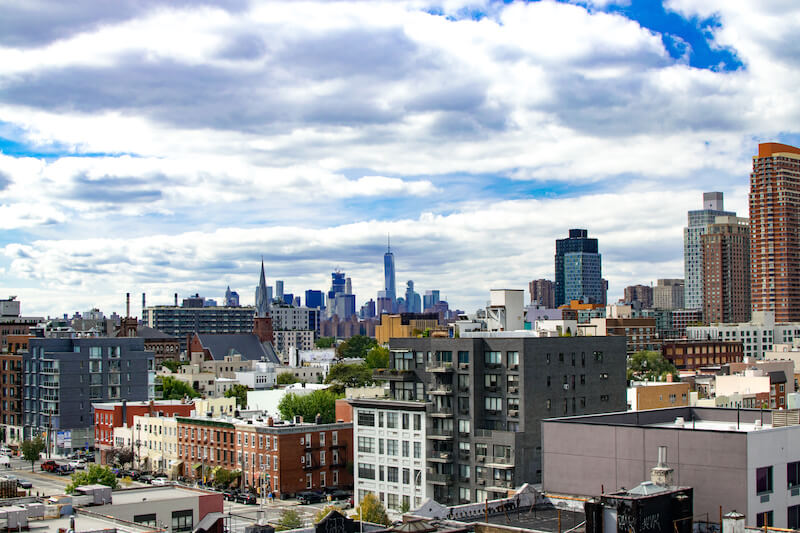 Set at the foot of the Whitestone Bridge, Malba offers another top New York neighborhood for high-budget buyers. The area was relatively undeveloped until the 1920s when the number of homes skyrocketed from about a dozen to more than 100. Looking at some of Malba's homes, it can be hard to believe they're within the city. With a reputation as some of the larger properties in the area, these spacious homes can reach nearly 10,000 square feet, with six bedrooms and a similar number of bathrooms. Homes start around $1 million, with options available throughout the price spectrum up to more than $5 million.
Malba residents can enjoy the community's waterfront location at the secluded, peaceful Powell's Cove Park. This environmental park preserves and showcases critical East River wetlands with walking trails and viewpoints. The Malba Yacht Club also offers a dock for members to get out directly onto the water. Meantime, residents will find all of their everyday shopping conveniently close by at the College Point Center, with everything from big box retailers to clothing stores.
Malba Amenities
Convenient to Whitestone Expressway, Crossisland Parkway
Powell's Cove Park
Frank Golden Park
College Point Center shopping complex
Staten Island: Todt Hill
At 401 feet above sea level, Todt Hill is the highest elevation in New York City and one of the highest coastal elevations from Florida through Massachusetts. It's also one of Staten Island's most exclusive neighborhoods. Even the most affordable Todt Hill properties start in the high six figures, with most selling between $2–$5 million. Properties are built in various styles, from Italianate to modern, and often include private pools and plenty of outdoor space. Spacious homesites are also available, some reaching more than an acre, a true rarity within the five boroughs; these range from the $700s to close to $3 million.
Todt Hill's elevation provides another of the neighborhood's perks: incredible, sweeping views of the Verrazzano Bridge, New York Harbor, and New Jersey. Still, residents can feel a world away from the hustle and bustle in the community's many parks and green spaces, many of which are part of the Staten Island Greenbelt Conservancy. While Todt Hill is almost entirely residential, the nearby Old Town and Dongan Hills areas offer shops, restaurants, and community services.
Todt Hill Amenities
Spacious lots and homesites
Convenient to Old Town Staten Island Railroad station
Close to Staten Island beaches
Reed's Basket Willow Swamp Park
Staten Island Academy
Richmond Country Club
Staten Island: Emerson Hill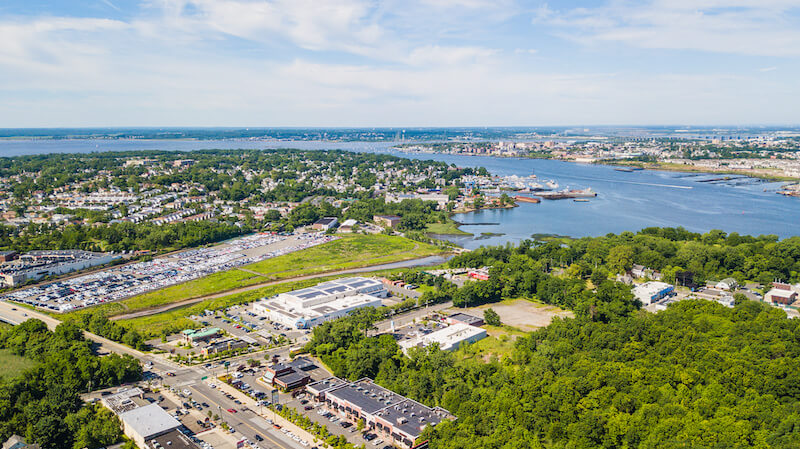 Another hilltop Staten Island community, Emerson Hill, lies just south of the Staten Island Expressway. It's also mentioned among the most popular neighborhoods in New York City. Built along private roads, it's one of the most exclusive neighborhoods, with a secluded, tree-lined character. It also boasts ties to some of America's greatest writers like Ralph Waldo Emerson and Henry David Thoreau, and serves as the filming location for parts of the cinema classic "The Godfather."
Like other nearby Staten Island neighborhoods, it enjoys plenty of greenery and park space, including Deere Park (named for the same John Deere of the farm equipment company fame.) Driving in New York City can be tricky, but the proximity to the Staten Island Expressway makes trips around the island—as well as to Brooklyn and New Jersey—as easy as possible.
Starting in the high six figures, Emerson Hill's distinctive, spacious detached single-family homes can reach well over $2 million in some cases. Each includes a high degree of customization, though many include features like swimming pools and oversized garages. Like nearby Todt Hill, Emerson Hill also has a variety of homesites available for those looking to build their own house, usually for around $1 million.
Emerson Hill Amenities
Convenient to Staten Island Expressway
Deere Park
Wagner College
The Michael J. Petrides School
So Many Great New York Neighborhoods For Big Budget Buyers
Those who don't shy away from the cost of living in New York City have no shortage of places to live in these ten delightfully pricey Big Apple communities. Whether would-be buyers want a sleek modern condo near Manhattan's most popular neighborhoods or a quiet woodsy escape on Staten Island, the choices are many and diverse!