10 Most Popular NYC Neighborhoods: Where to Live in New York City
Posted by Matthew Bizzarro on Thursday, February 2, 2023 at 12:24 PM
By Matthew Bizzarro / February 2, 2023
Comment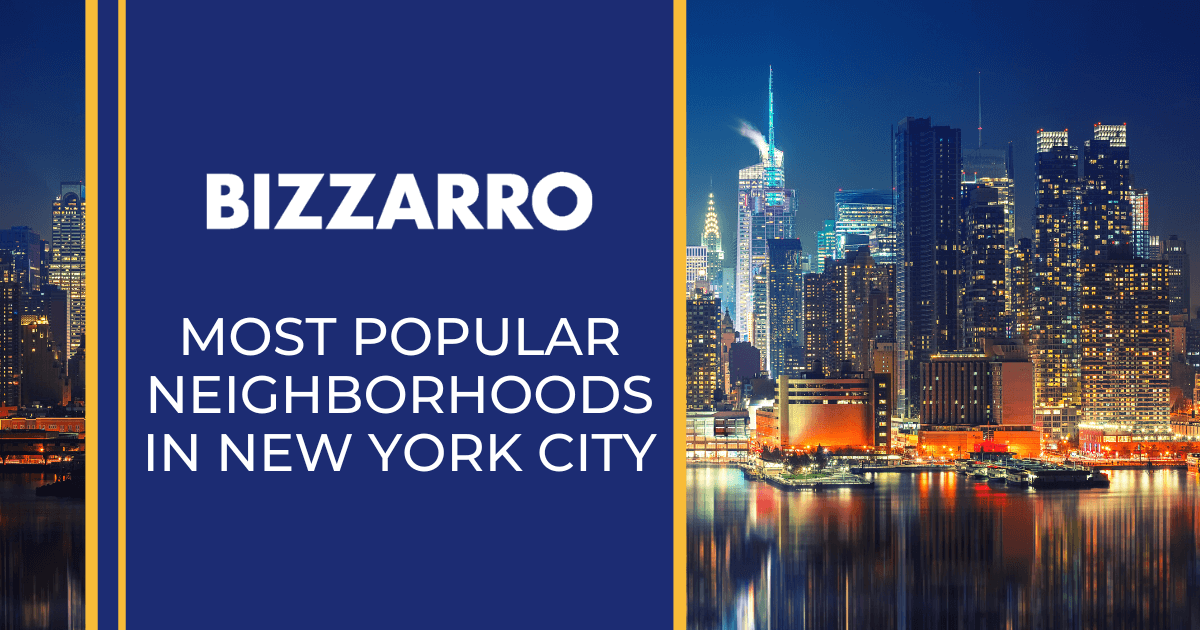 New York City is buzzing with energy, offering something new and exciting around every corner. Here, job opportunities abound, the arts and culture scene is always vibrant, and the robust NYC public transportation system makes it easy to get around. There's always something to do in this city of 8.5 million people, day or night. Anyone moving to New York City will quickly discover how the many neighborhoods work together to create a world-famous destination.
The most popular neighborhoods reflect the eclectic nature of real estate in New York City; no two are alike. From Manhattan's Battery Park to Staten Island's Eltingville, there's a neighborhood to suit every taste. Wondering which one you'd like best? Start your new home search by learning about the ten most popular neighborhoods in NYC across all five boroughs.
Manhattan: Battery Park
Battery Park sits on the southwestern tip of the Downtown Manhattan neighborhood, where high rises give way to the Hudson River. The high-floor, west-facing homes for sale in Battery Park offer breathtaking views of the river and the Statue of Liberty. Battery Park is also home to an esplanade that runs north to south along the river. Manicured grass, benches, and trees line the esplanade, making it a popular spot for strolling, biking, or picnicking.
An urban oasis, Battery Park's open green spaces take up more than one-third of the neighborhood, with Rockefeller, Wagner, and Teardrop parks among the most visited. West Street on the neighborhood's eastern flank exists as a divider between the quieter residential streets in Battery Park and the busier Financial District. That isn't to say that Battery Park is devoid of nightlife. On the contrary, South End Avenue is home to a wide variety of bars and restaurants, many with sidewalk cafes that are perfect for afternoon espresso or tea.
Other highlights in Battery Park include the Museum of Jewish Heritage and Stuyvesant High School.
Battery Park Amenities
Battery Park's riverside esplanade is a versatile space perfect for kicking back on the grass or running along the water.
Public transportation options in Battery Park include the M9, M20, and M22 buses, with the 1, R, and W trains within walking distance.
Brookfields Place, a trendy shopping center with many high-end brands, is located within Battery Park.
Nightlife options include Black Hound bar, Mezze on the River, and other local restaurants.
Manhattan: Washington Heights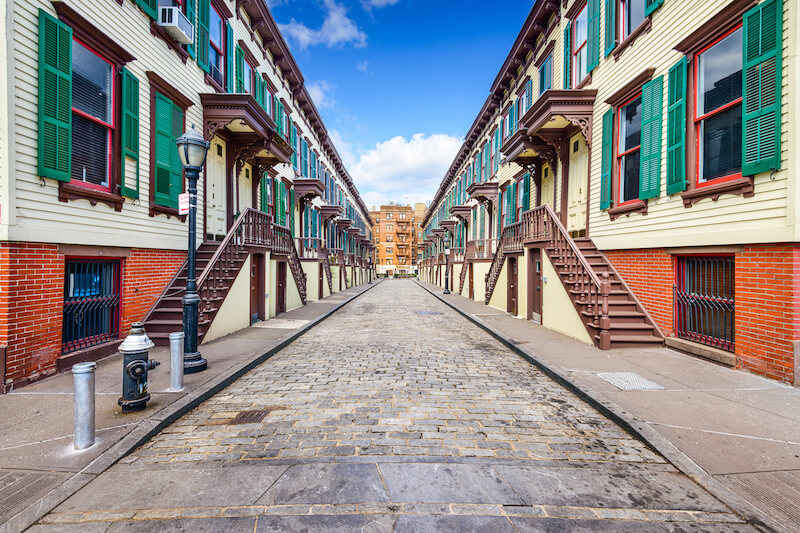 Many neighborhoods throughout NYC adopt "Heights" as part of their name, including Brooklyn Heights and Prospect Heights. But only one can lay claim to simply "The Heights." That would be Washington Heights, a neighborhood located north of Harlem in Upper Manhattan. This enclave inspired Lin Manuel Miranda's Broadway musical "In the Heights" and is known for its lively energy and views of the George Washington Bridge.
Many local businesses and restaurants can be found in the bustling commercial strip of 181st Street, including a mix of mom-and-pop shops and household names.
Homes for sale in Washington Heights are some of the most affordable in the city, making it an excellent option for homeowners and renters who want more bang for their buck. The neighborhood is well-connected to other parts of the city by subway, with easy access to the A, C, and 1 trains. Other notable features include J. Hood Wright Park, where summer barbeques are a staple, and Fort Tryon Park, a lush, 66-acre public space by the Hudson River. Fort Tryon Park is also home to the Met Cloisters, a world-class museum devoted to medieval art and architecture.
Washington Heights Amenities
Blend of real estate, including condos, co-ops, and standalone homes.
United Palace Theater on Broadway & W 175th Street is a historic, Byzantine-Romanesque former movie palace, now used as a performance venue.
Highbridge Park on the eastern side of The Heights is a nature lover's dream, with hiking trails that open to views of the Harlem River.
Popular restaurants include El Malecon and La Casa Del Mofongo, with world-fare options like Saggio and Le Chéile on W 181st Street.
Brooklyn: Cobble Hill
With endless rows of brownstones and quiet tree-lined streets, the Cobble Hill neighborhood is an endlessly charming community in the borough of Brooklyn. Located south of Atlantic Avenue and east of the Brooklyn-Queens Expressway, the area was settled in the 1600s and has been through several iterations since then, leading it to become a local favorite.
Today, Cobble Hill homes for sale stand out among the rest of Brooklyn, with residents enjoying a small-town feel within the big city. The neighborhood provides quick access to Brooklyn Bridge Park and its six piers for waterfront activities. Schools in the area include P.S. 29, the School for International Studies, and the Brooklyn School for Global Studies.
Court Street, which runs through the heart of Cobble Hill from north to south, is lined with restaurants, cafes, bakeries, and boutiques. Local favorites include Sal's for pizza, Sam's for Italian fare, and Poppy's for coffee. Cobble Hill Cinemas, an arthouse movie theater that dates back to the 1960s, is also a popular spot for residents and visitors.
Cobble Hill Amenities
With nearly 6,000 trees per square mile, Cobble Hill is one of the city's greenest neighborhoods.
Cobble Hill Park and Van Voorhees Playground are great for enjoying the outdoors and viewing many different tree species.
Subway transit options include the F and G trains on Smith Street, connecting riders to other parts of Brooklyn and Manhattan.
Cobble Hill staples include Books Are Magic, a community-oriented bookstore, and Sahadi's, a Middle Eastern grocery store dating back to 1895.
Brooklyn: Park Slope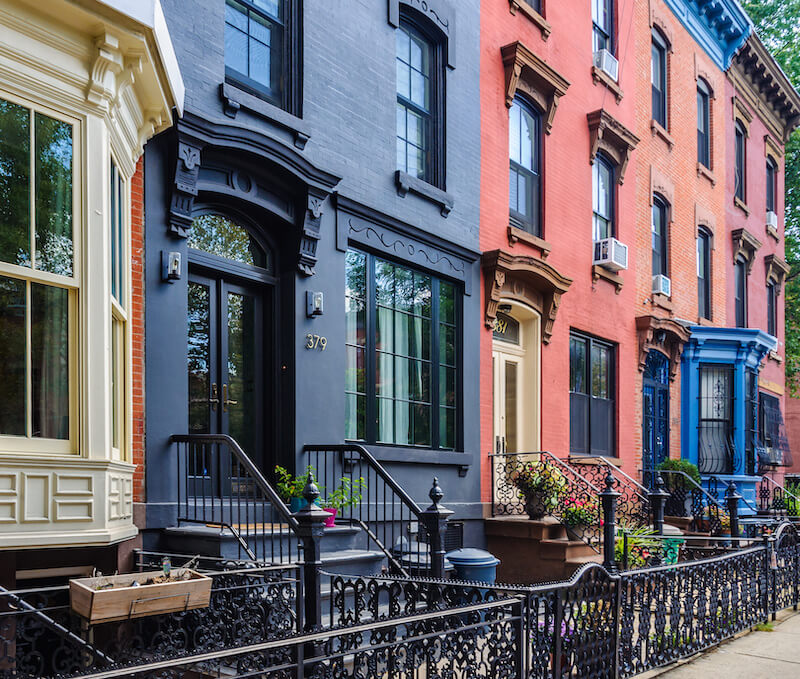 Park Slope is another popular Brooklyn neighborhood steeped in a rich history. In the mid-17th century, the Dutch West India Company used the area as farmland. By the late 1800s, the neighborhood had become a fashionable residential enclave. Townhomes and rowhouses were constructed en masse, and many of these beautiful buildings remain in Park Slope real estate today.
Situated just west of Prospect Park and east of 4th Avenue, the neighborhood's relatively flat terrain and wide, tree-lined sidewalks are perfect for strolling. Thanks to its abundance of shops, restaurants, and parks, there's no shortage of things to do. The most famous green space is Prospect Park, whose botanical gardens, zoo, and meadows rival those of Manhattan's Central Park.
West of the Park, the 7th Avenue corridor is one of Park Slope's main commercial strips, with an array of businesses that cater to the urbanite's every need. Fifth Avenue lies two blocks west of this busy thoroughfare and is also jam-packed with amenities. Popular restaurants on these lively commercial strips include Masalawala & Sons, Al di la Trattoria, Winner, and Lore.
Another local favorite is the member-owned and operated Park Slope Food Coop. Established in 1973, the coop focuses on selling sustainable groceries, like organically grown produce, at relatively affordable prices.
Park Slope Amenities
Park Slope's casual-cool atmosphere and central location make it one of Brooklyn's most sought-after neighborhoods.
Subway access is plentiful, with the 2, 3, B, and Q trains running along Flatbush Avenue and the D, N, and R trains along 4th Avenue.
The neighborhood is home to public schools like Millennium Brooklyn High School, P.S. 10 School of Math Science and Design Technology, and PS 321.
Nightlife options in Park Slope include a library-themed bar called Union Hall and a warehouse-turned-event venue known as The Bell House.
Queens: Bayside
The Bayside neighborhood is located in the northeastern corner of the borough of Queens, near the border of Nassau County. Its main drag is Bell Boulevard, a north-south artery bustling with restaurants, cafes, bars, and shops. The neighborhood has easy access to other major roads too; the Clearview Expressway flanks the boulevard to the west and Cross Island Parkway to the east, both significant roadways connecting Bayside to the rest of Queens, Brooklyn, and Manhattan.
Like many historic neighborhoods in NYC, Bayside has transitioned from rural land to its mini-metropolis over the centuries. Its rich history dates back to 2000 B.C. In the 1800s, New Yorkers began using the area as a summer getaway due to its location by Little Neck Bay, hence the name "Bayside."
Today, the neighborhood offers a variety of noteworthy restaurants, from traditional Italian fare at Papazzio to Greek eats at Taverna Kyclades. When they're not eating out, locals enjoy spending time at Fort Totten Park, where a Civil War fortress and old military batteries still stand. The park has pools, soccer fields, and nature centers and offers stunning views of the Throgs Neck Bridge.
Bayside Amenities
Alley Pond Park, located in the south part of Bayside, is the second-largest park in Queens, with over 650 acres of lush greenery and hiking trails.
Uncle Jack's Steakhouse, Martha's Country Bakery, and The French Workshop are just a few of the neighborhood's most popular food spots.
Bayside is served by the Q13, Q28, and Q31 buses, and the Long Island Railroad (LIRR) provides service to Manhattan's Penn Station in about 30 minutes.
The LIRR Bayside Station near Bell Boulevard is close to several bars, including Bourbon Street, Hatfields, and NoNo Lounge.
Queens: Forest Hills
The central Queens neighborhood of Forest Hills is brimming with Tudor-style homes, leafy green streets, and a thriving commercial strip along Austin Street. Its rustic village-in-the-city feel has made it a famous home for New Yorkers who want more space and tranquility than what Manhattan offers but don't want to move too far from the action.
Homes in Forest Hills are served by the Forest Hills and Kew Gardens LIRR stations and the E, F, M, and R trains, with express routes to Manhattan. La Guardia Airport is also just a stone's throw away, making domestic and international travel a breeze.
One of the most notable landmarks in Forest Hills is the West Side Tennis Club, where the U.S. Open was held from 1924 to 1978 (it's now held in Flushing Meadows). The club is still in operation today and open to the public, offering tennis courts, swimming pools, and community events throughout the year.
Foodies will enjoy exploring all that Metropolitan Avenue offers, including an eclectic mix of restaurants, cafes, bars, grocery stores, bakeries, and other food purveyors. One of the most iconic spots on the strip is Eddie's Sweet Shop, an ice cream and soda parlor that's been in business since 1925. Others include Nick's Greek Bistro, Dee's Wood-Fired Pizza + Kitchen, and Alberto's Italian Restaurant.
Forest Hills Amenities
The 538-acre Forest Park has horseback riding trails, a par-67 golf course, and multiple athletic fields, including bocce, tennis, and handball courts.
Cinemart Cinemas on Metropolitan Avenue is an arthouse movie theater known for its funky neon lights and red interior decor.
The Forest Hills Stadium has been hosting outdoor concerts since the 1920s, with performances by The Beatles, Ray Charles, and other big-name acts.
The Shops at Atlas Park is an indoor/outdoor shopping mall with big-box retailers, restaurants, and a movie theater.
The Bronx: Riverdale
Bordering Van Cortlandt Park to the east and the Hudson River to the west, Riverdale is a well-known community in The Bronx. At an elevation of 280 feet, Riverdale real estate is hallmarked by sweeping views of the river and the New Jersey Palisades beyond, which turns vivid shades of red and orange in the fall.
A predominantly residential area, Riverdale is just a 40-minute subway ride from the Midtown Manhattan neighborhood on the 1 train. It also has a commuter rail station on the Metro-North Railroad's Hudson Line, offering Grand Central Terminal service in about 30 minutes.
Riverdale residents can access 1,146 acres of green space at Van Cortlandt Park, which offers horseback riding trails, a golf course, and cricket fields. Another option is Wave Hill, a 28-acre public garden and event space with a scenic view of the Hudson River.
For food, residents head to Riverdale Avenue, where they'll find popular restaurants like Blackstone Bar & Grill, Tiny's Diner, and Salvatore's. Shopping is nearby at Riverdale Crossing, which has large retailers like B.J.'s and Petco.
Riverdale Amenities
Gaelic Park near Broadway and 240th Street is a popular spot for soccer, hurling games, concerts, and other community events.
In addition to single-family homes, Riverdale's housing stock includes co-ops, which offer more affordable options for homebuyers compared to Manhattan prices.
The Riverdale YM-YWHA community center has a swimming pool, fitness studios, and a performing arts theater.
The Henry Hudson Parkway is a major road in Riverdale that links Upper Manhattan with the adjacent Westchester County.
The Bronx: Baychester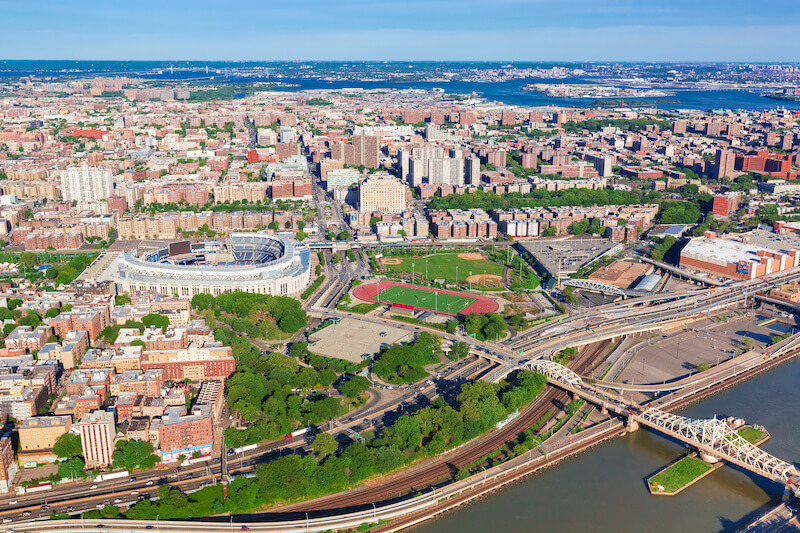 The 5 train's Gun Hill Road station is the primary transit hub for the Baychester neighborhood in the East Bronx. During peak morning and evening rush hours, the train "goes express," as many New Yorkers would say, zipping down the east side of Manhattan and continuing to Brooklyn. Average commute times to Midtown Manhattan are approximately 45 to 50 minutes.
Real estate in Baychester is a mix of detached single-family homes, co-ops, and apartment rentals. Residents have access to Haffen Park, with playgrounds, a baseball field, and outdoor pools. For shopping, Bay Plaza Mall sits just east of I-95 and draws visitors from all over the Bronx due to its large selection of anchor stores like Macy's, At Home, and Burlington. A 13-screen AMC movie theater is also located inside the mall.
Alternatively, Gun Hill Road offers a more traditional commercial strip with local businesses like banks, pharmacies, and mom-and-pop shops. Meanwhile, nearby Boston Road is home to Royal Coach Diner, El Valle Latin cuisine, and other casual eateries.
Baychester Amenities
Public schools include Baychester Academy (PS 169), the Throop School (PS 121), and Bronxwood Preparatory Academy.
Buses serving Baychester include Bx25, Bx26, Bx28, and BxM10, connecting riders to the 2, 5, and 6 trains.
Hutchinson River Parkway runs through the neighborhood, offering residents a quick way to get to Queens and Brooklyn.
Pelham Bay Golf Course is an eight-minute drive from Bayside and features a 36-hole course open to the public.
Staten Island: Richmondtown
One of the oldest settlements on Staten Island, Richmondtown used to be an oystering village in the 1600s, with the Fresh Kills estuary serving as the primary shellfish source. It was called Coccles Town back then, named after the Dutch word for "clams." The name was later changed in 1728 when it became the county seat of Richmond.
Bounded by Richmond Road on the northeast, Amboy Road on the east, and Tanglewood Drive on the southwest, Richmondtown is a small and tight-knit residential community in the west-central part of Staten Island. It has a 100-acre historic district that's home to several 17th-century structures and a museum complex that commemorates the neighborhood's Dutch and English heritage.
Homes for sale in Richmondtown are predominantly single-family houses in various architectural styles, such as Tudor and Ranch, with new construction homes also available. Outdoor recreation options include Willowbrook Parkway, which has hiking and biking trails, and the 6700-yard La Tourette Golf Course, which is also home to the yearly New York City Amateur Championship.
Richmondtown Amenities
Public transportation options in Richmondtown include the S54 and S74 buses and the Staten Island Railway (Oakwood Heights station).
Richmondtown is zoned to one Elementary School (P.S. 23) and two middle schools (I.S. 2 and I.S. 24).
Shopping and entertainment are available at Boulevard mall, where retailers, banks, a gym, and a movie theater are.
For food and drink, residents of Richmondtown frequent local staples on Amboy Road like Oakwood Diner, Canlon's, La Fontana, and Netcost Market.
Staten Island: Eltingville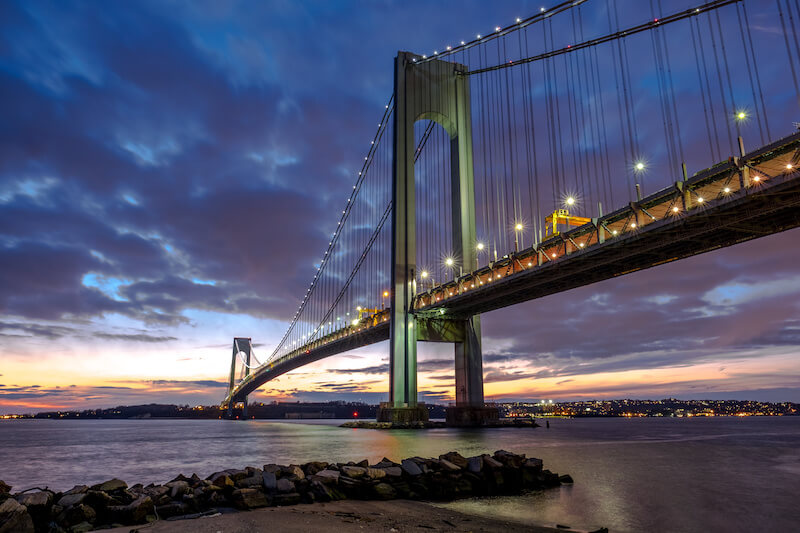 Last on the list of the most popular neighborhoods in NYC is Eltingville, a residential area near Staten Island's southern shore. The community was named after the Elting family, who settled in the area in the early 19th century. Before that, it was known as Seaside and occupied the area where the Eltingville train station would eventually be built.
Like many Staten Island neighborhoods, real estate in Eltingville is mainly made up of detached single-family houses, many of which were built in the 1960s as part of the large-scale suburbanization process that was happening in NYC at the time. Beloved hot spots in the area include Campania, a chic, chandelier-bedecked establishment; Gio's, a homey trattoria; and Patrizia's, a family-style restaurant with a brick oven for pizzas and calzones.
Eltingville is served by the Staten Island Railway and numerous buses, including the S54, S59, S78, and S89. One elementary school in the area is P.S. 42, from which students typically move to I.S. 7 for middle school.
Eltingville Amenities
Additional restaurants on Hylan Boulevard include Goodfella's, Trattoria Toscana, and Michael Anthony's.
There are two strip malls near Eltingville station, both of which have bakeries, banks, casual restaurants, and more.
The nearby Seaside Wildlife Nature Park has a sand-filled playground and is a great spot for picnics and wildlife viewing.
The Staten Island Mall is just a short drive away and features over 200 stores, including Macy's, JCPenney, and Primark.
Make Yourself at Home in New York City
New York City's most desirable neighborhoods offer a little something for everyone. Washington Heights is a more affordable alternative to the cost of living in NYC, while Cobble Hill and Park Slope are great to explore on foot, with their tree-lined streets and abundance of shops. In Queens, Forest Hills is a commuter's dream, with express trains into the Manhattan area, while Bayside offers a peaceful setting by the water. The Bronx also has a vibrant waterfront community in Riverdale, as well as the community of Baychester. And finally, Richmondtown and Eltingville on Staten Island are ideal for those who want historical charm and new construction.
With such a wide range of neighborhoods to choose from, homebuyers will surely find the perfect fit for their needs in NYC.