8 Walkable Cities in Westchester County: What's the Most Walkable Town in Westchester County?
Posted by Matthew Bizzarro on Wednesday, June 28, 2023 at 10:43:48 AM
By Matthew Bizzarro / June 28, 2023
Comment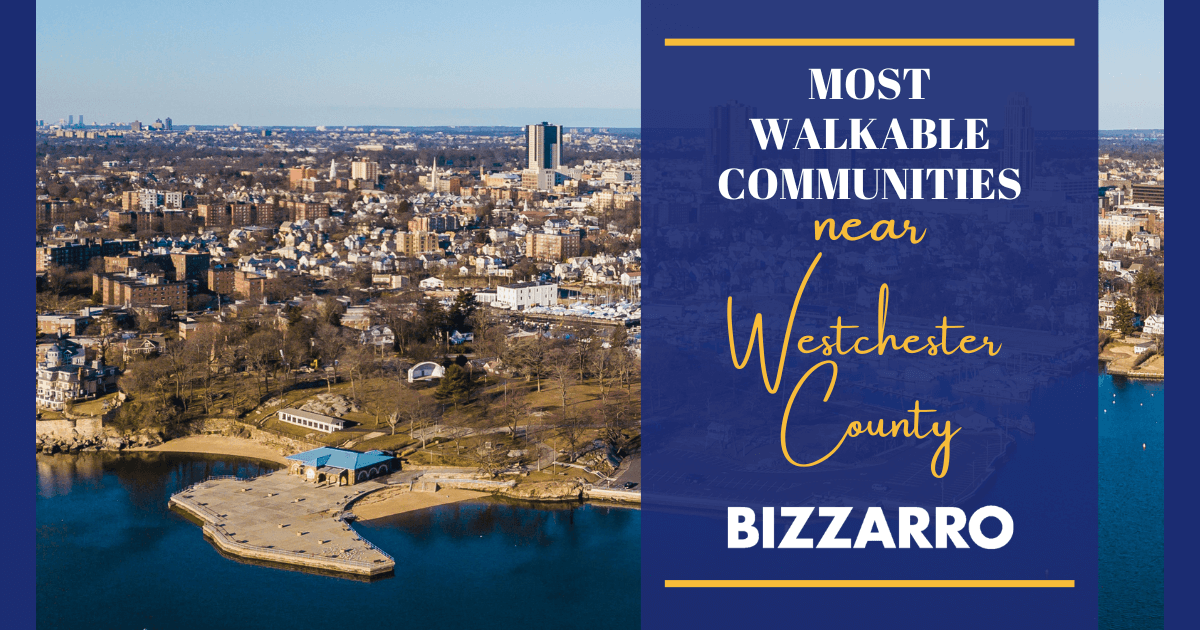 If you're moving to Westchester and seeking a place where strolling down tree-lined streets, exploring local shops, and enjoying a strong sense of community are the norm, look no further than the area's most walkable communities. In these parts of Westchester County, everyday living becomes a delightful experience. Whether you choose Rye, Yonkers, or even Eastchester, you'll say goodbye to urban sprawl and hello to a lifestyle where everything you need is just a few steps away.
Rye
Not far from the border with Connecticut, the city of Rye sits along the shores of Long Island Sound, offering an ideal walkable community for residents. It's one of the area's most historic communities, dating back over 350 years.
The waterfront is one of Rye's defining features, home to the popular Town Park and Beach, offering expansive green space, preserved historic properties, and a sandy beach beloved by locals. This area is also home to the famous Playland Park, a nearly century-old beachfront amusement park, among many other parks and attractions. There's also a vibrant and convenient downtown, centered around Purchase Street and Purdy Avenue, packed with restaurants, bars, coffee shops, and unique local retail.
Despite the feel of a secluded seaside village, Rye is transit-accessible to New York City via Metro-North and major cities in Connecticut like New Haven. Rye offers would-be buyers a mix of potential housing choices, from condos to widely varied single-family detached homes. The former is Rye's most affordable choice, sometimes starting as low as the mid-$200s, with most selling under $1 million. Single-family homes start at approximately this amount, topping out between $4 million and $6 million for one-of-a-kind properties of up to 10,000 square feet, many with incredible water views. Some ultraluxury condos can also list in this price range.
Rye Amenities
Rye Beach
Rye Town Park
Playland amusement park
Rye Nature Center
Metro-North New Haven line stop
Mount Vernon
Mount Vernon is located beyond the northern border of The Bronx and shares some of the convenient walkability with The Big Apple. Densely developed residential streets flank popular commercial areas, like the 4th Avenue/Gramatan Avenue shopping and dining district. Here, residents can take care of errands, enjoy a bite to eat at numerous spots like Flavas Kitchen, or relax at Hartley Park.
In addition to everyday conveniences, most residents can walk to transit, including multiple Metro-North stops and the ends of several Subway lines. Mount Vernon is also home to Wilson's Woods Park, which offers the opportunity to cool off in a historic public pool and waterpark.
No matter what type of property buyers are looking for, Mount Vernon likely has it. Roughly half of Mount Vernon homes for sale comprise condos and co-ops, with the vast majority selling for under $200,000. Single-family homes for sale in Mount Vernon typically start in the high-$300s, averaging six figures to $1 million. Luxury homes can reach the $2 million to $3 million range. Multi-family homes are also very popular, offering the potential for additional income or space. These properties usually list from just under half a million to nearly $1.5 million.
Mount Vernon Amenities
Wilson Woods Park
Hartley Park
Brush Park
Extensive shopping and dining options
Mount Vernon Memorial Stadium
Metro-North New Haven, Harlem line stops
Yonkers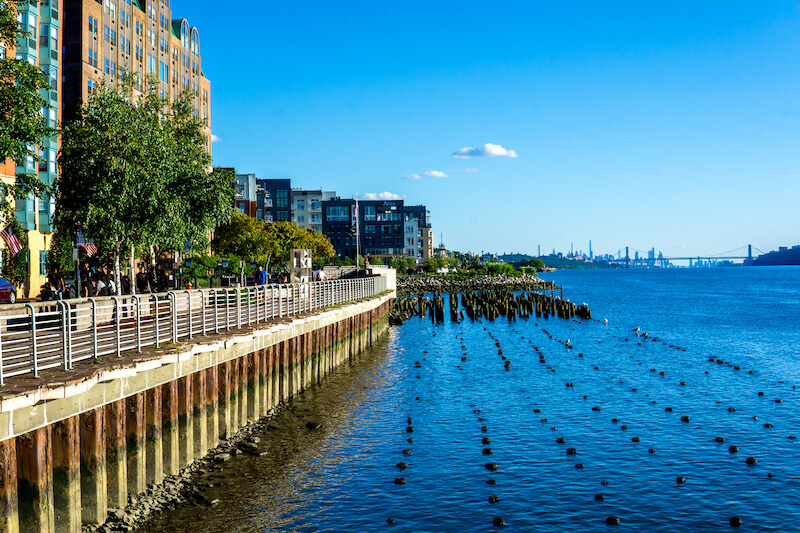 Another ultraconvenient, walkable spot for Westchester residents who regularly commute into New York City, Yonkers spans a large area along the Hudson River, just north of the city border and a short train ride away. It's an ideal home for those who love parks and nature, with various landscapes within a short walk from their front doors, like the riverfront relaxation and views at Untermeyer Gardens, and the expansive wilderness, aquatic complex, and sports facilities at Tibbetts Brook Park.
Yonkers offers a charming central street district and easy access to everyday services. Shoppers will also love Yonkers, where they can visit the huge Cross County Center to the many options along Central Park Avenue or the newer Ridge Hill area.
Yonkers real estate consists of a mix of condos, co-ops, and detached single-family and multi-unit homes. Condos and co-ops make up about half of available properties, typically selling in the $100s to the $400s, though most available options are around $1 million. While buyers can find some single-family properties from the mid-$300s, most list from the $600s to $1.5 million. Ultraluxury homes also sell in the $2 million to $6 million range, while multi-family homes are usually available from around half a million to $1.5 million.
Yonkers Amenities
Tibbetts Brook Park
Sprain Ridge Park
Trevor Park and Playground
Numerous shopping centers/complexes
Metro-North Hudson line stops
St. John's Riverside Hospital
Mamaroneck
While Mamaroneck is one of Westchester's oldest communities, its 17th-century roots combine with modern walkability to create one of the area's top places to call home.
The community is centered around Mamaroneck Harbor, an inlet of Long Island Sound. Residents can enjoy this beautiful waterfront at Harbor Island Park, a 44-acre space with sports facilities, a beach, a public harbor, and more. It's just a short walk from Mamaroneck Avenue, which forms the heart of town. With an extensive selection of shops, restaurants, and local services like the town library, it's easy for residents to accomplish all their errands or have a fun night out while leaving their cars at home. There are even plenty of entertainment options, from movies at the retro Mamaroneck Cinemas to live shows and concerts at Emelin Theatre.
Homes in Mamaroneck are roughly split between multi-family buildings like condos and co-ops and single-family homes. The former typically sell from the mid-$100s to around half a million. Houses start in the high-$500s and commonly reach $1 million, with many housing styles and both one- and two-story options available. The area's highest-end homes commonly sell for $2 million to $5 million, often for expansive waterfront properties with pools, private docks, and other luxury features.
Mamaroneck Amenities
Harbor Island Park
Otter Creek Preserve
Mamaroneck Avenue shopping/dining district
Emelin Theater
Metro-North New Haven line stop
New Rochelle
Another walkable Westchester community near the county's southern border, New Rochelle stretches from the shores of Long Island Sound nearly seven miles north toward the Scarsdale neighborhood. Like other waterfront Westchester communities, these beaches and parks are among the area's top attractions. Residents can often be found at Glen Island Park on summer days, enjoying the beach, boat launch, picnic areas, and other parts of the unique public space.
The community includes a walkable downtown district centered around Main Street and North Avenue, packed with numerous restaurants, bars, shops, and other businesses, plus the city's Metro-North station, which serves the New Haven Line. Areas further north include a mix of distinct though primarily residential neighborhoods, though North Avenue also provides nearby retail options.
Homes in New Rochelle comprise a mix of styles, roughly half consisting of single-family properties, a third as condos and co-ops, and the remainder as multi-family homes. Condos and co-ops can start in the $100s, topping out in the $800,000 range. Single-family homes commonly offer options as affordable as the mid-$400s, while luxury properties can reach nearly $2 million. Multi-family properties span a similar range.
New Rochelle Amenities
Glen Island Park
Hudson Park and Beach
Ward Acres Park
Iona University
Metro-North New Haven line stop
Montefiore New Rochelle Hospital
White Plains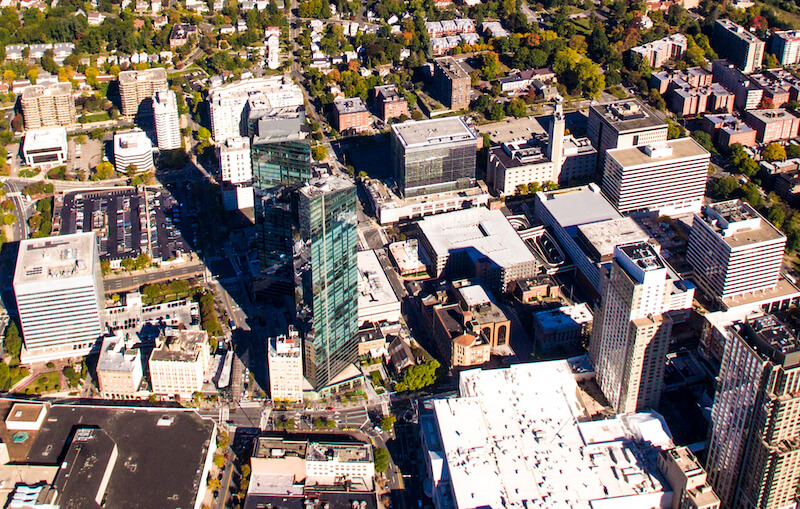 White Plains is the county seat of Westchester and a shopper's dream, with numerous malls, shopping centers, and retail districts like The Source at White Plains, home to Bloomingdale's and Nordstrom, mixed with local flair and big box stores. Like other historic nearby communities, residents also enjoy a walkable Main Street district with shops and restaurants, along with the green space of Tibbits Park and cultural/entertainment spots like the White Plains Performing Arts Center. While many residents take advantage of the easy commute to New York City via Metro-North or numerous highways, White Plains is also home to major employers and well-known national and international companies that provide significant numbers of well-paying jobs within the community.
Most homes for sale in White Plains are condos, co-ops, and similar units, typically starting under $100,000, with most selling for less than half a million. However, luxury condos and apartments can sometimes reach $4 million. Single-family homes in White Plains generally list from the low $400s to around $1.5 million but can double in price for spacious estates with more than 6,000 square feet of living space.
White Plains Amenities
Numerous malls and shopping centers
White Plains Performing Arts Center
Delfino Park
Metro-North Harlem line stop
Bronx River Pathway access
Ossining
Set along the Hudson River and providing some of the county's best views of the Tappan Zee area, the village of Ossining offers a walkable, historic suburb with everything residents need. It contains the popular downtown shopping district, The Crescent, spanning a conveniently sized area around Highland Avenue and Main Street filled with historic buildings, restaurants, shops, and local services. This area is also within walking distance from the riverfront, which offers the town's Metro-North rail station, a ferry terminal with routes across the river to Haverstraw, numerous marinas and boat clubs, and the popular Louis Engel Waterfront Park. The latter provides a small beach, splash pad, playground, and picnic areas and hosts many of Ossining's beloved community events.
Ossining offers a decidedly suburban feel dominated by single-family detached homes. These typically start around $400,000 and can reach $1.25 million or more for top properties. The limited supply of condos and co-ops presents more budget-friendly options, selling as low as the mid-$100s. However, most sell from the mid-$200s to around half a million.
Ossining Amenities
Louis Engel Waterfront Park
Nelson Park
Ossining Aquatic Center
Metro-North Hudson line stop
Old Croton Aqueduct Trail access
NY Waterway ferry stop
Westerly Marina
Eastchester
Our final walkable community is Eastchester, a 17th-century town split into three distinct areas: Eastchester and the villages of Bronxville and Tuckahoe. Eastchester is a great place to get outdoors, from public spots like Twin Lakes County Park to numerous golf courses and country clubs. Shoppers will also find plenty of choices within their community at the popular Vernon Hills Shopping Center. Other walkable amenities include sidewalk-lined, tree-shaded residential streets and a central area of shops and restaurants near the intersection of Mill Road and White Plains Road.
Condos and co-ops make up about half of the homes for sale in Eastchester, generally starting from the $100s and up, with more limited options from the $700s to $1 million or more. Eastchester's single-family detached homes offer an even wider variety, starting with traditional, modestly sized houses in the high-$500s. However, expansive luxury properties are also available for up to $3 million or more.
Eastchester Amenities
Vernon Hills Shopping Center
Twin Lakes County Park
Numerous golf and country clubs
Lake Innisfree
Convenient to Metro-North Harlem line stop
Convenient Living Awaits in Westchester's Most Walkable Communities
Embrace a lifestyle where every step leads you to discoveries, the community is cherished, and convenience and charm intertwine seamlessly. Westchester's most walkable communities offer a haven for those seeking an elevated living experience.