Moving to New York City: 12 Things That Make NYC A Great Place to Live
Posted by Matthew Bizzarro on Tuesday, May 16, 2023 at 2:00 PM
By Matthew Bizzarro / May 16, 2023
Comment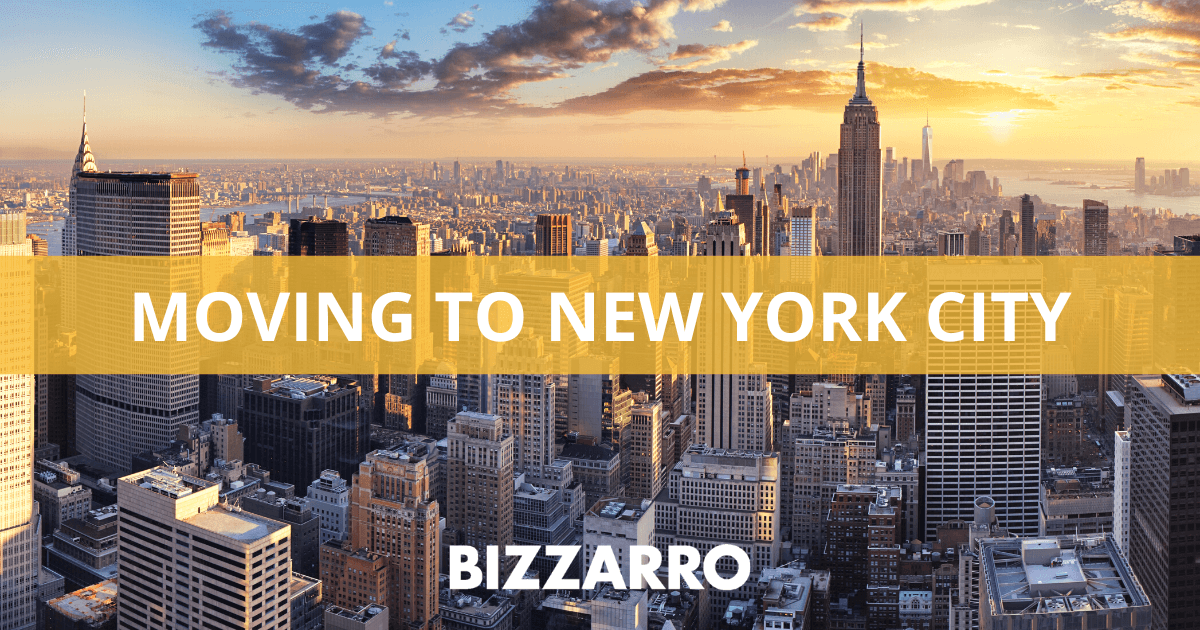 Living in New York City, NY
It might be world-famous, but there are still many things the average person doesn't know when it comes to discerning if New York City is a good place to live. With five completely unique boroughs, moving to NYC promises a lifestyle unlike anywhere else in the world. Everything is within easy reach in the City of New York. Abundant job opportunities, the country's biggest school district, and an incredible public transportation system make the city an inspiring melting pot of business, culture, entertainment, and more, and these are some of the many reasons to move to NYC. Are you dreaming about moving to New York? Here's how you can make it a reality.
Top Reasons to Move to New York City
New York City is a great place to live for these reasons and more:
A global hub for the arts, with institutions like the Metropolitan Museum of Art, the Museum of Modern Art, and countless galleries
Home to the New York Philharmonic Orchestra, the Metropolitan Opera, and the New York City Ballet
Iconic structures like the Statue of Liberty, Rockefeller Center, the Empire State Building, and Central Park
Known for its diverse culinary scene, including high-end dining to street vendors
Ideal place for networking, both professionally and personally
Home to some of the best hospitals in the United States, including NYU Langone and NY-Presbyterian
Wide range of educational institutions, from prestigious universities like Columbia and NYU, to many specialized schools and programs
Sure to entertain anyone with Broadway, countless live music venues, comedy clubs, and sports events
Public transportation system is one of the most extensive in the world, allowing residents to get around without the need to own a car
Tips for Moving to New York City
Though it may seem daunting to move, rest assured that New York City is a great place to live. With five distinct boroughs and hundreds of neighborhoods to choose from, prospective residents frequently suffer information overload during the beginning stages of research. Having local insight can make moving to the big city easy and exciting.
Get Ready for the Cost of Living
While the cost of living in New York City may be higher than the national average, having the best food, entertainment, and education within easy reach comes at a price. As with many cities with a high cost of living, most residents have decided the unique and exciting city is worth the price tag.
Most prospective residents will first encounter the cost of living when they look at the rental market. Looking at the city as a whole, rent starts at $2,500 monthly, but it's not uncommon to see luxury apartments starting at $8,500. The cost of rent creeps upwards with increases in amenities, bedrooms, and square footage. Average rent prices vary from borough to borough too. For example, the average Manhattan rent is over $5,000.
Houses are similarly on the upper end of the spectrum, with the median home sale price at roughly $700,000. The median price of homes for sale in the borough of Manhattan is about $1,300,000.
New York City is also among a few cities that charge a personal income tax. Depending on the tax bracket, New York City residents pay anywhere from 3% to 4% on personal income earned. Additionally, sales and use tax in New York are about 9%.
The average annual income in New York City is significantly higher than the national average (roughly $50,000 annually versus roughly $30,000 annually). By preemptively adjusting your budget, you can quickly adapt to the cost of living.
Decide on a Neighborhood
There are hundreds of neighborhoods to choose from, so deicing if you should move to New York City is just the first step. It helps prospective residents to first understand the five boroughs of New York City:
The Bronx
Brooklyn
Manhattan
Queens
Staten Island
Each borough has its own unique lifestyle and atmosphere. Manhattan boasts the largest population at roughly 1,600,000 residents over just 22 square miles and is what comes to mind when most people think of New York City. On the other hand, the Staten Island borough has just 500,000 residents spread across more than 60 square miles.
Every prospective resident should determine the most critical factors of a neighborhood, whether it be the location, commute times, local landscape, or anything else that is essential to their happiness and satisfaction in a new home.
Renting in New York City
The vast majority of New York City residents rent. Competition for rental units can be high, and finding the perfect apartment takes more steps than it does in other cities. However, the feeling of finding "the one" makes the experience all worth it.
Many apartments in New York City will require first and last month's rent and a security deposit typically equal to one full month's rent. For example, an apartment that costs $3,000 monthly rent could potentially cost $9,000 upfront before the lease is signed.
Working with a rental broker is another apartment-hunting nuance that new residents might not know about. Many landlords utilize a broker to rent out their units, and the tenant pays the broker's fee once the lease is signed. The broker's fee is equivalent to anywhere from one month's rent to 15% of the annual rent. The advantage of working with an NYC apartment broker is having an in-the-know advocate who's committed to finding you the perfect place to live.
Buying in New York City
While renting is the norm, buying real estate in the New York City housing market is more accessible than some new residents might initially think. New York City real estate appreciates reliably, and investing in it is a great way to build wealth.
Single-family homes in New York City are available, but most properties available for purchase include townhomes, co-ops, and condos/apartments.
Apartment co-ops in NYC are a unique way of investing in a primary residence. In short, co-op buyers invest in shares of the building as a whole rather than buying just their unit. Prospective buyers need to be approved by the co-op board. A few perks of buying in a co-op include competitive pricing, lower closing costs, and shared maintenance fees.
New York City's Abundant Employment Opportunities
To provide an idea of the immense size and influence of New York: if the state were its own country, its economy would rank as the twelfth largest in the world. New York State's economy is in the top three largest in the United States, and NYC plays an undeniable role in its strength.
With such a thriving economy, many people searching for new employment end up migrating to New York City. The New York City economy boasts abundant job opportunities and a favorable unemployment rate of just over 6%. With a gross domestic product of nearly $2 trillion, it doesn't come as a surprise that significant, recognizable businesses are headquartered in the city.
J.P. Morgan Chase is one such business located in one of the most recognizable skyscrapers on Park Avenue in the Financial District and is home to over 250,000 employees. A few buildings down, Verizon Communications' more than 130,000 employees compete with other impressive media giants like Google and Qwest.
On Greenwich Street, Citigroup's 210,000 employees work in the company's New York City headquarters. Citigroup is one of the largest multi-national investment banks.
Popular Area Industries
New York City leads the country in the banking and finance industries and boasts a thriving technological and communication industry. The city's prime coastal location allows it to be a bustling global shipping port.
The major finance presence in New York City is due in no small part to the New York Stock Exchange. It's the most influential securities exchange in the world and has been synonymous with New York City since the early 1800s.
The business sector is another on of the most prominent New York City industries, employing roughly 1,200,000 residents. This industry includes many professional groups, including lawyers, accountants, and administrative personnel.
Rounding out the list of popular industries in New York City is healthcare. The city is home to more than 60 hospitals, and more residents are employed in healthcare than in any other industry. In the last year, healthcare brought in more than $10 billion in revenue.
Things to Do in New York City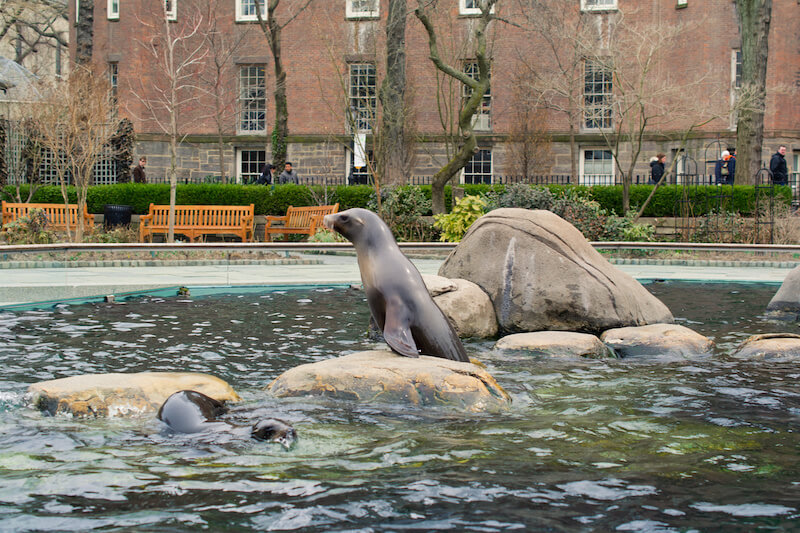 New York City is brimming with opportunities to find a new favorite pastime. Each New York City outing provides a unique and irreplicable experience with five distinct city sections. No matter which borough you live in, you're sure to always be surrounded by fun things to do.
Manhattan
Manhattan has the most museums out of all five boroughs, including the Metropolitan Museum of Art, the Museum of Modern Art, the American Museum of Natural History, and the Tenement Museum.
With Manhattan's globally renowned restaurant scene, you could probably eat at a new restaurant every day of the year. A few well-known restaurants include Per Se, P.J. Clark's, Grand Central Oyster Bar, and Keens Steakhouse. These restaurants offer a wide range of price points and cuisine types.
The hottest nightlife in Manhattan can be found at the Fleur Room, a botanical-themed rooftop bar with panoramic views of the city, and at 1 OAK, a hotspot for celebrity sightings.
Brooklyn
The borough of Brooklyn is the most populous in the city, and it's home to just as many attractions as Manhattan. The New York Aquarium is located in Brooklyn and is home to close to 300 species of marine life. Nearby is Prospect Park Zoo, spanning twelve acres and hosting over 200 species.
There are also plenty of thrifting and vintage shopping opportunities in Brooklyn. Brooklyn Flea, L Train Village, and Industry City are both in the borough and great places to support small, local artisans.
Queens
The residents of the Queens borough love to keep their city beautified via public parks and green spaces. One such gorgeous green space in Queens is the Queens Botanical Garden, with 39 acres of lush landscaping, including a bee garden, herb garden, perennial garden, and rose garden.
Another noteworthy park in Queens is the Noguchi Museum, an outdoor display containing work by the famous Japanese-American Isamu Noguchi. In addition to sculptures, there are also innovative architectural models, furniture designs, and artwork.
Last but not least is the sprawling Flushing Meadows, the fourth-largest public park in New York City, boasting nearly 900 acres. It's easy to spend an entire day in Flushing Meadows, the park being home to many famous landmarks, including the New York Mets baseball team, the Queens Zoo, and the Queens Museum of Art.
The Bronx
The Bronx is a densely packed borough of New York City, with nearly 1.5 million residents across roughly 40 square miles. The Bronx borough is best known for being home to the famous Yankee Stadium. Other popular landmarks include the Bronx Zoo, the Bronx Museum of the Arts, and the beautiful New York Botanical Garden.
Additionally, the Bronx is also home to Little Italy, a bustling section home to many authentic Italian shops and restaurants. Some of the most recommended eateries include Zero Otto Nove, Emilia's, and Antonio's Trattoria.
Staten Island
Staten Island is the biggest New York City borough with the smallest population. This allows the spacious borough to have room for over 12,000 acres of beautiful and meticulously maintained parkland. The borough has so much public recreation space it's been nicknamed the greenest borough.
While there are over 170 parks on Staten Island, some of the most famous include Fresh Kills Park, Snug Harbor Cultural Center and Botanical Garden, and the Chinese Scholar's Garden.
Staten Island is also home to the aptly named Staten Island Ferry, serving as both a mode of public transportation and an opportunity to see the Statue of Liberty and Governer's Island.
New York City's Climate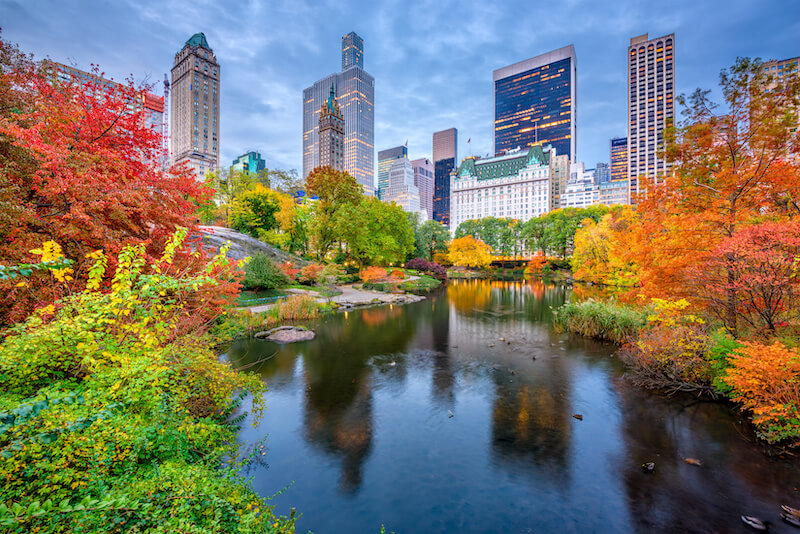 Residents of New York City are lucky enough to experience four distinct seasons. New York City's average temperatures experience a vast range throughout the year but rarely drop below 14°F or exceed 92°F.
For those hoping to visit and see New York for themselves, temperature-wise, the most comfortable times to visit New York City are anywhere from mid-June to late September. The average temperature during these times hovers in the mid-70s. Meanwhile, the city's cold season lasts from early December to mid-March. Temperatures during this period rarely exceed 50°F.
The city also experiences a fair amount of rain during the warm season and significant winter snowfall. The wet season lasts from April to the end of August, with any given day boasting a greater than 29% chance of rainfall.
New York City's snowy season lasts from late November through the end of March. The most snow typically falls in February, with an average snowfall of six inches during that month. On average, New York City sees about 25 inches per snow season.
Getting Around in New York City
More than any other city, New York is known for its hustle and bustle. From personal vehicles to subway systems to rideshares and the iconic New York City yellow taxi, there are plenty of options for getting around in New York City.
Public Transportation
With close to 500 subway stations and more than 200 bus routes, New York City is home to the largest public transportation agency on the continent. Approximately 2.4 million people ride the Metropolitan Transit Authority (or the MTA) daily. Train rides and buses cost $2.75 per trip, and discounts are available for seniors and persons with disabilities.
Taxis and rideshares are other possibilities for New York City residents. The city's busy streets are teeming with the iconic yellow cabs. For city taxis, the base fare is $2.50, and there are additional nominal surcharges during peak travel times.
Driving in New York City
Owning a personal vehicle in New York City is optional in most boroughs. The undertaking comes with plenty of associated costs and responsibilities.
The city's street parking is extremely limited, and finding a space is time-consuming. The more densely packed a neighborhood, the more difficult it is to find street parking.
Garage parking provides better security for your vehicle, but it comes at a cost. The average price of a monthly garage pass in New York City is between $500 and $600, and the cost to buy a parking spot is known to easily exceed $200,000.
Other Forms of Transit
New York City has more modes of transportation than just taxi cabs and personal vehicles. Biking is an excellent option for residents that decide to forego car ownership. It's efficient, affordable, and helpful to the environment. Cyclists in New York City are asked to follow the laws of the road, meaning to stay in the marked bike lanes, cross with pedestrians, and follow all standard traffic signs.
Walking is another way that many New York City residents make it work when getting from place to place. One of the reasons it's so important to research a prospective city is to determine whether it's in a prime location for the prospective residents' needs—if most sought-out amenities are within walking distance, walking may be all the form of transportation necessary.
Schools in New York City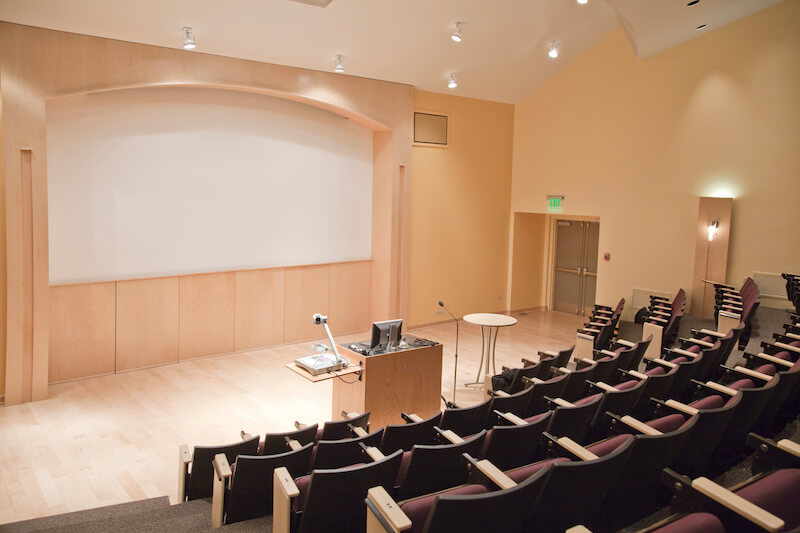 New York City has the largest public school system in the world. NYC schools serve over 1,000,000 students and employ more than 75,000 teachers in over 1,700 elementary, middle, and high schools. The school system has a budget of nearly $25 billion.
Outside of New York City Public Schools, an additional 900 private schools, both religious and secular, operate in the city. These schools include the Brearley School, the Trinity School, and the Collegiate School.
Several nationally-recognized colleges and universities call New York City home. Cornell Tech, the technology, business, law, and design campus of Cornell University, is located in Manhattan and educates more than 2,000 graduate students annually.
Another ivy league school in Manhattan is Columbia University, a private research university with an acceptance rate of just over 4%. Just shy of 32,000 students attend this prestigious school.
In Brooklyn, Pratt University is a private school that focuses on the arts, with the most popular majors being architecture and building sciences, graphic design, product design, and illustration. Pratt University is home to less than 5,000 students.
Lastly, Parsons School of Design is another incredibly famous and well-respected college in Lower Manhattan. The small school of just over 5,000 students teaches art, fashion, and design and is considered one of the best schools of design in the country.'
Make Yourself at Home in The Big Apple
What is the most important part of planning a move to New York City, New York? Research, research, and more research! Moving to New York City is unlike moving to any other city in the world. There are many NYC-specific nuances that out-of-towners might not know about. With all this local knowledge, you're ready to make your mark on the city.