Getting Around New York City: How to Use NYC Subway, Bus & Taxis [2024]
Posted by Matthew Bizzarro on Thursday, October 27, 2022 at 1:31:56 PM
By Matthew Bizzarro / October 27, 2022
Comment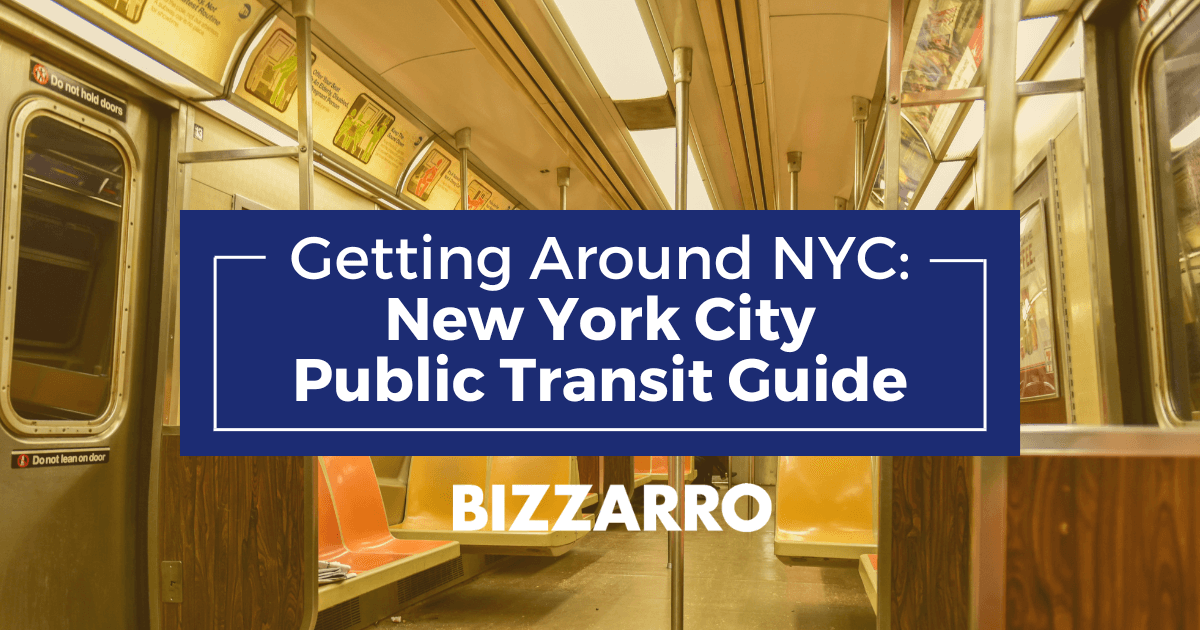 When it comes to unique places in the world, New York City is in a league of its own. As the saying goes, if you can make it here, you can make it anywhere, and part of "making it" in NYC means knowing how to get around this city of almost nine million residents. Here's everything those visiting or moving to New York City should know about getting around the Big Apple, including how to use the city's public transportation.
NYC Subway
One of NYC's most widely used modes of transportation is the subway system. The system is so convenient and effective that it's a selling point for buyers seeking apartments for sale in New York City. Owned by the city and operated by the New York City Transit Authority, the subway is one of the world's oldest, largest, and most-used rail transit systems. It has operated almost every day since its opening in 1904!
In 2021 alone, NYC's subway system served over 1.3 billion riders along 250 miles between its 472 stations spread across the Bronx, Brooklyn, Manhattan, and Queens. The NYC subway runs 24 hours a day, seven days a week, providing residents with reliable transit in a densely populated city.
How to Buy a MetroCard
The MetroCard gives riders access to subways across the city and can be purchased from vending machines at any station. All machines accept credit cards, while some also accept cash. Cash-accepting machines only dispense coins (up to $9) in change. There are several MetroCard options, from single to multi-day tickets.
Single-ride paper cards can be purchased for $3
A refillable MetroCard can be purchased for multiple rides. Each ride is $2.75, and the minimum amount you can put on a card is $5.50. This card can be used up to 4 times per trip.
A 7-day MetroCard covers unlimited rides for one week. It costs $33 (plus $1 for a new card) and can be used once every 18 minutes.
Alternatively, some riders may prefer the OMNY system. Tap-to-pay is available for riders with credit cards with contactless symbols or smartphone-based apps such as Apple Pay, Google Pay, or Samsung Pay.
How to Ride the NYC Subway
With NYC's cost of living, residents often cite the importance of affordable commuting and travel, and the subway system is, depending on the journey, generally the cheapest mode of transportation. If you use the OMNY system, a simple tap is all you need. With the MetroCard, you must ensure that you swipe in the right direction. The word "MetroCard" should face you with the black stripe down, and you should not swipe your card too quickly. The card reader will be to the right of your turnstile.
One of the biggest challenges with any transit system is understanding your train's direction. In most cities, "downtown" and "uptown" can be located almost anywhere relative to one another. In Manhattan, for example, "downtown" trains generally run "down" or toward the south, while "uptown" trains generally run "up" or north. Before swiping your card, ensure you're on the right side of the platform.
NYC's subways are far and away the most frequently-ridden form of transportation in and around the city, whether it be vacationers or those working the millions of jobs in New York City. Another thing to mind when using the subway is whether you're on a "local" or "express" train. Local trains stop at every station with one track for each direction (uptown and downtown). Express trains don't stop at every station, with the point being to offer a faster ride. Some larger stations are stopping points for both local and express trains.
NYC Bus Tips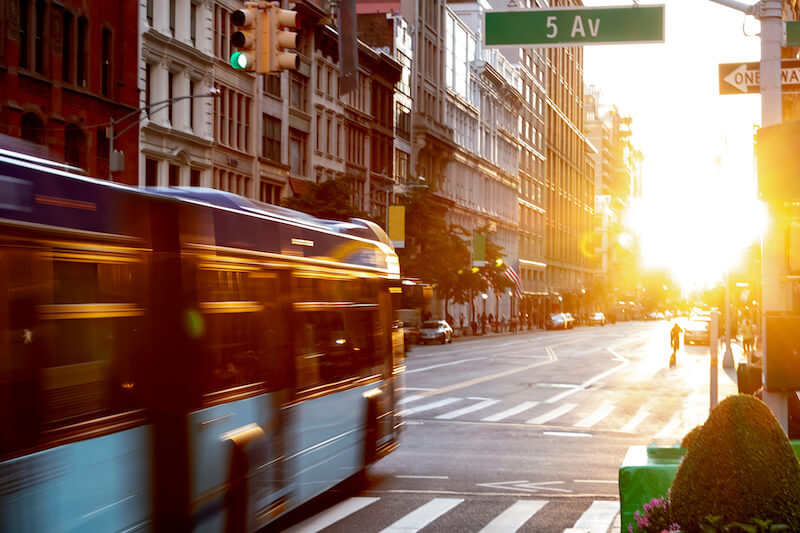 In New York City, buses are another popular option for getting around town. Over 760 million people used the bus system in 2019. There are bus stops on nearly every corner in Manhattan, so this may be one of the best options for commuting from your townhome. The MetroCard also works for bus rides since the NYCTA operates buses in addition to the subway system.
With a MetroCard, you can buy a single-ride bus ticket at a vending machine for $3.00. You can also purchase a single ride on the bus for $2.75 with coins and exact change. If you need to change buses or transfer to a train along the route, request a transfer from the driver, who will provide you with a single-use, non-reloadable MetroCard. You have up to two hours to make the transfer.
You can identify an NYC bus stop by the tall post with a round sign with a graphic of a bus, seen from both the front and back. Under the round sign, there will always be another sign that indicates which routes are served by that stop. Look for the letters that indicate the borough served:
Bx - The Bronx
B - Brooklyn
M - Manhattan
Q - Queens
S - Staten Island
An uppercase X indicates that the route is an express route. As with any transit system, planning for the best way to get to your destination is essential. Given the heavy traffic in NYC and the number of individual routes, a bus ride may take much longer than anticipated.
How to Get a New York City Taxi
The yellow taxi is an iconic cultural symbol for transportation in the Big Apple. Taxis are often preferable to trains for groups of fewer than four people, as well as late-night travel or commuting outside of rush hour.
While riding a taxi is simple, figuring out the cost of a ride can be more complex than on the bus or the train. Instead of flat rates, each cab runs a meter that determines the cost of the trip. Taxi rates in NYC are as follows:
$2.50 base charge
$0.50 state tax surcharge
Additional $1.00 per trip between 4:00 p.m. and 8:00 p.m. on weekdays
Additional $0.50 per trip between 8:00 p.m. and 6:00 a.m. on weekdays
$0.50 per ⅕ of a mile when the taxi is moving at 6 mph or more (as meter runs)
$0.50 per 2 minutes of stopped time when traffic is moving slower than 6 mph
There's no charge for baggage or surcharges for additional passengers. While bridges between Manhattan and Brooklyn are free, you will be responsible for paying any tolls incurred elsewhere. Standard tipping for taxi drivers is 15-20% for standard to exceptional service.
It's also important to know how to hail a cab in the first place. If you're at an airport, hotel, or entertainment hot spot such as a theatre, several drivers often wait outside. If you have to hail a cab, look for one with an illuminated taxi number. This means that the driver is available for hire. Once you've signaled the driver, let them know your destination and climb in.
Staten Island Railway, Ferry & Buses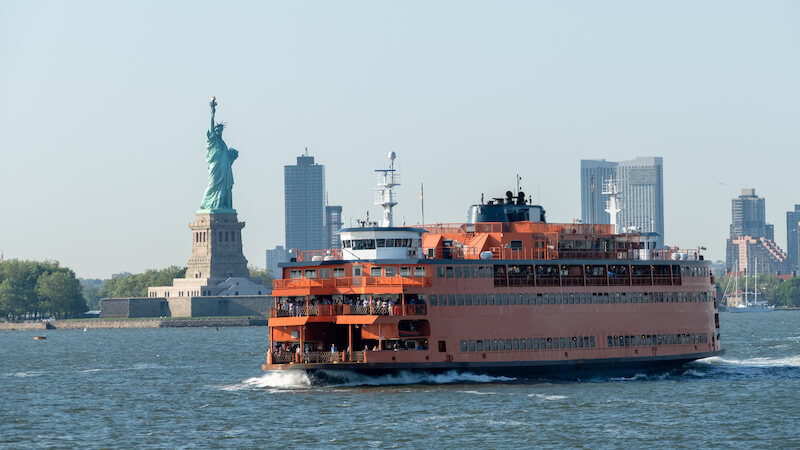 The Staten Island Railway (SIR) is the only authority that operates trains on Staten Island. If you need to get around the fifth borough, SIR gets the job done efficiently—however, there is no direct link between SIR and the NYC subway system. You get a free transfer to the NYC bus and subway systems, so riding between the two destinations is quite simple and convenient.
The fare for trains and local, limited, and select bus rides is $2.75. Express bus rides are $6.75 within the SIR system. Users can pay for transit with MetroCards or the OMNY system, just like NYC subways and buses. SIR operates two rail lines, the Long Island Rail Road and the Metro-North Rail Road. The exact fares for these lines depend on your trip and the time of the day, but you can plan a journey ahead of time to get a fare cost estimate.
Many Staten Island residents opt to take the Staten Island Ferry to the endless businesses and residences in Manhattan. The ferry goes between the St. George Ferry Terminal in Staten Island and the Whitehall (or South) Ferry Terminal in Manhattan, running 24/7. Trips are every 30 minutes, except during rush hours on weekdays. From 6:00–9:30 a.m. and 3:30–8:00 p.m., the ferry runs every 15 minutes. Best of all, the ferry is free!
How to Get To & From NYC Airports
Whether you're a resident or just visiting New York, you should know your options for getting to and from the city's airports. John F. Kennedy International Airport, LaGuardia Airport, and New Jersey's Newark Liberty International Airport are the three airports that serve the NYC area.
JFK Airport is located in Queens. From Manhattan, there are several options.
Cheapest trip: For $10.50, you can catch the blue line subway to "Sutphin Blvd - Archer Av - JFK Station" and take a connecting AirTrain to your preferred terminal. The estimated duration is 60–90 minutes.
Fastest trip: For $11.75 to $18.50, you can take the Long Island Rail Road from Penn Station to Jamaica Station and hop on a connecting AirTran at JFK. The estimated duration is 45 minutes.
LaGuardia airport is also located in Queens. The cheapest and fastest trip from Manhattan involves taking the W line to Astoria Blvd. Take a short walk to the Hoyt Avenue/31st Street intersection and catch the M60 bus to the airport. You'll pay $2.75 for the 45- to 60-minute trip.
To reach Newark Airport from Manhattan, take New Jersey Transit from Penn Station to the airport. You can then take an AirTrain to your terminal. The total cost is $15.25, which also covers AirTrain usage for people aged 11 and up. There's no AirTrain charge for children 10 and under. The estimated duration is 34 minutes.
Make it Here, Get to Anywhere
Transportation is a crucial factor when making a move, and the ability to get around easily is one of the major selling points for big city life. An essential part of the Big Apple experience is getting around via taxi or public transit. Calling this city home requires a knowledge of local transit and taxi options, especially since relatively few locals drive personal vehicles in the city. With some preparation, research, and practice, you'll quickly get the hang of the trains, buses, and taxis. While ground and rail transportation isn't free, it's often a much more cost-effective alternative to vehicle ownership, maintenance, parking, and insurance in a major city.