5+ Best Walking & Jogging Paths in New York City
Posted by Matthew Bizzarro on Tuesday, June 20, 2023 at 11:08 AM
By Matthew Bizzarro / June 20, 2023
Comment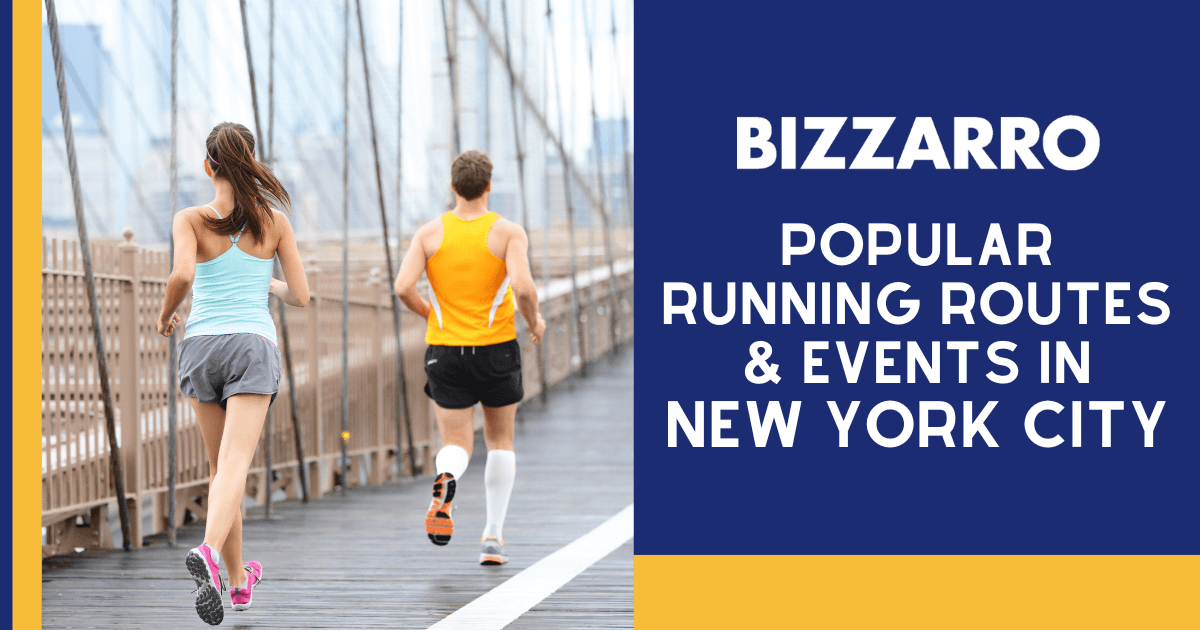 In the bustling metropolis of New York City, where life is often frenetic, running and jogging provide a welcome escape for many urban dwellers. Amidst the towering skyscrapers and bustling streets, the city offers many scenic routes and parks that cater to fitness enthusiasts. From Central Park's iconic paths to the tranquil waterfronts along the Hudson River, countless opportunities exist to lace up one's sneakers and explore the city on foot. This article delves into the best running routes in NYC, focusing on the neighborhoods that are great for running, the running events around the city, and everything else a runner moving to New York City could need.
Popular NYC Running Routes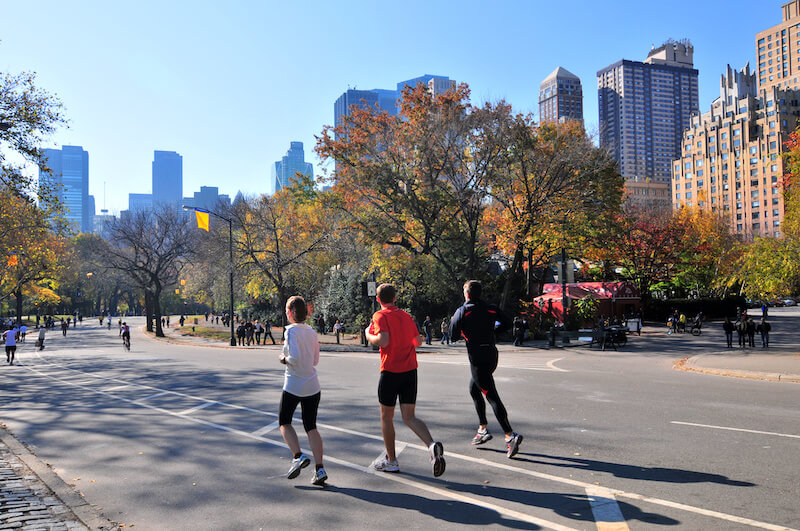 New York City has a plethora of paths for passionate runners to take, with great views and historical landmarks scattered throughout. These paths are also frequently visited by more than just runners, so it's essential to be aware of walking pedestrians, cyclists, families and tourists, and even cars and taxis where running paths follow significant roads and cut across busy intersections. Many streets have designated lanes for runners; where those exist, it's a good idea to keep to them. Here are just some of the best routes for joggers and runners in NYC.
West Side Highway
This is a primarily flat path for running that's generally well-maintained and suitable for intermediate runners. It's a one-way path where runners pass through the new Hudson Yards, past landmarks and waterfront homes down to the tip of Manhattan. It serves pedestrians and bikers, but some sections of the path provide very different experiences for bikes and pedestrians. The main draw of the West Side Highway Path is the beautiful views of the Hudson River, New Jersey, and the Statue of Liberty.
Central Park
The scenic Central Park—one of New York City's best parks and perhaps the most famous park in the world—has several running routes to choose from. Beginners can enjoy the West route, which takes runners past landmarks in the Upper West Side neighborhood such as the American Museum of Natural History. The East route is better for more experienced runners, with its largely natural terrain and various winding paths. You can run a few different routes to see Central Park in full as well, with the longest being about 6.1 miles long. Try a morning or evening park run to share the path with fewer walkers, cyclists, and horses.
Lower Manhattan Loop
The Lower Manhattan Loop is a scenic route along Lower Manhattan's waterfront, with no shortage of things to see. Start on the Manhattan side of the Williamsburg Bridge in the Lower East Side neighborhood, and follow the path to run past several points of interest, such as the Seal Statues, the East River Park Amphitheater, and the 9/11 Memorial. This course is roughly 4.6 miles at minimum. If you time it right, you can run this route and catch the sun setting behind the Statue of Liberty.
Brooklyn & Manhattan Bridges
Running on New York's bridges provides an excellent view of the river below, and the bridges are also lovely. In addition to crossing the bridges, this route takes runners through the Two Bridges area in Manhattan, Brooklyn's Dumbo neighborhood, and Brooklyn Bridge Park. The Brooklyn and Manhattan Bridges themselves are a little over one mile long, and both have a bit of an incline on the way onto the bridge and a decline on the way out. To extend the run, joggers can connect to the East River running path from here. The Brooklyn Bridge doesn't have a dedicated running lane, but the Manhattan one does. Be aware that trains sometimes cross the Manhattan Bridge and interrupt your running playlist for several minutes.
Hudson River Path
The Hudson River Greenway is a mostly flat path along the riverside with only a few gentle hills. It's a long run: from the Battery Park City neighborhood all the way up to the Inwood area, it's roughly 13 miles long. Of course, you don't need to run the whole length; even running part of the path is worth it. Depending on where you start, this route can take you through Cherry Walk in Riverside Park, past the Points of Rocks in St. Nicholas Park, or even to the Grecian Temple beside the Hudson River.
Running Events in NYC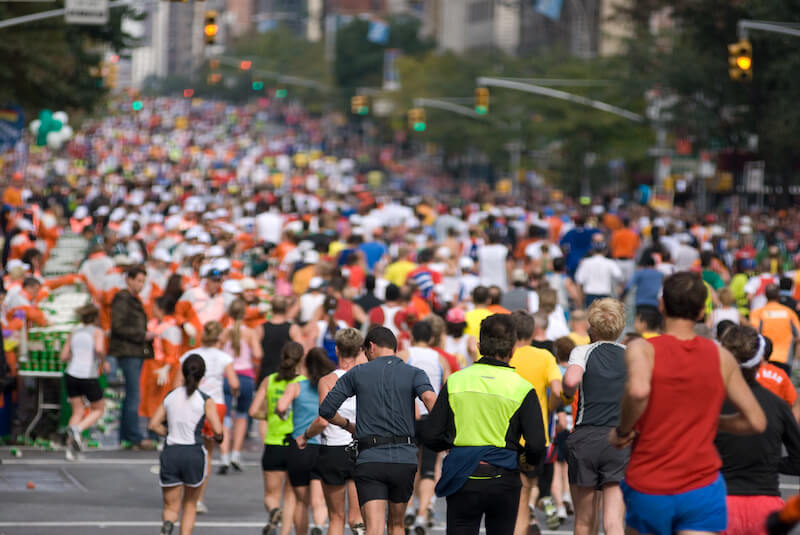 If you're a runner training to take on a challenge—or to simply avoid ever driving in New York City—you're looking in the right place. NYC is home to some of the world's largest and most well-known marathons, half-marathons, and other running events. Because of the nature of these marathons, you must check and ensure that you meet the eligibility requirements for signing up to race.
Here are a few running events to check out in NYC. Note that all of the events listed here are hosted by or in association with NYRR (New York Road Runners Club), and having an active NYRR membership helps grant access to all of their races!
New York City Marathon
Held on the first Sunday of every November, the New York City Marathon is the largest in the world. The 26.2-mile course runs through all five city boroughs, starting on Staten Island and ending in Central Park in Manhattan. Racers will pass by a number of NYC's most notable features and run alongside people from all over the world who have trained for the event. To have guaranteed entry in the Marathon, runners must either sign up to run with an official charity partner for the Marathon or participate in the 9+1 program, where runners register and complete nine qualifying racing opportunities during the previous year and volunteer at one more qualifying opportunity.
Brooklyn Half Marathon
This springtime race takes its runners for 13.1 miles around Brooklyn, from newer developments to the historic Prospect Park in the Prospect Lefferts Gardens neighborhood. The race takes place in Brooklyn every May, and runners will be able to see such attractions as the New York Aquarium and the Coney Island Boardwalk as they run from Prospect Park to MCU Park. You can also register to run a virtual version of this race on your own schedule and within a specific date range. Keep an eye on the webpage to see when the next RBC Brooklyn Half will be.
New York City Half Marathon
The United Airlines NYC Half is the race to choose for a half marathon with a view of all things NYC. The course connects Prospect Park in Brooklyn to Central Park in Manhattan, with beloved landmarks such as Grand Central Station, Times Square, and the Grand Army Plazas also on the agenda. This marathon has seen a couple of different course maps since its creation in 2006, and since its most recent map was decided in 2018, roughly 25,000 runners have competed each year it has been hosted.
Front Runners New York Pride Run
Show solidarity or celebrate your pride by running this 4-mile charity run around Central Park. Front Runners New York (FRNY) has been NYC's premier LGBT running and multisport club since 1979, and they hosted their first NYC Pride Run in 1982 to promote visibility and celebrate LGBT athletes and all running community members. The race has been held annually in June ever since, with thousands of participants every year. FRNY donates yearly to an LGBT-related nonprofit organization, thanks to the proceeds earned during the race. This charity run is essential to both New York City's history and the history of the LGBT people who live there.
Brooklyn Bridge to Hudson River Greenway: Running in NYC
The real estate market in NYC continues to cater to the needs and desires of running and jogging enthusiasts. New York City's most popular neighborhoods offer a range of options for those seeking an active lifestyle, with access to scenic running routes and parks that invigorate both body and soul. Whether it's a charming brownstone nestled in the tree-lined streets of Brooklyn or a sleek high-rise apartment overlooking the waterfront, New York City's real estate landscape has something for every avid runner and jogger. With its bustling energy and abundant opportunities for outdoor activities, the Big Apple remains a haven for those who seek to combine the excitement of urban living with an active and healthy lifestyle.