7 Great Towns in Westchester County: Westchester's Most Popular Cities
Posted by Matthew Bizzarro on Monday, July 10, 2023 at 3:15:43 PM
By Matthew Bizzarro / July 10, 2023
Comment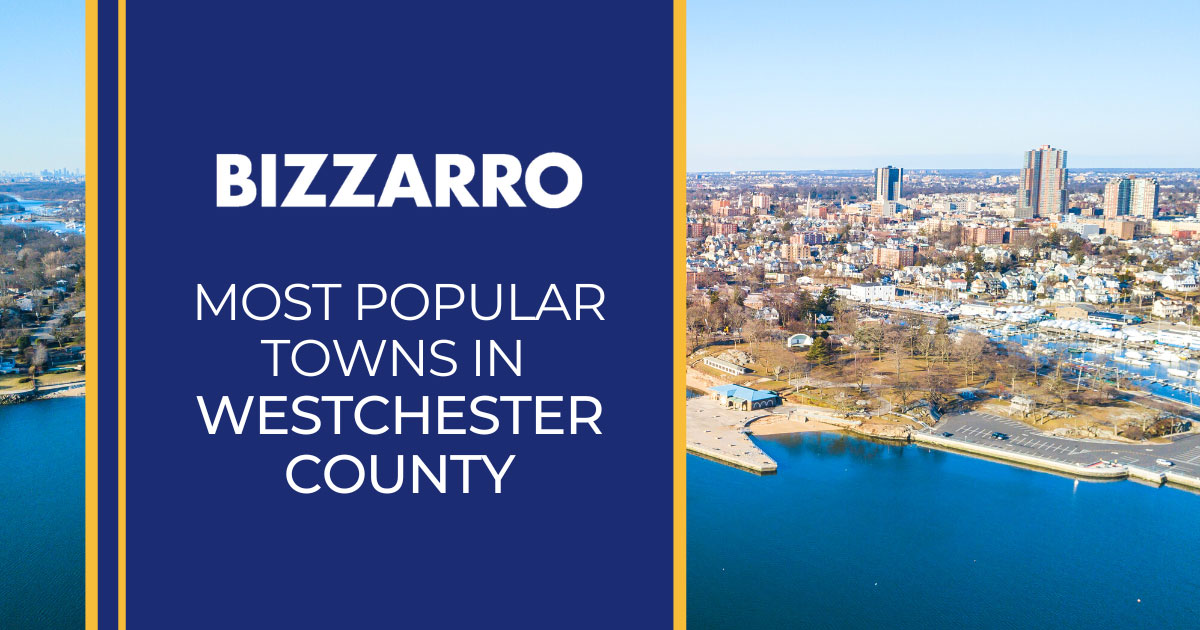 If you're considering moving to Westchester County, New York, you're in luck. The county's charming towns captivate visitors and residents alike, each boasting its own distinctive appeal. Furthermore, Westchester is one of the top counties for NYC commuters, which further magnifies the appeal of living in these towns.
Ranging from historic hamlets filled with centuries-old architecture to more modern locales flourishing with urban amenities, these towns serve as havens of tranquility. This article uncovers the beauty and charm that makes these Westchester County towns stand out in the Empire State. So if you're preparing to tour some homes in Westchester County, use these great towns as jumping-off points and uncover all the county has to offer.
Bronxville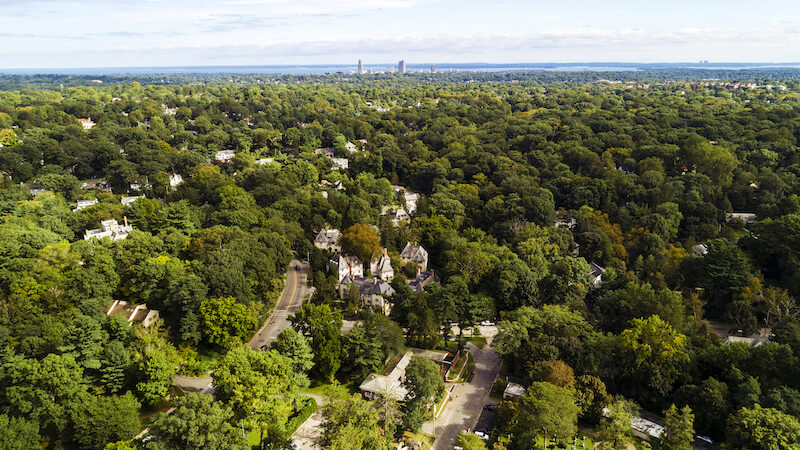 Bronxville is a beautiful village in southern Westchester County, boasting an array of amenities for residents. Homes in Bronxville—which list for a median price of around $1.85 million—cover all types and price points, ranging from Tudor-style houses to modern estates to Westchester County condos.
Bronxville is home to several educational institutions, such as Sarah Lawrence College and the Bronxville School District. The village also offers plenty of shopping, dining, and entertainment options for its residents. From boutique stores to upscale restaurants, there is something for everyone in Bronxville.
The village also has excellent transportation options, with Metro-North trains running directly into Grand Central Station in Manhattan and bus lines connecting it to other towns in Westchester County. The town has several parks and recreational areas, making it an excellent place for outdoor activities like hiking, biking, and playing sports. Additionally, residents can access the venue at Yonkers Raceway, which hosts year-round horse racing events.
Residents of Bronxville enjoy easy access to New York City without having to live directly in the city itself, allowing them to take advantage of all that NYC has to offer while still enjoying suburban life in one of Westchester's gems.
Pelham
The charming community of Pelham, NY, is nestled just 15 miles north of Midtown Manhattan. With its tree-lined streets, well-manicured lawns, and picturesque homes, Pelham offers an idyllic suburban lifestyle for those seeking a tranquil escape from the bustling city. This coveted neighbor of the city of New Rochelle boasts a diverse range of real estate options, including elegant historic houses, spacious modern residences, and stylish condominiums.
Residents of Pelham enjoy numerous parks and a vibrant downtown with boutique shops and delectable eateries. Convenient access to public transportation makes commuting a breeze, while the town's strong sense of community fosters a welcoming atmosphere.
Detached homes for sale in Pelham, which make up the bulk of the real estate in this Westchester town, list from the $500s. Most homes sell for under $2 million, but Pelham's luxury homes can list for more than $4 million.
Rye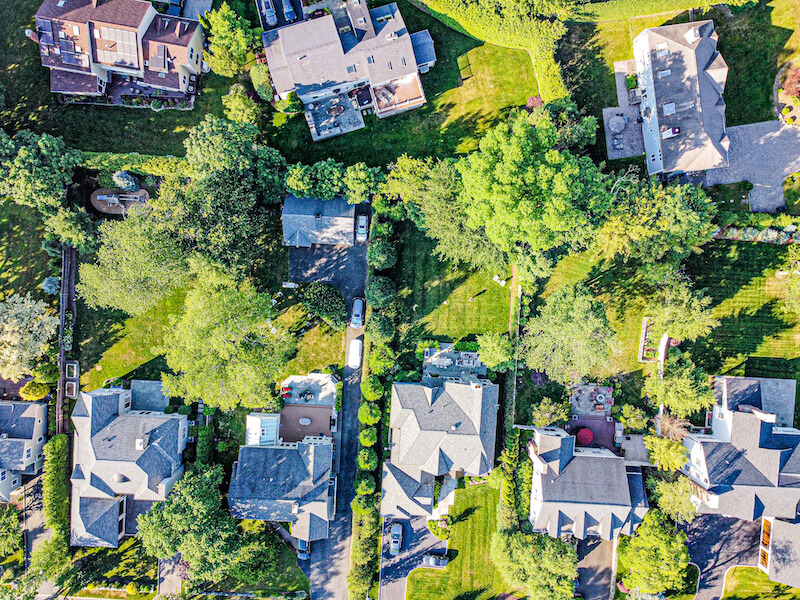 Perched on the Long Island Sound in eastern Westchester County, the waterfront community of Rye is a charming place steeped in history with two National Historic Landmarks and various upscale country clubs. This historical city, one of the most popular places to live in Westchester County, has many great attractions, such as:
The Jay Estate, the childhood home of Founding Father John Jay
Rye Playland, built in 1928 with Art Deco flourishes and a National Historic Landmark since 1987
Numerous golf and swim country clubs, including Westchester Country Club, Rye Golf Club, The Apawamis Country Club, Manursing Island Club, Shenorock Shore Club, and the Coveleigh Club.
Rye also offers its residents fast access to the abundant work opportunities in New York City and through large companies like the Jarden Corporation—a Fortune 500 consumer products conglomerate—and GAMCO Investors, an asset management firm.
Students have access to public school options, the private Rye Country Day School, and the School of the Holy Child, an all-girls school. Homes in Rye list for a median price of around $1.9 million, and the community has homes in a variety of architectural styles. Single-family homes in Rye list from around $1 million to upwards of $10 million, while condos can be found listed from the $500s.
Armonk
The prestigious community of Armonk, NY, is located just 33 miles north of Manhattan. Renowned for its upscale properties and serene surroundings, Armonk offers a luxurious retreat for those seeking an exclusive lifestyle. This sought-after area showcases magnificent estates, sprawling mansions, and Westchester County new construction homes, each exuding elegance and craftsmanship.
Surrounded by lush greenery and scenic landscapes and located in northern Westchester County, Armonk provides residents with a sense of tranquility and privacy. The town boasts educational options, a vibrant downtown with high-end boutiques and gourmet restaurants, and a close-knit community that hosts year-round events.
Homes for sale in Armonk list from the $700s to nearly $10 million. With convenient access to major highways and a short drive to New York City, Armonk combines opulence with accessibility, making it a prime choice for discerning homebuyers.
Scarsdale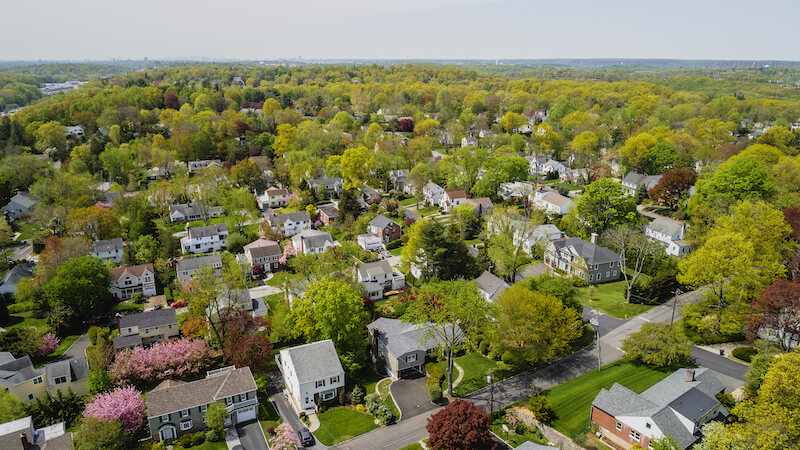 If you're looking for a suburban lifestyle near New York City, the town of Scarsdale is tough to beat. With its variety of public and private schools, a wide variety of shops and restaurants, and convenient access to Manhattan, it's no wonder why almost 18,000 choose to reside in this picturesque town.
Real estate in Scarsdale is priced to reflect the town's convenience and amenities. The median listing price for Scarsdale condos is nearly $1 million, and the low end for luxury homes in Scarsdale is around $3 million.
Scarsdale has a bustling downtown with lots of shops and restaurants, plus easy access to the Westchester Mall in White Plains for all your shopping needs. Foodies are delighted by the plethora of amazing restaurants within 10 minutes of town, including Michelin Bib Gourmand restaurant Cafe Alaia. So if you want a laid-back suburban life without sacrificing convenience to NYC, look no further than Scarsdale!
Mamaroneck
Just 25 miles from Manhattan, Mamaroneck—one of the most walkable communities in Westchester County—offers a unique suburban living experience with its rich history and many attractions. The attractiveness of the town is bolstered by its scenic location on the Long Island Sound and amenities like Harbor Island Park. There's also great dining and things to do in this Westchester County gem, including cultural events at venues like the Emelin Theater.
The population of this Westchester County town is approximately 30,000, and homes in Mamaroneck list for a median price of nearly $1 million. Single-family homes in Mamaroneck list from the $500s to $5 million, and condos list for a median price of around $450,000.
Tarrytown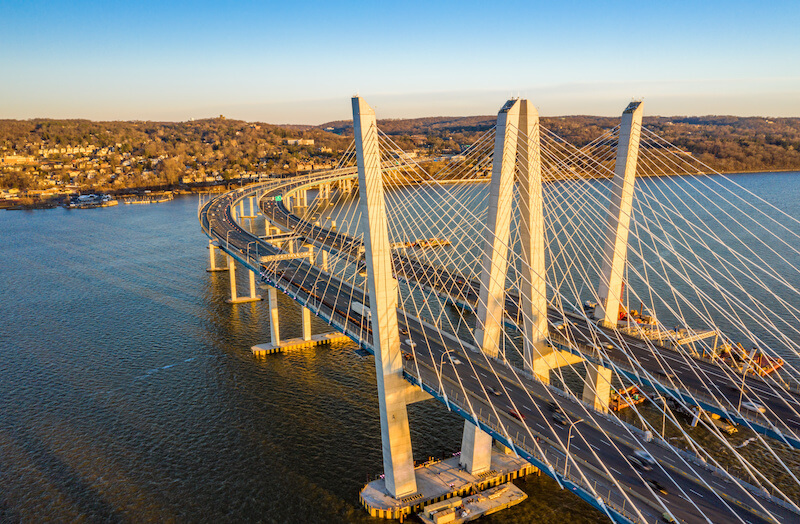 Located on the banks of the Hudson River, just 25 miles from Manhattan, Tarrytown offers a pastoral lifestyle with a rich history and plenty of attractions to explore. This village in the town of Greenburgh has long been praised for its natural beauty, and home prices cover a much wider range than many other great Westchester County towns and cities. Homes for sale in Tarrytown typically list from the mid-$200s to more than $5 million.
There are several must-see sites for those looking to experience Tarrytown's attractions. Kykuit, the Rockefeller Estate, was built in 1902 by John D. Rockefeller; it's an elaborate mansion on the east bank of the Hudson River that served as the Rockefeller family estate for four generations. The Carrollcliff is a Tudor-style castle built by Howard Carroll in 1897. It represents the highest elevation point in Tarrytown and sits on 64 acres of pristine land.
Getting to and from Tarrytown is easy with Interstate 287 or Metro-North Railroad commuter service from Grand Central Station or directly from Manhattan via Hudson Line service. With so much history and natural beauty within reach of New York City, it's no wonder why Tarrytown continues to attract visitors today!
Where to Live in Westchester County
From Bronxville to Rye, Scarsdale to Tarrytown, and Mamaroneck to Pelham, you can't go wrong with these popular cities in Westchester County, NY. While some may contribute to a higher Westchester County cost of living, each one has its own unique culture and character that comes alive when you visit. And while each town is distinct, they all come together as one big Westchester County community.