4 Types of Home Security Systems to Protect Your Property
Posted by Matthew Bizzarro on Thursday, March 17, 2022 at 8:32 AM
By Matthew Bizzarro / March 17, 2022
Comment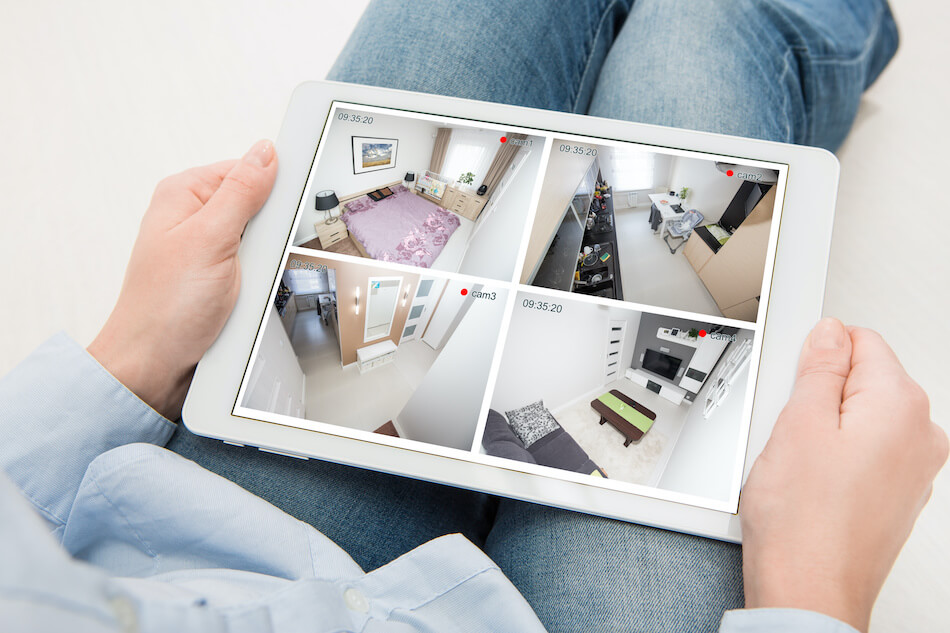 There are approximately 2.5 million estimated burglaries in the U.S. each year. The good news is that home burglary statistics show intrusions decreasing in numbers, likely attributed to the greater effectiveness and lower cost of home security systems. No matter which types of real estate investments you're interested in, protecting them is always a top priority. Before making a decision, you'll need to research the most common options and choose the one that fits your needs. Keep reading to learn about the four types of home security systems.
Hard-Wired Residential Security Systems
Hard-wired security systems are connected directly to the electrical system of the home. They do not require an internet connection but can be incorporated to work with WiFi, too. Owners who want to record data like footage or get automatic updates will invest in a system with internet connectivity options. Hard-wired systems are hard to hack, but a power failure or a cut line will deactivate a system not backed up by batteries or generated energy.
Wireless Home Security Systems
Wireless home security allows for superior protection against intruders and is highly resistant to deactivation and hacking efforts. When connected to a supported app via WiFi devices, occupants can receive real-time data and operate the controls and functions from anywhere, anytime. Best of all, homeowners can upgrade to a wireless system relatively easily to incorporate the use of smart features such as:
Recorded Video Surveillance
Access to 24/7 Updates and Control Over System Functions
Window and Door Alarms & Locking Mechanisms
Lighting Activation Indoors and Out
Motion Sensors Throughout the Home & Surrounding Property
Owners can opt for a monitored or unmonitored system, but they will need to stay on top of software updates for optimal protection. Generally, wireless security isn't connected to electricity, so batteries must be routinely inspected and replaced.
Smart Home Security Systems
Owners who enjoy the latest technology might prefer having a smart home security system installed to help deter potential home burglaries. While smart systems are similar to wireless systems in features and functions, they exceed wireless systems in protection and tweaks that make it easy to get a whole-home perspective on their smart devices. Do not let the cost of a smart home security system deter you from its advantages.
Cameras can be viewed from multiple rooms to full angles with on-demand recording and automatic data backups. This means that entryways and doorways will also be covered, and locking and lighting can be activated via a hub like Alexa or Echo to be fully incorporated with all of the smart tech upgrades in the home.
Unmonitored vs. Monitored Security Systems
While a basic system may consist of a simple alarm that shrieks to alert owners and neighbors of a possible intrusion, they're not usually monitored by a professional security company. Essentially, unmonitored systems are overseen solely by the occupants, with no data updates should an emergency arise and the alarm goes off.
Monitored security is ideal, as these companies are growing in affordability while features and services expand. They require a system hardwired to a telephone line or a reliable, stable internet connection to notify the monitoring company. In areas where power outages are common, monitoring might not be continual or foolproof.
Be sure to check reviews for systems under consideration, as not all home security monitoring companies are everything they promise to be. Ask neighbors who they use, and check online reviews to see how current and previous clients rated their services.
Improve Property Safety with a Reliable Home Security System
Who doesn't want to feel safe in their own home? Installing a modern home security system provides a good defense against home intrusions and property crimes. Any of these options will offer protection, but each owner should research these types in-depth before deciding.