Cost of Living in Westchester County: 12 Things You Need in Your Westchester Budget
Posted by Matthew Bizzarro on Tuesday, May 9, 2023 at 10:52:37 AM
By Matthew Bizzarro / May 9, 2023
Comment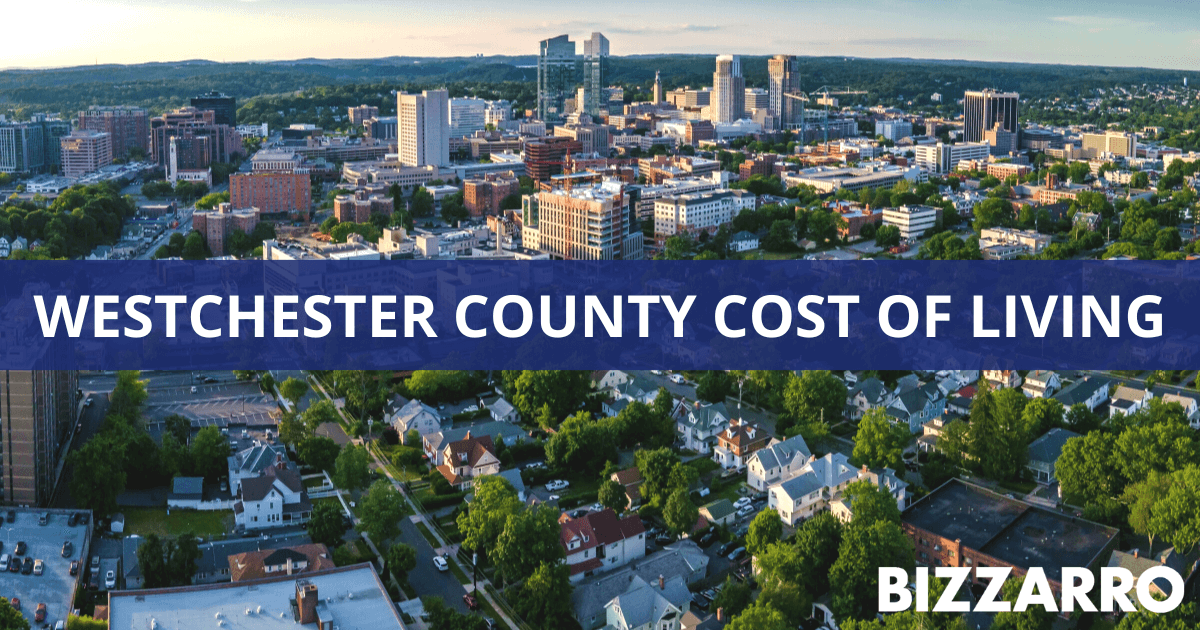 Westchester County, NY, is a wide-ranging area just north of New York City. Known for its picturesque towns, variety of schools, and easy access to the city, it's a popular destination for area homebuyers. Westchester County typically isn't the most affordable place to buy a home, but it's a great option for residents looking to avoid the cost of living in New York City. From housing to groceries, the cost of living in Westchester can be a shock to those not used to the high prices—but a relief to those moving out of NYC. This guide will explore the cost of living in Westchester County and provide some tips for those considering moving to the area.
Housing Costs in Westchester County
Westchester County, New York, is a great region to live in, and its housing prices reflect that. In some parts of the county, homebuyers can expect to pay upwards of $2 million for the home of their dreams.
Even so, the average home prices are still much lower than homes in Manhattan. When buying a home outside the city center, homebuyers enjoy spacious floorplans and plenty of room in their yards for all their favorite outdoor activities. On top of that, they're only an hour away at most from visiting the Big Apple.
Median Home Price
The median list price for single-family homes in Westchester County is $629,000, or about $350 per square foot. Single-family home prices vary considerably all across the region. The average price of homes in Rye is closer to $2 million, but homes in Mount Vernon go for around $289,000 on average. There are almost 2,000 single-family properties listed on the market at any given time.
As for condos for sale in Westchester, homebuyers can expect prices ranging from $42,000 to over $1.7 million. The market stays saturated with about 300 condominium properties throughout the year.
Median Rent
When looking to rent a home in Westchester County, renters may see a median rental rate of $1,900 per month. A one-bedroom apartment costs an average of $1,600 monthly, while a three-bedroom unit costs $2,500. Studio apartments are the most affordable floorplans at $1,400 per month.
Renting a single-family home is much more expensive, although prices vary considerably from area to area. In Rye, for example, renters may find homes renting for around $11,000 per month. Single-family homes in White Plains, on the other hand, rent for closer to $2,800 monthly.
Utilities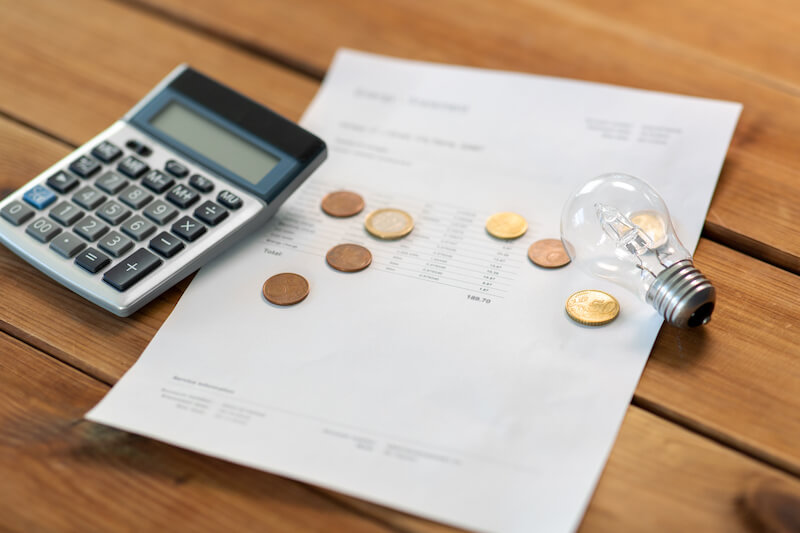 The average monthly electricity and natural gas cost in Westchester County, New York, is about $450. Electricity is around $250 per month for 850 kilowatt hours, up to over $3,000 per year. Natural gas is $200 for 600 kilowatt hours.
Homeowners insurance adds $100 or more to the monthly bills, while renters insurance costs $15 a month. Residents with phone service pay up to $50 per line each month. High-speed internet starts at $40 per month.
Renters have their water, sewer, and garbage serviced wrapped into the rental rate. Homeowners can expect to pay $90 monthly for water and sewer services. Garbage service adds $40 or more to the household's monthly expenses.
Westchester County Food Costs
The cost of food in Westchester County is about 10% higher than in the rest of the nation. Compared to the state, it's only about 4% more expensive. Despite the increased cost of living in the Sleepy Hollow community and other upscale areas, the local groceries prices stay largely the same from city to city.
Buying groceries and making food at home is considerably less expensive than eating out at restaurants, especially for large households. When eating out, choosing fast food restaurants and mom-and-pop eateries is more cost-effective than the full fine dining experience.
Groceries
On average, one person's monthly food cost is $690. However, a household of four living in the city of New Rochelle may only pay around $1,800 per month due to the lower per-item price when buying in bulk. Whole foods are typically more budget-friendly than pre-packaged products.
Restaurants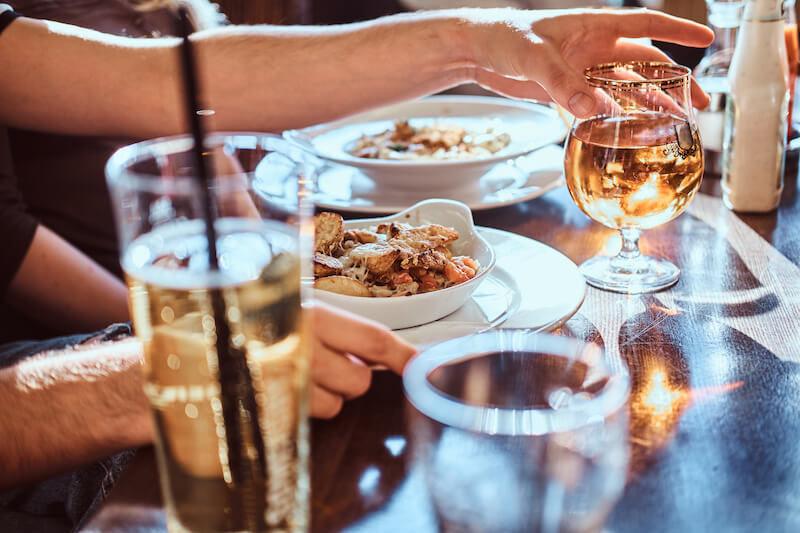 A dinner for two at a casual dining restaurant costs around $80 in Westchester County, New York. A midday meal costs about half that, totaling about $21 per plate plus $2.50 for each soda or non-alcoholic beverage.
Fine dining restaurants charge upwards of $60 per plate, and cocktails add $15 or more apiece to the restaurant bill. Going to restaurants that serve a prix fixe menu often costs at least $150 per person, but it does come with several courses, drinks, and desserts.
A fast-food meal is much more affordable at about $11 per person. A cup of coffee or a beer in a casual pub will cost around $5.
Transportation Costs in Westchester County
Residents pay anywhere from $130 to over $640 monthly for transportation while living in Westchester County. The total cost depends on whether they own a car or use public transit to get around.
Car owners pay $640 per month for their lease, car insurance, gas, tolls, and parking for each vehicle used by their household. The average car lease is $400 per month, while insurance costs $80 or more. Gas, tolls, and parking vary depending on how often and where residents drive.
When relying on public transportation, residents can take the Bee-Line Bus around town or Manhattan. Monthly passes for local trips are $130, while the per-fare ride rate to Manhattan is $7.50. The Metro-North Railroad train is another option when traveling into the city, and it costs about $420 per month for tickets and parking combined. Once in the five boroughs, residents have access to NYC subways, buses, and trains.
Westchester County Health Care Costs
Westchester County, New York, residents pay about $860 to over $2,000 monthly for health insurance. The monthly insurance cost for a family of four can reach $3,400. Most insurance companies offer medical, dental, and vision coverage in the same plan.
Monthly insurance premiums do not include the overall cost of deductibles or co-insurance. Out-of-pocket medical costs are largely hidden, making it a guessing game about the price of primary care services, hospital visits, and other appointments. Private insurance holders can typically expect to pay $25 for basic visits to their primary care physician.
When visiting the dentist, people with insurance must pay their deductible and co-insurance. The deductible ranges from $50 to $150 per year, depending on the plan. Co-insurance also varies by plan, resulting in out-of-pocket costs equaling up to 50% of the bill. The only exception is preventative care, like teeth cleaning services, which have zero out-of-pocket costs.
Most insurance plans cover annual eye exams in full. A set amount may reduce the cost of glasses and contact lenses, but they're rarely covered in full. Once the insurance's allowed amount is satisfied, all other vision care costs will come out of pocket.
Pet owners can expect to pay up to $100 for their animal's annual examinations at their preferred vet clinic. Vaccinations, deworming treatments, flea treatments, and other services add to that base cost. Acute care services can cost thousands of dollars, but carrying pet insurance can reduce those costs by up to 90%.
Childcare Costs in Westchester County
Childcare in Westchester County, New York, costs up to $2,000 per month for each child. The total amount paid per month depends on the child's age and the care arrangements. Families can send their children to daycare, hire a nanny, or even bring in a live-in au pair.
At up to $2,000 per month, full-time daycare services cost the most. Since infants require the most one-on-one care, their daycare expenses land in the upper range; older children can attend larger classes, reducing costs to around $1,400 a month on average.
Families living in the town of Scarsdale can elect to put their kids in daycare part-time for about $1,000 per month. This arrangement works great for school-aged children, including preschoolers. Many kids can attend school from age three to four through the county's free, low-cost preschool programs. The schools may even arrange transportation to the daycare center at the end of the day.
In some cases, it makes more sense to hire a nanny. These childcare professionals charge up to $25 per hour, totaling $1,000 weekly. Although this is considerably more than daycare, it makes sense for families who cannot arrange transportation or work outside daycare's set hours.
A live-in au pair is a great choice, too, and typically costs $860 per month and up to $9,000 in additional fees. When going this route, families need to expect to pay all the living expenses of their au pair, including room and board, food, and phone service.
Westchester County Entertainment Costs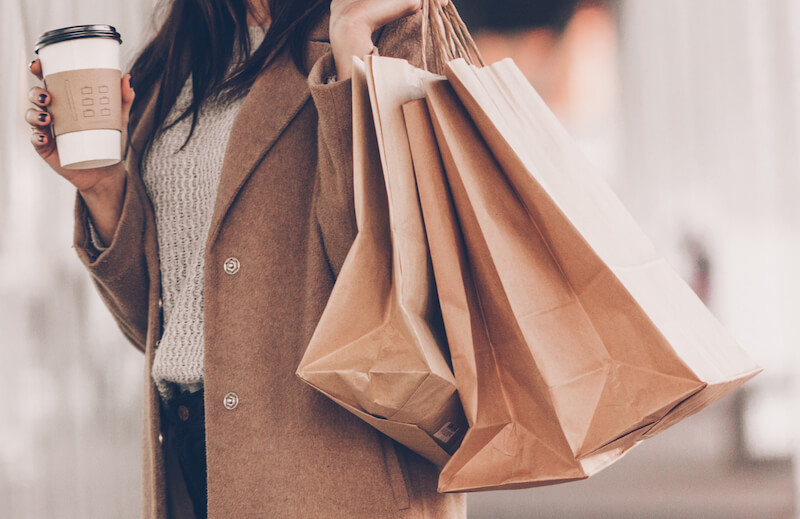 Depending on the household budget, monthly entertainment costs are $100 or more for each person. Fun things to do in Westchester County include shopping at The Westchester in the city of White Plains, going to the movies, and enjoying scenic helicopter tours.
Standard prices for entertainment include:
General movie tickets: $15 each
Kykuit Museum admission: $45 per person
Helicopter tour: $500 per seat
Playland Amusement Park: $100 for the season pass
LEGOland Discovery Center: $30 for each person
The Puzzle Parlor: $44.99 each
iFLY Indoor Skydiving: $80 per person
When going to The Westchester, window shopping is free, but many people spend at least $50 per visit on clothing, household goods, and other fun items. Food and drinks add to the price of spending the day out at the mall.
When spending money on entertainment, be sure to account for sales tax. The local sales tax rate is about 8%, so bump pricing estimates by 10% just to be safe. For a free day out on the town, consider visiting Untermyer Gardens in the Yonkers area, the New Croton Dam in the town of Cortlandt, or any of the beautiful parklands in the county.
Salary in Westchester County
The median income in Westchester County, New York, is $61,800 per year. The annual median household income is $105,300. Yearly salaries can reach $260,00 in higher-paid positions and industries, like Economic & Community Development Directors for the county government.
Other well-paid county government positions include:
Deputy Fire Marshal: $137,000 annually
Strategic & Performance Analytics Manager: $102,000 annually
Financial Reporting Manager: $149,000 annually
IT ERP Systems Analyst: $105,000 annually
Chief Zoning Administration: $113,000 annually
Sustainability Officer: $105,000 annually
Treasurer: $283,000 annually
Popular local jobs outside the government include food service workers, security professionals, front desk clerks, bank branch managers, paramedics, patient care coordinators, and health benefits reps. The biggest employers in the region are Morgan Stanley, Pepsico Incorporated, and IBM Corporation.
The overall employed labor force equals more than 470,000 people. Up to 7,500 people work for the county government, while the rest work for privately held companies all across the region. Many Westchester County residents commute into Manhattan and beyond for rewarding career opportunities.
The minimum wage is $15 per hour, totaling $31,200 per year for each worker paid at this rate. The unemployment rate is 3.4%, nearly the same as the national average.
Proximity to NYC in Westchester County
Homes in Westchester County come at a premium, but more than a million people live here for good reason. Housing, transportation, and groceries can all be significantly more expensive than in other areas of the country, but they're generally lower than in the five boroughs. Plus, there are ways to manage these costs, such as living in the county's more affordable towns or taking advantage of public transportation. The benefits of living in Westchester County, including picturesque towns, cultural attractions, and proximity to New York City, may make it worth the expense.